Is Price Based Segmentation an Aid to Marketing Hotels?
Or Does it Smply Get in the Way of Understanding How Guests Perceive Brand?
By Laurence Bernstein Managing Partner, Protean Strategies | September 22, 2013
As much as we would rather they did not, people evaluate (in other words "judge") us relative to what they expect to receive and what they think they would have received from the competition. Only one in three travelers in a recent survey said that Four Seasons Hotels belongs in the "luxury" segment, while 58% said Ritz Carlton belong in that group. More startling is the opposite side: more than one in three believe Four Seasons hotels belong in the same segment as Marriott, Sheraton or Westin Hotels. More than half of the respondents suggest that Marriott is in the same segment as Four Points or Crowne Plaza, while nearly a third see Four Points in the same segment as Hampton Inns. So what?
The purpose of branding is to help people make sense of the ever-growing landscape of choices. The fundamental role of a brand is to clarify the nature of the product relative to price and other potential options (position). The art of branding is to do this in such a way that the product is relevant and clearly differentiated: i.e. meets the specific needs of the customer(s) and does so in ways that other brands cannot. All other components of brand strength (such as awareness, empathy, trust) are important, but are moot if the customer does not know what the product is or where it fits in the competitive landscape.
The hospitality industry adopted a price based segmentation strategy some years ago. Quite rightly, the industry designed a stratified hierarchy of price-based segments in order to clarify for marketers, operators, owners, developers and finally, customers, what brands competed with each other and therefore what could be expected from each brand.
The segmentation has changed over time, but, using Smith Travel Research's current approach, can be seen in six layers. Based on average daily rates STR slots brand chains into the segments according to rates reported by operators. (The brands we included in our research are presented in Fig 1 grouped into their STR determined segments compared with where respondents placed them based on the descriptions provided in the survey).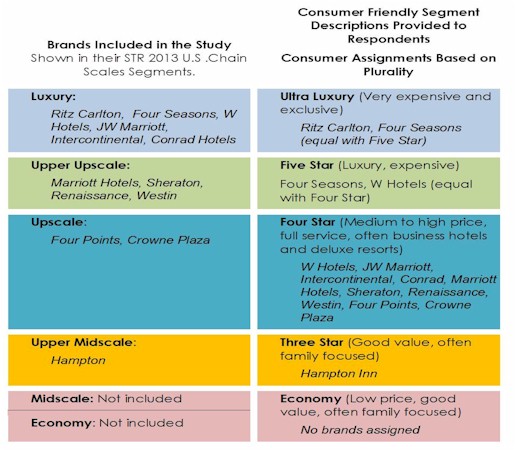 Figure 1
An organized market place would be one where the empirical positioning (i.e. the price based positioning as measured by what people pay) corresponds with the brand position (that is, for purposes of this discussion, the position in which consumers understand the brand to be). Because travelers don't think in the same language, we opted for a 5-point star-based "consumer friendly" segmentation system that was more in tune with real world talk; and we added a description for each to ensure all respondents had the same understanding of each segment. We then asked 398 US travelers to associate each of the 13 brands with one of the five segments to see whether travelers and hotel brands are in synch in terms of relative price positioning of various brands.