How do You Improve Hospitality in Your Town?
Train Everybody
By Simon Hudson Endowed Chair in Tourism & Hospitality, University of South Carolina | April 09, 2017
When guest satisfaction scores started to slip in Steamboat Springs, Colorado, the town made an unprecedented move by offering customer service training to every single resident in town. The program, initially involving four four-hour sessions over the space of a month, taught the very latest in customer service culture using many Disney examples of 'going the extra mile.' This article takes a closer look at this initiative and focuses on how service providers in Steamboat both benefited from, and built on this initiative to exceed guest expectations.
It's most unusual for a town to train the whole community in customer service techniques. But this is exactly what Steamboat Springs, Colorado decided to do in 2014.
The innovative plan was hatched by management consultant, Ed Eppley in conjunction with the Steamboat Springs Chamber Resort Association and also the Steamboat Ski and Resort Company (SSRC). Pivotal in planning and implementation were Jim Clark, Executive Director of the Chamber, and Rob Perlman, Senior VP of Sales & Marketing for SSRC.
Steamboat has long been known for its western, family-friendly atmosphere, so focusing on service isn't new, according to Perlman. "The new part is how we approach service," he says. "The Service Excellence program at Steamboat is really a derivative of a sales conversion initiative through our call center operations at Steamboat Central Reservations that we started back in 2010. This whole thing began as an exercise to convert more sales leads into Steamboat vacations. During that process, we really moved the needle with a consultative selling style that connected with customers in way that isn't possible through traditional product sales. This approach of building relationships with our guests quickly spread to other departments and Service Excellence was born."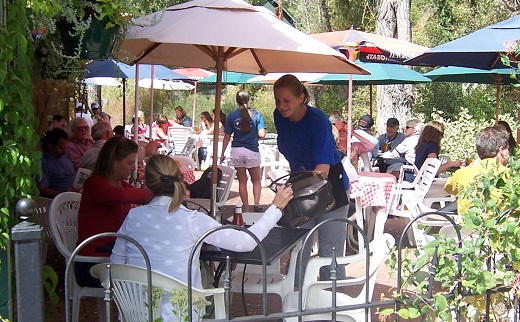 Creekside Cafe, Steamboat Springs (Courtesy of Creekside Cafe)
According to Eppley, owner of Ohio-based company, ProspeX at the time, it was all about exceeding customers' expectations. The impetus for the dramatic move came after the town of Steamboat Springs witnessed the resort achieve two years of industry leading guest service results from their Service Excellence program while comparing those results with the town's visitor survey in 2013 which revealed a significant decrease in responders saying they would recommend Steamboat Springs to friends and colleagues. The town's survey showed a seven-point drop from a previous 2010 study.