How The IoT Serves Up Value for the Hospitality Industry
By Jennie Blumenthal Lead, U.S. Travel, Transportation and Hospitality, PwC | February 23, 2020
Digital technology has changed the face of the hospitality industry in profound ways, but a basic and inescapable truth is that business success is based on making guests comfortable and satisfied. With increasing customer expectations, that satisfaction needs to become delight. Hospitality executives who adopt this philosophy are almost certain to boost customer loyalty and, ultimately, revenue and profits.
The challenge, of course, is to seamlessly blend digital technology with old-fashioned high-touch hospitality - and often while dealing with clunky legacy systems as well. It's a task that can prove complicated and difficult to navigate, even for the savviest of brands. However, many in the hospitality industry have met this challenge by deploying the internet of things (IoT). By connecting devices, machines, assets and other emerging technology - and monitoring events in real-time - IoT can transform the way a company operates and how guests interact with the business.
IoT can drive enormous innovation and deliver crucial efficiency gains. A 2019 PwC Internet of Things survey found that hospitality businesses understand the value of the IoT. In fact, 70 percent of hospitality executives reported that they have active IoT projects. More than half (53 percent) said that smart connected systems help them operate more efficiently, and one-third (33 percent) view IoT as a way to modernize their brand and add new capabilities.
Among other things, IoT can enhance the customer experience, improve safety and security, and introduce gains through operational improvements and asset management. Yet, while one-off connected solutions can deliver tangible benefits, the full power of the IoT can only be unleashed when organizations assemble a platform and framework that integrates digital solutions and delivers transformative gains in a more holistic way.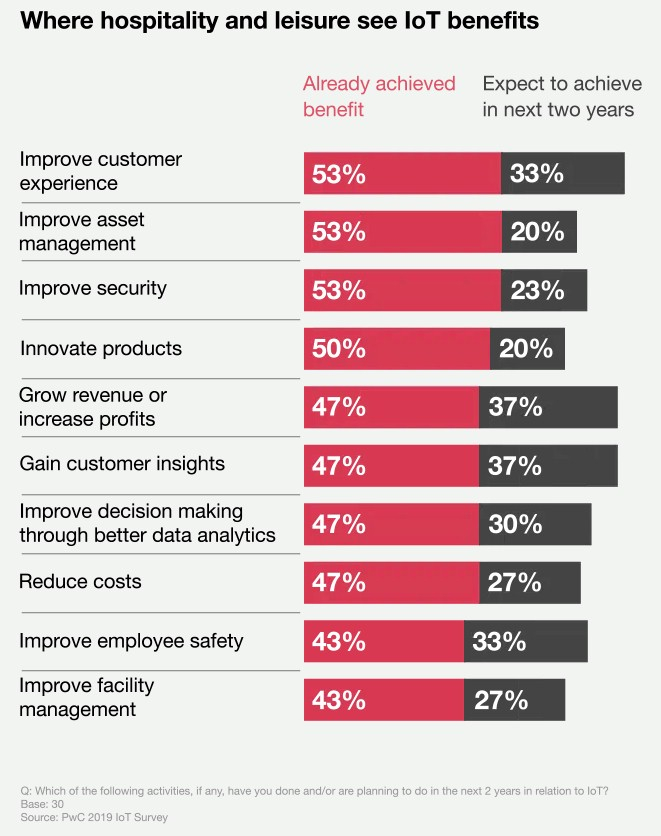 Connect with Customers