Extended Stay Hotels: Opportunities and Growth in a Post-Pandemic World
By David Ashen Principal & Founder, dash design | March 28, 2021
Some conclusions we come to are obvious, intuitive even. To say that the COVID-19 pandemic has changed the way business and leisure travelers feel about heading out of town, on a plane or staying in a hotel is hardly a stretch. However, when it comes to considering what's next, it's wise to go deeper.
Data-driven insights company Morning Consult studied "return to travel habits" and the survey, updated in early February 2021, revealed some intriguing sentiments. Among the key takeaways were that, since April 2020 and up through mid-January 2021, the percentage of consumers who felt comfortable going on vacation rarely strayed beyond 33 percent. For those Americans who did venture out, 41 percent felt safe renting a car, nearly a quarter (23 percent) were ready to ride in a plane or take a train, and 22 percent felt comfortable on a bus.
From here, we can deduce that leisure travel will look different for some time to come and that savvy hotel executives should consider the implications of consumer sentiments and how patterns might shift based on new habits and prolonged fear. Furthermore, with many conferences going virtual or being postponed, and fewer face-to-face meetings last year and into the first half of 2021 and possibly beyond, business travel and the hotel stays associated with it, are also bound to change. Even postponements and cancellations of major sporting and cultural events, such as the Olympic Games, Kentucky Derby, Wimbledon, the Met Gala and Tribeca Film Festival, have wreaked havoc on hotel occupancy rates.
Typology Trends
With every setback or shift comes an equal area of opportunity and the likely beneficiary of the change in traveler habits seems to be limited-service hotels. When limited-service hotels were conceptualized, it was mainly with the work traveler in mind. Brands like Home2 Suites, by Hilton, and Residence Inn, by Marriott, answered a real need for road warriors and were set up like little efficiency apartments for the most part.
The BBQ grills, outdoor courtyards, basketball courts, small or full-size refrigerators and stovetops, and basic cooking equipment could make any business traveler feel like they had a home away from home. They did the trick; these hotels were perfect for three-day stays, one-week jaunts and month-plus long-term work assignments and therefore cropped up in suburban areas, off highways, near office parks, and even in more urban areas.
These properties served the exact purpose they were intended for, and found a bonus travel segment they appealed to: families who liked the extra space and amenities (and the pools that are frequently found at this class of hotels). Since the pandemic, limited-service hotels are even more in demand and the reasons are many.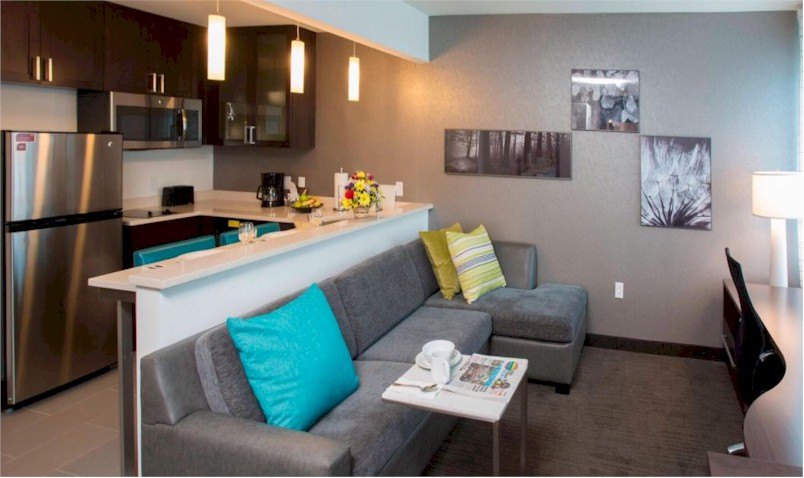 Suite Studio located at The Residence Inn Bronx
A Rest from Restaurants
Though most people love nothing more than a nice meal out, since the pandemic many travelers long to have meals on their own terms. Fewer hotel restaurants are open, for safety reasons, and those that are likely have a reduction in seating to comply with social distancing measures.
On top of that, some travelers just don't feel comfortable going out to dinner, asking questions like, "Where will I sit? Will it be safe?" To get around that, this group may prefer to have an efficiency kitchen at the ready, like the ones found in limited-service hotels. This option allows the traveler to prepare their own meal, including having groceries delivered as many do. In fact, Residence Inn offers the guest the opportunity to check off items from a list and have the fridge stocked upon arrival.
Prepared meals can also be dropped off to the room via Uber Eats or Door Dash, or to head down to the hotel pantry to purchase a microwaveable meal (picture a Stouffer's mac 'n cheese) or to the CVS for basic ingredients to whip up something in the comfort – and control – of their own hotel room. Plus, there's the added bonus of having a place to spread out and to store leftovers to heat up and enjoy the next day.
Given these preferences, the Home2 Suites in Cleveland might make better sense than the Hilton in that city, even for a single night stay. When traveling, the only thing safer than a limited-service hotel would be an efficiency with kitchenette, which eliminates the need to go into the lobby, though there are few of these left.
Spacious Suites
Another factor in the draw toward limited-service hotels is the room that this setup allows. Since we're all less likely to hang out in a hotel's lounge or lobby, or even utilize meeting and conference rooms, the extra space afforded in this category is helpful. For instance, in a suite product there's often a full living room, which is far more comfortable to work in versus bringing a laptop into bed or spending the day in a stiff chair or on a small sofa, particularly with fewer people heading into physical offices to meet.
Going forth, even as a gradual recovery happens and we all adjust to the new norms, there will be a different standard of safety and security. Rooms with more spaces, or essentially apartments on the road, are a way to control the environment and allow people to eat, work and sleep more soundly. In addition, and particularly for urban dwellers, the extra square footage is a great reprieve for those who are feeling claustrophobic from being holed up in their apartments for more months than they care to discuss. Who wants to feel pent up when they finally do travel?
Hotels like Residence Inn by Marriott The Bronx at Metro Centrum Atrium, in New York, hit all the right marks to make the most of this moment. Located near Montefiore Medical Center and just off the Hutchinson River Parkway, a main thoroughfare, the pet-friendly hotel, which our firm designed in 2015, offers spacious accommodations and ample amenities that work in a socially distanced world and is well-positioned in a secondary market. The kitchens within made great sense given the amount of cross-over business with Montefiore, but now make even better sense since the pandemic.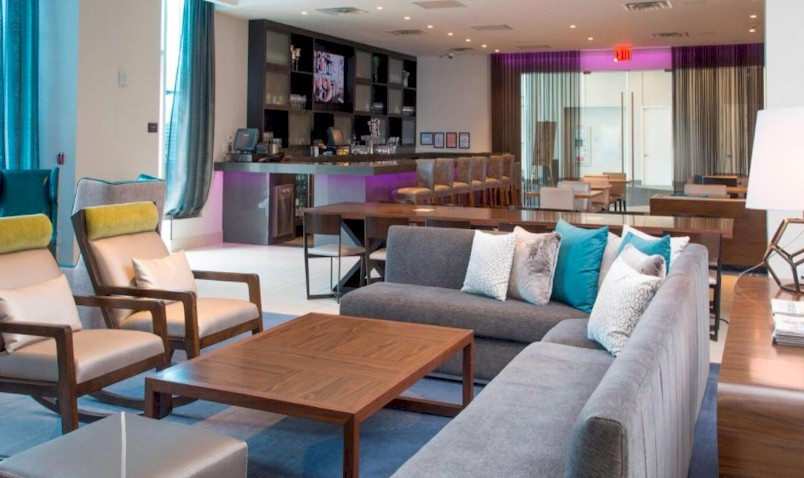 Lobby at The Residence Inn Bronx
Preferences for Pods
On the leisure travel side, personal space has never been more treasured. People are beginning to travel again, with their significant others, family members or chosen pod, but are far less likely to stay in a spare room at their parent's or a friend's home. Extended stay options bridge a gap, allowing people to visit out of towners, and perhaps to cautiously gather and share meals together, while still limiting risk. While reintegration will happen, apprehensions are there, and the psychological shift will take time for many as vaccinations happen and COVID-19 infection rates decrease. It will be some time before most people welcome someone staying in their home.
Desire for Value
The recent economic downturn ties into the trend toward limited-service hotels, as well. A one-bedroom suite may cost $150 per night, whereas a more traditional room may cost $250 for the same duration. With people and businesses alike being more mindful of how they spend their dollars and less secure about what the outlook is, this hotel category may become even more popular with travelers.
Best-Positioned Boutiques
It's not only the Residence Inns and Home2 Suites of the world that will see demand. Boutique hotels with the right set-ups may also feel like more comfortable options for pandemic-weary travelers. Back when I first started traveling on my own, Chateau Marmont was one of my absolute favorite places to stay in West Hollywood. The cottages there had kitchenettes, though I never used them; I was too busy frequenting the area's many restaurants. These days I'd surely make use of the kitchen area.
Another such option is The Charlie Hotel West Hollywood, named after previous owner Charlie Chaplin. The attraction here is not just the storied 1920s past and enchanting architecture – though it has that in spades – it's the 14 bungalows on-site, offering an abundance of space and the fully-equipped kitchen set-up – full fridge, oven, stove and more - needed to dine privately and safely, as well as in-unit washers and dryers.
Optimistically – and Slowly – Onward
What's next for hotels looking to connect with consumers? For those with a smaller footprint, now might be a good time to consider putting a microwave and mini-fridge in rooms, or adding forks, plates and utensils, expanding beyond the usual two glasses and two cups. For others, it might be adding delivery of food and stocking services or simply removing extraneous decor to allow for less surfaces to clean and a more spacious, open area for stays.
While uncertainty has been a large part of 2020, and even 2021 so far, playing upon our strengths and adjusting to move with the times can only benefit guests and the hotels who welcome them.
Photo Credit: The Residence Inn by Marriott New York Bronx
HotelExecutive retains the copyright to the articles published in the Hotel Business Review. Articles cannot be republished without prior written consent by HotelExecutive.