Trend Watch: Thermal Bathing More Popular Than Ever
By Casssandra Cavanah Founder, Cavanah Communications | December 2022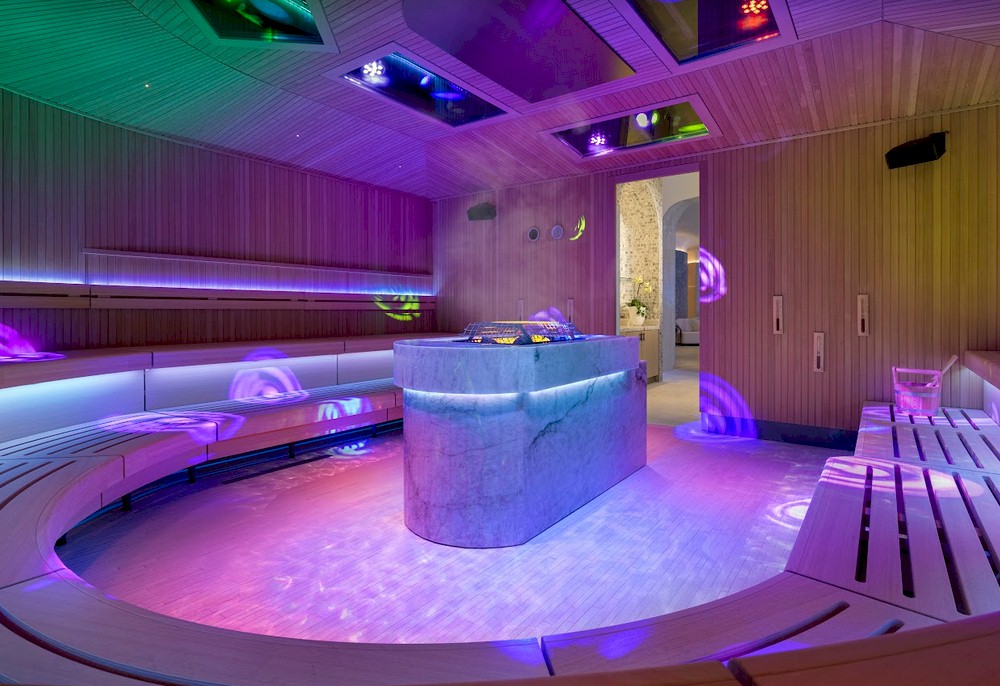 Hotels and resorts have long led the charge when it comes to creating beautiful, authentic hydrothermal (also known as "aquathermal") bathing circuits, giving guests access to experiences they otherwise might be hard pressed to find anywhere else.
This access has helped fuel an amazing amount of growth and exploration in hydrothermal bathing -- from Finnish saunas and Russian banyas to Turkish Hammams and Korean bath houses to mud bathing and thalassotherapy to Japanese onsens and Mayan temazcals and so much more.
There's just a plethora of amazing, often ritualistic ways, to cleanse and purify the body through sweat bathing, water, and cold temperatures – and today's consumers seems to want to discover them all.
There are many factors that make hydrothermal bathing so particularly relevant today. First, there's the evidence. These therapies have long been proven (through scientific studies) to protect against respiratory disease, cardiovascular disease, improved immune system function, improved muscle recovery, pain detoxify, improved sleep, etc., etc. Secondly, it's a self-administered, touchless wellness experience that has tons of benefits – this means it's great for guests who are not yet ready for close contact AND it requires minimal staffing. Thirdly, when done right, hydrothermal bathing is a communal, soul rejoicing experience – something we all need a bit more of right now!
Don Genders, CEO of Design for Leisure, specialists in commercial hydrothermal design and builds, says, "A revival, and greater appreciation of communal bathing has been taking place across the globe as people turn to authentic, traditional and, crucially, evidence-based wellness practices that also offer the opportunity to connect with like-minded people in a safe social setting. We've only seen this trend growing as we come out of the pandemic."
European thermal bathing companies known for jaw-dropping (both in terms of size and features) bath houses, including Therme Group from Austria and QC Terme from Italy, are actively investing in new developments in markets they've never been in previously. QC Terme recently opened a day spa resort on New York's Governor's Island, dubbed QCNY, which offers rest and respite from the hustle and bustle of NYC for an $88 admission rate. Therme Group, whose thermal well-being resorts attract around 3.4 million visitors a year in Europe, has big expansion plans for the UK and North America. In fact, they recently appointed Robert Hammond, who oversaw the successful development of New York City's High Line, to run the North American strategy.
"Clearly, these companies are seeing an impressive return on investment at their thermal bathing resorts in Europe, many of which draw in hundreds, if not thousands, of guests per day at affordable, yet profitable, daily rates," continues Genders, who also chairs GWI's Hydrothermal Initiative. "It's a model that smart hoteliers can and should capitalize on."
"In the post-COVID landscape, wellness destinations may want to up their game," says Genders. "With more 'wellness' activities readily available at affordable prices, consumers will likely become more demanding about what they expect in a 'wellness holiday' and destinations will want to not only keep step with what's available locally, but also think about how they can "wow" with next level offerings."
To keep pace with what today's wellness consumers expect and want – and to capitalize on the impressive 21% annual growth rate projected for wellness tourism through 2025 (according to GWI researchers, this sector alone will be valued at over $1.1T by 2025 ), it's important to be aware of key trends in the sector's ever-evolving landscape. Here's a look at the Global Wellness Institute's Hydrothermal Initiative's key trends for 2022.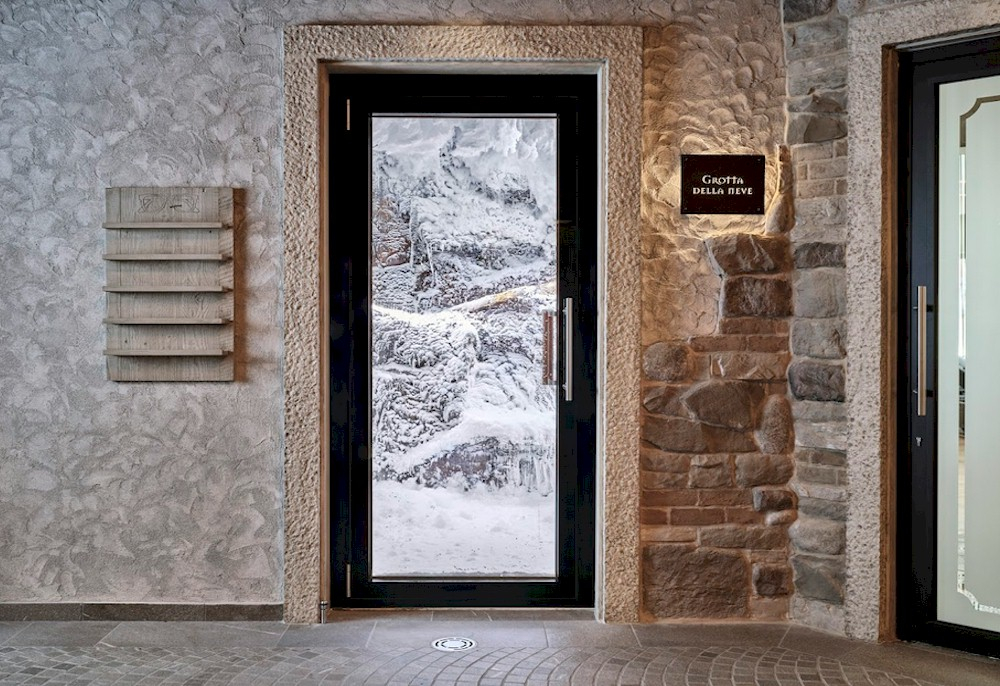 QC Terme is reviving ancient bathing practices all over the globe and just opened its first North America destination in New York.
GWI Hydrothermal Initiative 2022 Trend Predictions
Modern Urban Bathhouses
There's a renaissance of the centuries' old tradition of "communal bathing" occurring in cities across the world. Urban bathhouses in all shapes and sizes, featuring a wide diversity of rooms with varying temperatures – from saunas and banyas to steam rooms and hammams, as well as pools featuring local waters, be they minerally-enhanced, salt water, or naturally treated waters – are popping up to heal and comfort pandemic-weary cities across the globe. Some are small and personal (like AIRE Ancient Baths in NYC, London and Barcelona), while others are on a much grander scale, serving hundreds (and even thousands in the case of Therme Group's wellness water playgrounds which are dotted throughout Europe and heading to North America).
Social Sauna-ing – More Experiential/Accessible Sweat Bathing
Many cultures attribute sauna use and contrast therapy with better sleep, stress reduction, detoxification, increased immunity, improved aerobic endurance and even happiness (the Finnish are some of the happiest people on earth). With medical studies pointing to clear benefits of sauna bathing, we're seeing the adoption of sauna (and other sweat bathing practices) on the rise, and, in some surprising places.
For example, in London, a set of Rooftop Saunas offer private sessions with views of the London skyline, giving guests "a way of connecting with themselves and the outdoors all year-round." Entry is affordable and guests get a bonus social experience: privileged entry to an adjacent, and popular, rooftop bar. While floating saunas pepper the Norwegian waterways, bringing locals and tourists together for a common wellness experience.
"Floating saunas are a mega-trend in north Europe with spas creating satellite wellness hubs designed to connect people with nature and as a way to offer private sauna experiences in delightfully unexpected places, often near a cold body of water for a natural cool down," said Lasse Eriksen, President, Norwegian Sauna Association.
There's also a rise in large, communal, event saunas that seat 40+ people to enjoy ceremonies, such as Sauna Aufguss, a modern take on an old Finnish ritual where "sauna masters" waved dancing towels to circulate heat, humidity and aromas. Today, Sauna Aufguss has evolved into performative storytelling, complete with costumes, singing, chanting and even laser and smoke shows. Aufguss is so popular in Europe, that there is an annual Aufguss World Championship, which will be hosted in the Netherlands in 2022. This trend has made its way to North America: a new event sauna recently opened at Awana Spa & Wellness at Resorts World in Las Vegas and another is expected to open in Brooklyn's World Spa later this year.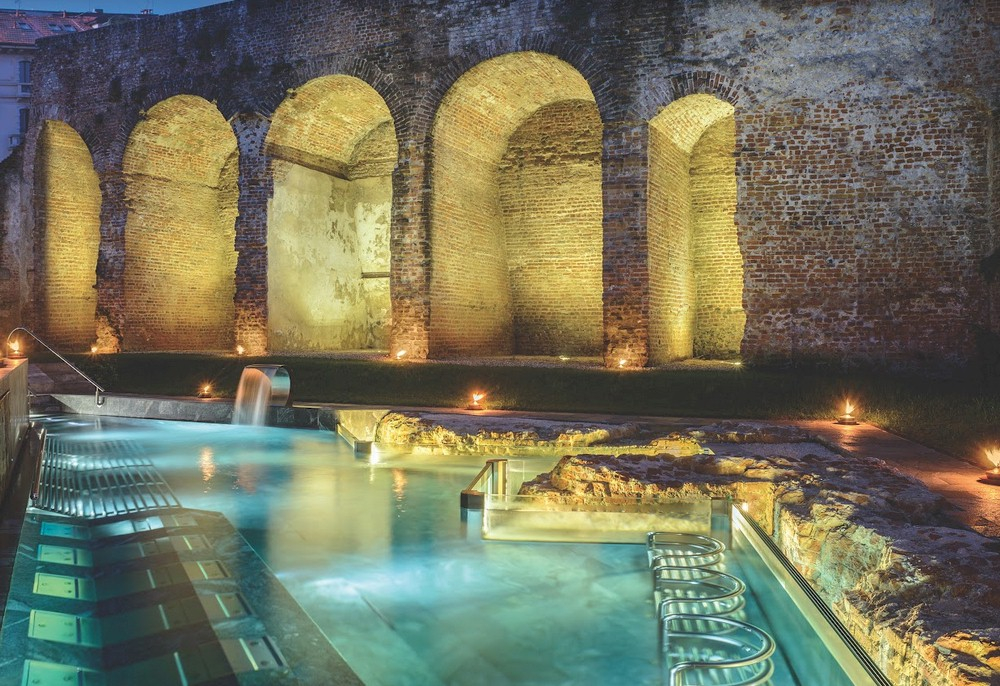 Snow Room by TechnoAlpin at Tritone, a luxury wellness hotel in Italy.
Cold Makes a Comeback, Especially Snow
Call it the "Wim Hof effect" or the popularizing of cryotherapy, but we're seeing both residential and commercial wellness embracing the benefits of cooling down. Proper hydrothermal bathing is a cycle of "heat-cold-rest" repeated 2-3 times. Bathers first experience high heat (sauna, banya, steam room, etc.), followed by a cool down (cold shower, ice bath, snow room or plunge pool), then, importantly, a period of relaxation to stabilize body temperature.
Why snow? Advances in indoor snow technology has made it easier for spas to introduce cold therapy. There's something so gentle, yet effective, about the cold therapy benefits of a snow room. Walking into a snow-filled room gives all the benefits of contrast therapy without the shocking, freezing wetness of a plunge pool (water conducts temperature more efficiently than air so 45°F water "feels" colder than air at 45°F). Snow rooms have the added benefit of being able to deeply inhale cold air into the lungs all year round – something that is great for respiratory health.
Thinking "Outside the Building"
The pandemic served as a reminder to all of the benefits of nature and fresh air. This appreciation of the great outdoors and biophilic design has made nature a highly sought-after feature in both residential and commercial bathing areas. Look for more creative uses of outdoor/garden spaces and watch as developers finally bring spas out of the basement and into the natural light. Another benefit of having easy access to fresh air is that, in some parts of the world, outdoor spaces can offer a natural cool down, eliminating the need for built cold features. A good example of this is the UK's The Rabbit Hotel & Retreat, where more than 2M GBP has gone into creating an outdoor spa experience.
Wellness-at-Home Goes BIG
For those that can afford it, bringing 5-star bathing features into the home is becoming a real thing. Whereas previously, there might have been an appetite for a small sauna and maybe a steam shower, now homes are being outfitted as full-scale spas (perhaps now that we've lived through a pandemic, some homeowners don't want to risk another loss of their local spa facilities). There is a home in LA currently under construction which will feature a full-size sauna, hammam and snow room – something that would have been near impossible to imagine a couple of years ago.
Beyond Physical Wellness: Extolling Mental Health and Sleep Benefits
"Mental wellness" and "sleep hygiene" have both become common concepts throughout the past few years as we collectively look for ways to stay positive and get enough ZZZs. Contrast therapy and hydrothermal bathing are self-care rituals that gently pamper and lull the body and mind into deep relaxation. Add a dash of nutrient-rich waters and the benefits are further magnified and can be targeted to treat various skin or health ailments. Throw in the communal act of sweating and detoxifying together brings a layer of connection and community to the act. All these attributes lead to reduced stress, increased feel-good hormones and even better sleep. Expect more studies and more focus on the less obvious benefits of hydrothermal bathing.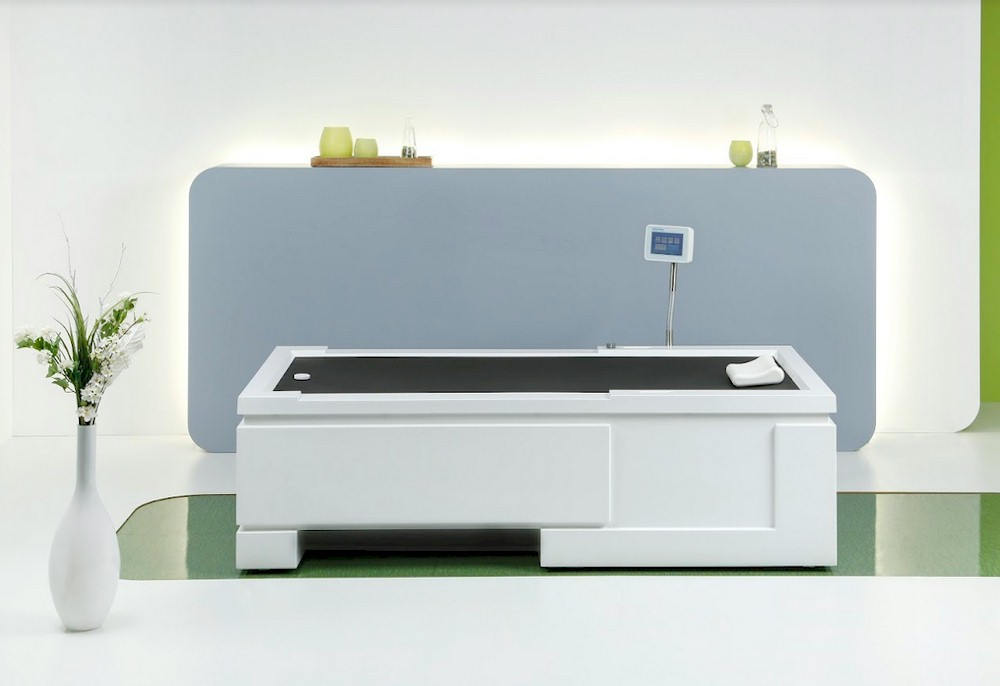 Dry hydro massage, like this one from Unbescheiden, is another way to offer touchless wellness.
Touchless and Self-Service
Hydrothermal bathing is the original and longest standing touchless and self-service treatment around. Both were in high demand throughout the pandemic, but it's also a great way to deliver wellness benefits to the masses at accessible prices and with a strong ROI (no highly-trained therapists required). We are also seeing treatment rooms get more high-tech and offer touchless massage and other experiences that don't require hands-on therapists.
Fitness Meets Wellness
We're predicting a greater focus on holistic wellness in new and existing gyms and fitness centers. In a "post-pandemic" landscape, holistic wellness is arguably the biggest trend there is, and progressive gyms are evolving into new "social wellness clubs" that go beyond weightlifting and traditional exercise classes to include recovery stations and evidence-based communal bathing. The wellness benefits of regular sauna bathing, which, combined with cold therapy, is a great tool for reducing inflammation and muscle soreness, and is something gyms across the world are in a unique position to capitalize on both for members' overall wellness and as a positive impact on a club's bottom line.
Main Image: Resorts World offers one of the first event saunas in the USA at AWANA Spa & Wellness in Las Vegas.
HotelExecutive retains the copyright to the articles published in the Hotel Business Review. Articles cannot be republished without prior written consent by HotelExecutive.