Overview: Fairmont's Original Take on Social Media Sharing
By Hayley Mitchell Social Media & Community Manager, Fairmont Raffles Hotels International | February 26, 2012
Stories are for sharing, as is social media, making a branded online community the ideal channel for Fairmont Hotels & Resorts to highlight its storied history and unrivalled collection of luxury hotels.
With more than 60 global hotel properties, many of which are deemed historical icons, a storied past is one of the most attractive qualities of the Fairmont Hotels & Resorts brand. Whether it's tales of Tony Bennett first singing "I Left my Heart in San Francisco" in 1962 at the flagship Fairmont San Francisco, or memories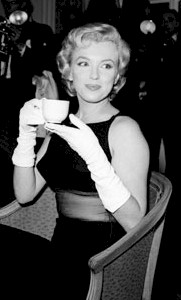 ..pretty saucy for those days

of Marilyn Monroe's infamous midriff baring appearance at London's The Savoy in 1956, celebrity stories abound. There is no lack of silver screen fables to tell as well: with countless motion pictures filmed at Fairmont properties, including classics like North by Northwest, I Confess, and The Way We Were, it's just another part of this long and magical history. And as for personal guest stories, our very favorite type: those are endless. We can estimate with confidence that thousands of proposals and weddings have occurred at grand hotels like Ottawa's Fairmont Chateau Laurier and The Fairmont Copley Plaza, Boston (both celebrating their centennials this year), but we can never really know just how many real love stories began here. It's undeniable that every storied property and every magical moment is an original. But the question is how to tell the story; how to share?
Enter social media. While tools like Facebook and Twitter are often utilized by travel brands for customer service, PR and bookings, any community manger knows that engagement is paramount and a healthy social media stance should be based on sharing. At Fairmont we measure our social media successes not by the number of fans or followers we have, but by engagement levels seen in our reports. As hoped for, we noticed that even without prompting, our guests were turning to our various social networks to share their Fairmont stories with us, and to inquire about unique Fairmont information that they were not finding on our various websites ("do you have the recipe for the Perfect Manhattan we had at The Plaza Hotel?"). The user generated content was fantastic, and it became obvious that a more in-depth story-telling hub was necessary. We also realized that the limitations of Facebook and Twitter posting did not allow for us to share more lengthy content that our fans were asking for, such as recipes, historical anecdotes, and unique green efforts, unless we had a place to house this content and link to. The solution was Everyonesanoriginal.com, launched in 2010 as a Fairmont-branded online community for our hotel guests, fans, friends and colleagues to take their sharing to the next level. The purpose was to create an interactive environment where end-users could post photos, videos, and special memories, and where they could go to do additional research on their travel destinations, based on more personalized property information such as amateur snapshots, chef's recipes and fun facts, versus traditional website information focused on things like rates, maps and local amenities.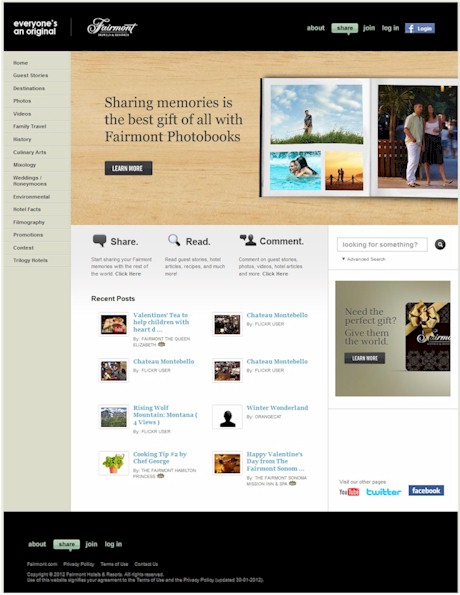 Fairmont's www.Everyonesanoriginal.com website keeps guests connected...
Everyonesanoriginal.com is not a hotel review site, and it's not a customer service tool, and fortunately we have not had to police this as of yet, since members seem to understand its purpose and unwritten house rules.
Out of the current 16 categories of content on the site, areas where guests are most likely to post include Guest Stories, Videos, Photos and Family Travel; and of course the ever popular Weddings/Honeymoon category, where we see wonderful proposal stories and honeymoon pictures from our visitors. We have had photos sent in from grandchildren whose grandparents spent their wedding night at The Fairmont Empress in 1945 for $5 a night (we then honored a night at the same rate in the very same room, making for a very special return visit.) We have become acquainted with an engaged couple, Erika and Ryan, who posts repeatedly on the site about their Fairmont travels; their goal is to visit all Canadian Fairmont properties in the next two years, and they have shared photos from each stay with us. Just last month, we were given a photo that caught a surprise proposal that our staff had helped plan for a guest at the Fairmont Washington D.C. Those are just a few examples of personal guests stories that are frequently shared with us via the Everonesanorignal.com portal. As for our colleagues, they love the opportunity to share their expertise in categories such as Mixology, Culinary Arts, Environmental, Filmography and History. It is a great way to showcase their talents with our guests, and give our colleagues an outlet to express themselves. The "Recipe Finder" located in a prime spot on the right hand bar of the site has been a big success, featuring nearly 200 Fairmont recipes direct form our chefs, and gorgeous food photography to accompany.
With hundreds of stories to read, the site is easily searchable by category, keyword, media type, property or region, allowing users to hone in on the content they are interested in. The conversation cloud also highlights popular keywords, and clicking on that word will lead to multiple posts about that subject. The back-end posting experience is as simple as your average blog platform, so it's easy enough for all levels of computer-literacy to navigate, which also allows the community to attract a demographic and audience that may not be present on our other social networks. In keeping with ease-of-use, users are not required to login in order to view content and browse the site; they only need to create a profile or easier still, sign in through Facebook, only when they would like to post their own material or comments. To encourage more sharing and engagement across other social networks, every post on Everyonesanoriginal.com is equipped with Facebook Like and Google+1 buttons, as well as Email, Rate and Comment capabilities.