Net Zero Energy: Why Sustainable Cities Need Sustainable Hotels
By Circe Sher Co-Founder, Piazza Hospitality | May 06, 2018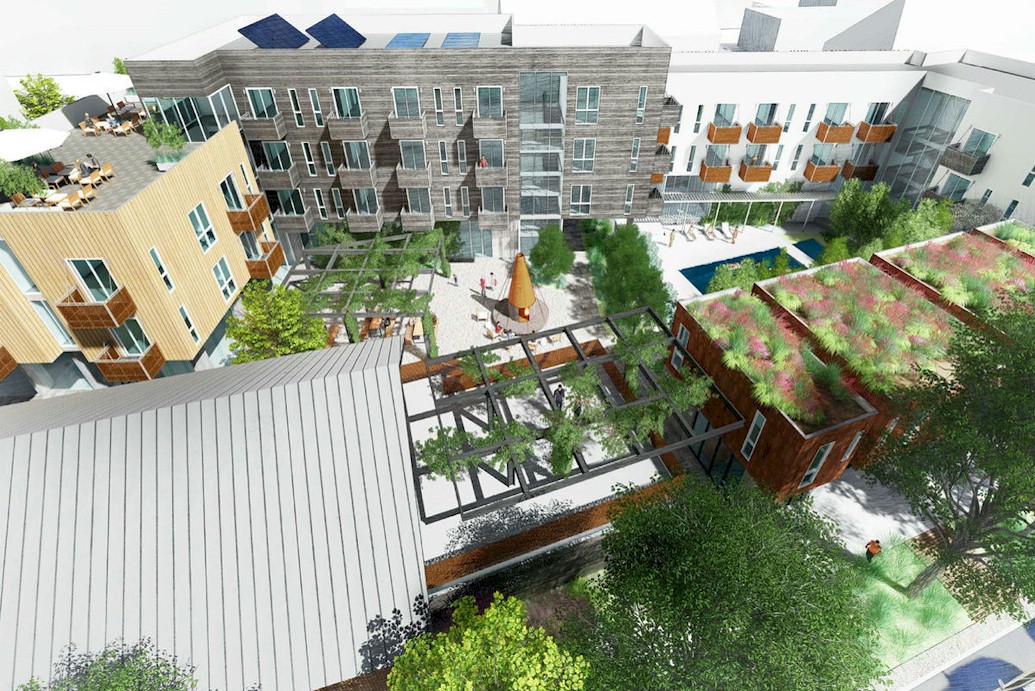 Proposed design for Hotel Sebastopol
Piazza Hospitality's soon to be built Hotel Sebastopol project in California's Sonoma Wine Country will be a small, design-oriented boutique hotel with 66 rooms, including 6 bunk rooms. Located at 6828 Depot Street in Sebastopol, California, the hotel will also include a lobby and reception area, retail, artist/maker studios, restaurant, bar, lounge, wellness center, public courtyard, private gardens, outdoor rooftop decks, meeting rooms, and other amenities.
The project will be at the heart of an environmentally-focused community. Officially a self-declared nuclear-free zone, Sebastopol embraces the environmental protection movement, focusing on sustainable living, local and healthy dining, wetland preservation, active transportation, renewable energy, and more. The project plans to fully embrace the local community's commitment to sustainability, aiming to achieve both LEED certification and net zero energy status. To produce all energy needed for operations on site, plans include solar panels on all available roof space and over the project's parking lot, as well as a multiple energy efficiency measures such as a greywater recycling system, multi pane windows, and a waste water heat pump. Additional sustainability features include free bike share for hotel guests and employees, secure on-site bicycle parking, locker and shower facilities, renewable and reused construction materials, native and low-water plantings, and a living roof. The hope is that these investments will not only reduce the hotel's environmental impact, but also improve both guest experience and the hotel's bottom line. 
Net Zero Energy
A net zero energy building is defined as a building where the total yearly amount of energy used is roughly equal to the amount of renewable energy created on the site. These buildings consequently produce less overall greenhouse gas emissions than similar non-zero net energy buildings, as energy is created through renewable environmentally friendly sources and produced locally, limiting energy loss associated with long distance transmission. The efficient use of energy in the hotel sector is driven by many factors, including guest interest in green hotels, lower operational expenses and energy costs, increasing demand for services that require energy, and ever present pressures on profitability, marketability, and competition.
To achieve net zero energy status, the Hotel Sebastopol building was modeled using OpenStudio v2.2 software to estimate savings from energy efficiency measures and determine the solar photovoltaic (PV) system size needed for net zero energy operation. It became clear that hotel guest comfort could be greatly improved and energy use greatly reduced with a combination of energy efficient measures. These measures were evaluated for their energy reduction impacts, costs, operational impacts, and impacts on guest comfort. The final package of measures settled upon, which combine to achieve net zero energy status, include:  
Improving the building envelope to add insulation and prevent heat loss. This investment presents the additional benefit of reducing outside noise pollution which is particularly important given the project's location along a major thoroughfare (California State Route 116).
The installation of multiple pane windows to further prevent heat loss. The windows will also help reduce outside noise impacts.
 Reducing domestic hot water energy needs via the installation of either an air-source heat pump or a waste water heat recovery heat pump. This involves the installation of a heat exchanger on property to recover energy and heat from drain water that results from hot water activities such as laundry operations and showers. The system helps reduce energy consumption and heat loss associated with water heating.
 Installing a water recycling system which utilizes greywater from room showers and sinks for irrigation and toilet flushing. The energy model suggest the system will result in an approximately 47% reduction in water use as compared to a typical hotel of a similar size.
 Installing in-room ceiling-mounted radiant heating systems that more efficiently heat and cool guest rooms. The systems are particularly effective in Northern California's temperate climate. Radiant heating systems have the added benefit of improving indoor air quality.
The exclusive use of LED lighting systems, which can consume up to 90% less energy than incandescent bulbs. LED technology and product offerings have progressed to a point where concerns over light warmth and color are no longer an issue.
 The installation of a solar panel system on all available and appropriate rooftop space and over the hotel parking lot, which will produce roughly 479 kW of power to meet net zero energy performance. This feature is particularly appropriate as it both provides a localized and sustainable energy resource, and also matches the values of the community. In 2013 Sebastopol become the second city in California to require solar power systems on new homes and commercial buildings. Our proposed system takes the City requirement one step further by achieving net zero energy operation.
As heating and cooling are significant contributors to a hotel's energy load, those systems were seen as key targets for efficiency improvements.
Please Login to read the full story, or you can Get Free 30-Days Hotel Business Review
The Hotel Business Review articles are free to read on a weekly basis, but you must purchase a subscription to access
our library archives. We have more than 5000 best practice articles on hotel management and operations, so our
knowledge bank is an excellent investment! Subscribe today and access the articles in our archives.