Trend: Empowering Employees with the Skills of Humor and Improv
By Karyn Buxman Principal, Karyn Buxman | April 14, 2019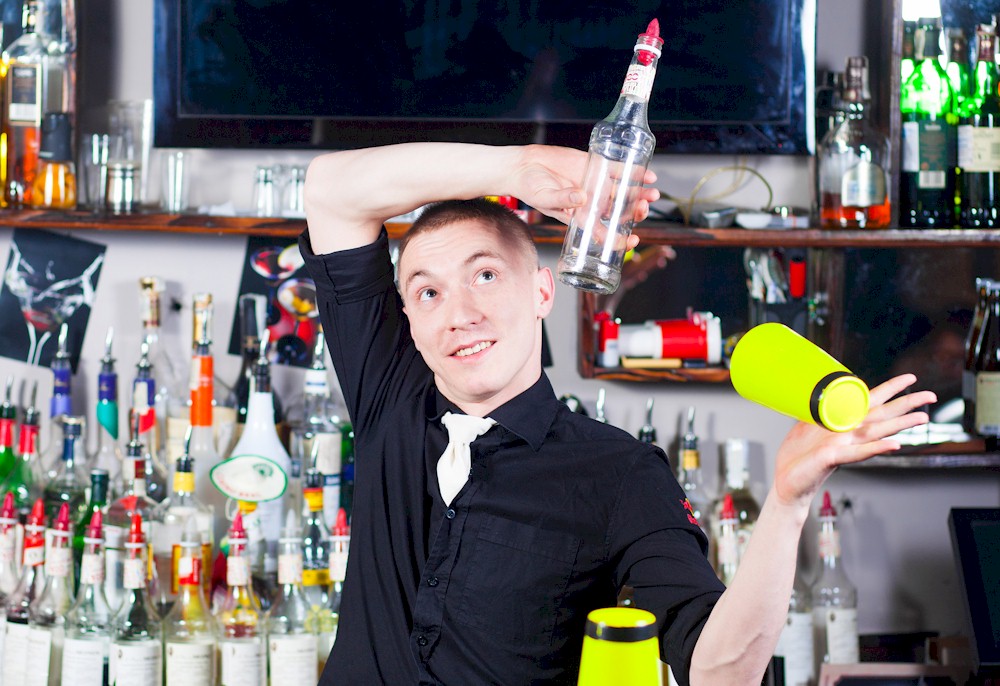 Following hours and hours of bad weather and flight delays, I checked into my hotel room tired and (okay, I'll admit it…) a bit crabby. Without even looking at the menu, I called down for room service. "I'm starving!" I told the employee who answered the phone. "I want you to bring me a burger and sweet potato fries." 
There was a half-second pause and then he responded, "Ah, yes! A burger and sweet potato fries! I love that combination, too. And I can have that burger to you so fast it will make your head spin. And it will be awesome! But our chef is flat out of sweet potatoes. If you really need sweet potato fries, I'll run down to the grocery store, hmmm… that's about a mile… and buy that sweet potato myself … and I don't run too fast, so that could take me 20 minutes to get there and another 20 minutes to get back, another 10 to 15 min to cook the fries. That's a long time for someone as hungry as you. I don't want to disappoint you… How about if I bring you piping hot French Fries fresh out of the fryer along with that burger? Does that sound good?" 
Despite my fatigue and my hankering for sweet potato fries I couldn't help but laugh. "That sounds great," I told him. I found myself smiling as I started to unpack my clothes. This person I'd never met had managed to boost my mood-even though he couldn't deliver what I had asked for. How did he do that? With a little humor and a bit of improv. 
What's Humor Got To Do With Customer Service? 
Organizational consultant, Dr. Joseph Michelli says, "If your goal is to deliver extraordinary experiences, you should welcome and develop the humor skills of your team members so they can get your customer to laugh with them, as opposed to having either your customers or your team members be laughed at."
Customer service is about positively affecting your customers' perceptions. Humor, done well, is a powerful tool for creating influence, strengthening relationships and lowering resistance.
When I was heading off to college, my dad told me that the two tools I needed to keep on hand were duct tape and WD-40. "If it moves and it shouldn't, use duct tape. If it doesn't move and it should, use WD-40," he said. Humor is duct tape and WD-40 all rolled into one. 
Humor and laughter are social lubricants. They decrease the friction in interactions, making it easier to get along. At the same time, humor and laughter have a bonding effect. They strengthen relationships and rapport, bring people closer together and tightening the connection. When your staff uses humor appropriately, they can lower customer resistance, decrease stress and frustration, and turn a situation that could be somebody's nightmare into a positive experience. 
"Live from New York-It's Saturday Night!" 
Unless you've been living under a rock for the last 40 years, you've heard that line from Saturday Night Live at least once! With a 44+ year run, it has entertained generation after generation after generation. But what has SNL got to do with you as a hotel executive and the "Culture of Yes"? 
The competitive edge 
Jeffrey Gitomer, author of The Sales Bible says, "Making people smile or laugh puts them at ease and creates an atmosphere more conducive for agreement. If they agree with your humor, they are more likely to agree with purchasing your product or service." For you, this can translate into purchasing more hotel services, longer stays, repeat visits and referrals to friends. 
The original cast of SNL, including Dan Ackroyd, Chevy Chase, and Gilda Radner, were originally part of an improv troupe known as the Not Ready for Prime Time Players. And while most folks think of improv as comedy and entertainment, I'm going to let you in on a little secret: Improv is something that you and your team can practice to give your business a competitive edge. 
The First Basic Rule Of Improv IsYes And…
In the world of improv, when a troupe member is given a concept for a skit, the goal is to take the idea, play with it, build on it, and then pass it along to another member of the team. They repeat the process. Anything goes. 
Even if the idea does not make sense to the other troupe member, or he's unsure what to do with it, he says (or thinks) "Yes and…" then continues to build the story. What the troupe member does NOT do is say something like "That's a dumb idea," or "I can't do that one-give me something else." 
When you're dealing with a customer- it's about managing the other person's perception of their experience. Your goal is to make them feel heard and happy. Telling them you can't do something for them is not going to create a positive experience. Ask yourself, "What could I do when I can't say 'Yes' to their request?" Answer with, "Yes and..." 
I'm not saying that you have to perform magic or lie to them. But saying "No" sets up immediate resistance. There is an art to "Yes and…" You acknowledge their desire, use some humor and creativity, and then segue into something that you can do. This is a skill and like any skill, the more you do it, the easier it becomes. In my opening example, if the employee had merely told me they didn't have sweet potato fries, I would have been frustrated-even angry. But in the humorous way he spun his story, I was actually excited to get those piping hot French fries instead of what I had requested. 
Improv is just one way that you and your team can harness humor to create a positive experience. Other ways include story telling, joke telling, visual aids, voice techniques and props. Once when trying to get a busy waiter's attention at a hotel reception, I glanced at his nametag. It read, "Oh, sir!" My amusement outweighed my angst over not being served coffee and I patiently waited while he met my needs. 
As a hotel executive, what can you do to harness humor and leverage laughter toward a culture of Yes and...? Below are five tips to help you create a memorable and profitable customer experience. 
1. SEE Funny 
While BEing funny is a great skillset to have, it's more important to be able to recognize and appreciate the humor around you. And if you practice SEEing funny consistently, the BEing funny can fall into place naturally. By raising your awareness, and proactively seeking humor, you will begin to rewire your brain, and increase your odds of seeing and hearing funny things that other people miss. Like the tourist at a Miami hotel who asked the desk clerk, "Which beach is closest to the water?" Or the visitor in Denver who asked a concierge, "What time of year do your deer turn into elk?" You've been in this industry long enough to know-you do not have to make this stuff up! 
2. Model 
The leaders in your organization will benefit by modeling appropriate humor to your staff. Humor delivered well can create likability and instill a sense of trust. By demonstrating the proper uses of humor, not only are you showing your people how to do it right-you are also increasing your influence and possibly even your paycheck. A study cited in Forbes stated that executives who were rated as outstanding used humor more than twice as often as those who were rated as average, and that there was a positive correlation between the funniness of the executives and the size of their bonuses. 
3. Mentor 
Just because people enjoy humor doesn't mean they know how to use it appropriately in the workplace. Humor can be a tool or a weapon. And if it's mishandled, it can cause harm. Numerous factors come into play, such as understanding your relationship with the other person, recognizing the appropriate timing, being authentic, and not using humor that makes others feel put down. When addressing a group of sales executive, one VP admitted that she had an employee who was misusing sarcasm, so she instructed her to not to use any humor at all-not with staff or with customers. "Was that appropriate?" she asked me. While forbidding humor is an option, teaching your employees how to use humor well, rather than not at all, will create better communication among your workers, and create positive customer satisfaction among your customers. 
4. Create a corporate culture that includes humor 
Are recruitment and retention issues in your organization? Those who have created a corporate culture that includes positive humor experience a ripple effect. The employees (particularly Millennials) are happier and stick with their jobs longer. Word travels fast that, "this is a great place to work." And the number of folks vying for these jobs increases. One executive told me that after implementing humor and improv as part of the orientation process for his employees, he saw an immediate uptick in the communication among his staff; they began engaging with one another more during and after work; the turnover decreased, applications increased, and they began attracting clients who were more in alignment with their "vibe." The result? Everyone was happier and more effective. 
5. Become a student of humor 
Just like the other skills that you have, you need to continue to use them and hone them or risk losing them. Smart executives provide ongoing learning experiences for their staff. Consider taking an improv workshop or an applied humor class. Hone the skills of listening for customer comments or watching for clues that the customer appreciates humor. There are books and articles on the art of storytelling. There are organizations  that focus entirely on the art of applied humor. By exposing yourself and your staff to these ongoing learning opportunities, you will reap the benefits of greater a greater customer experience. 
Summary 
To remain competitive, you want to do all you can to cultivate and manage guest satisfaction. You owe it to yourself, your staff and your customers to include humor and improv when creating exceptional customer service in your organization. And now if you'll excuse me, I'm off to find some sweet potato fries.
HotelExecutive retains the copyright to the articles published in the Hotel Business Review. Articles cannot be republished without prior written consent by HotelExecutive.