The Pivotal Role Hotels Play in Combatting Climate Change
By Ewald Biemans Owner & Chief Executive Officer, Bucuti & Tara Beach Resort | May 05, 2019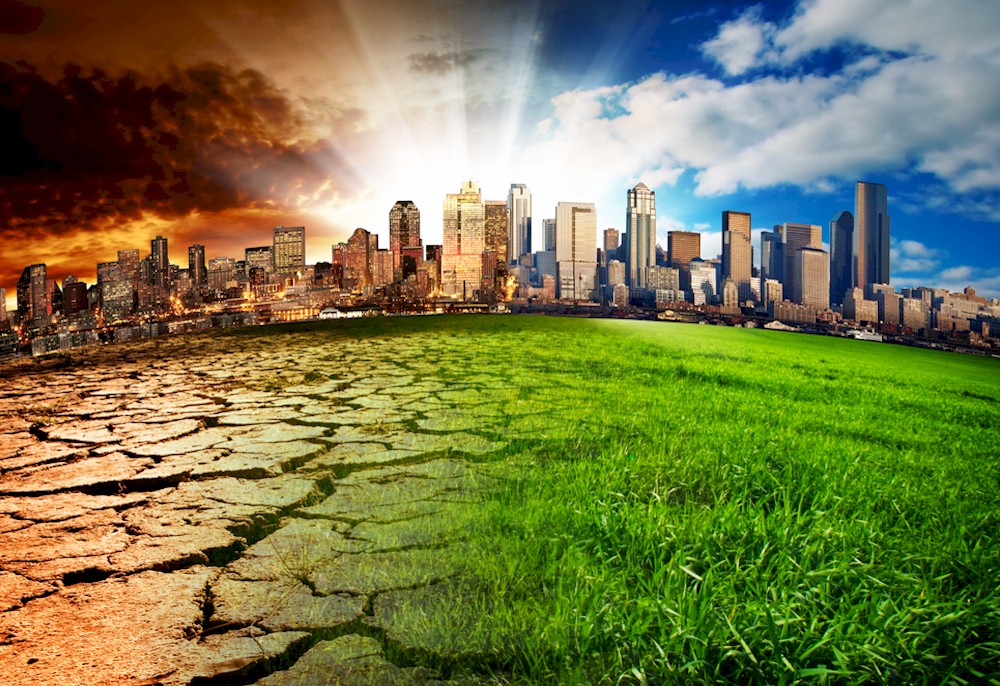 This article was co-authored by Amy Kerr, Director of Public Relations, MPA Digital
While global warming has had an increasing presence in the news, the world took notice with the October 2018 release of the United Nations' Special Report on Global Warming of 1.5ºC. Citing a 2030 deadline, the world has just 12 years to limit climate change catastrophe warns the UN. According to the UN Intergovernmental Panel on Climate Change (IPCC), which produced the report, urgent changes are needed to cut risk of extreme heat, drought, floods and poverty.
Climate Change Goes Mainstream  
The good news: More people than ever are finally ready to listen and act.
It's never been easier to become sustainable. There are more resources readily available. While the term eco-friendly hotel conjures up thoughts of a lodge located in a jungle setting, it is possible to be an eco-hotel anywhere in the world these days. In fact, it can be city-based properties that have the toughest challenges to change an existing mindset because of the easy access to utilities. Fossil fuels are widely available in most densely populated areas. To make a serious commitment to eliminating a hotel's carbon footprint, it must not settle for short-term ease and instead set its sights on accessing clean energy.
Common Concerns as Hoteliers
Becoming sustainable and committing to responsible tourism requires commitment, change and investments. It's common to be plagued by doubt. Will guests even care about sustainable initiatives? Can the hotel afford changing equipment and procedures? Will the hotel be profitable?
Climate change has long been looked at as other peoples' problems and therefore their issue to fix. If a hurricane is bearing down on the coast, then the hotel located in the prairie plains out west likely doesn't see it as their problem. If the polar vortex keeps Chicago chilled colder than Antarctica for a week, hotels further south pray for their booking engines to spike with reservations. But the storms continue to be more devastating, the winters are more severe, and the droughts are longer. Coastal areas, long a popular draw for travelers, live on the front lines of rising sea levels.
Without changing our ways, many of today's famous beaches will only be able to be admired with snorkeling equipment. Bucuti & Tara's own home on the widest stretch of Eagle Beach, Aruba, will easily have waves lapping at the back door of the resort in 30 to 50 years.
Weather isn't the only place we feel it. We feel it with costs – higher heat bills, more electricity used for cooling and higher food and beverage costs.
Most people, if asked, cannot easily describe how climate change affects them personally. That's why it's hard to make sustainability a priority in business, especially the "guest is always right" hospitality business. It is especially challenging since business is driven by profits and competition is intense. The mandate is often to make business faster and cheaper, usually in contrast to doing what is responsible.
The Path to Carbon Neutrality
Figuring out where to start can be overwhelming. While the great news is there are many sustainability initiatives and resources, how does a hotelier decide where to begin.
First, understand that to be successful, a well-rounded plan involves everyone – hotel staff, vendors and guests. The key is not to make sustainability an expectation, but to weave it deeply into the hotel's culture. It's critical that it starts from the top and is worked into every level down. If it is simply an ancillary committee with no true power, it will not work. If it is not made to be a natural fit, it will be difficult for stakeholders to adapt.
For example, if each guest room has a recycling receptacle next to a waste basket, recycling will soar versus if there is only one larger recycling receptacle per floor. Just like opening a door for an arriving guest is second nature for hospitality professionals, so too must be a staff's mindset to automatically factor in sustainability in operations such as a housekeeper who turns off the running faucet after wetting the cloth to clean the vanity. Another habit that's as easy to do as greeting a guest is to turn off unnecessary lights and adjust the thermostat of an unoccupied room.
Establishing a Green Team is key to progress, research and accountability. It should consist of a mix of top leadership, key decision makers, finance team members and frontline staff from all departments. Whether as part of routine professional development or onboarding, every staff member should be required to sign a document confirming their understanding and commitment to your hotel's sustainability policies and procedures. Just as operational training is ongoing, so should environmental education and development.
Employees should receive updates about initiatives and goals in meetings, employee communications (email, newsletters, postings) and even participate in environmental activities such as beach clean-ups or community talks. In addition to educating employees, also incentive them, which leads to greater success. This can even come in the form of transportation assistance such as bus passes. This also counts towards carbon neutral certification. Encourage them to practice in their personal lives the sustainability initiatives they learn at work. It makes for a more natural practice of it in the hotel and as a hotelier, it's a community initiative.
Invite guests to be active participants. While some may choose passive roles, guests will often lean into an opportunity to do something good. Begin by including a well-developed sustainability section on your website. Include messaging on pre-arrival correspondence that allows guests to select a Green Stay in advance. Instead of wasting single-use water bottles, gift every guest with a logoed, reusable water bottle for use throughout their stay and a keepsake to be used at home. Each time they use it will be a reminder of being responsible with the planet's resources.
Go further and commit to eliminating all one-time use plastics. Some cities and countries such as Seattle, Montreal, Taiwan, Aruba and the UK have already banned certain single-use plastics and are well on their way to meeting their set goals of total elimination. Replacing single-use items with reusables and traditional utensils can be almost immediate for hotels. As a bonus, you'll save on costs and disposal fees.
Infusing sustainability into the culture is not only an internal process. Climate change transcends the property line. Let the community know of your commitment. Seek out local environmental experts and solicit their advice. When you master an initiative, share insights and best practices with local hoteliers, vendors and businesses. The more organizations become involved, the bigger the local movement becomes for working towards carbon neutrality. Work with your local government to learn more about their carbon neutral goals. Challenge them and offer support if carbon neutral opportunities fall short.
Consult with sustainability certifications for a solid start. Certifications provide structure along the path to sustainability and carbon neutrality. It costs nothing to go to the website for each certification and begin familiarizing yourself with the process, materials and initiatives that lead to sustainability. These world standards are created by experts, tested and proven. Certifications also assure guests the hotel has a strong, well-managed commitment to sustainable practices and provides a high-quality experience.
Each certification has different strengths so it is ideal to pursue multiple ones and be sure to renew each as applicable. As an example, on Bucuti & Tara's path to carbon neutrality, they worked over the years to achieve Travelife Gold, ISO 9001, ISO 14001, Green Globe Platinum, LEED Silver and finally CarbonNeutral®.
Map it Out: Start Small, Think Big
Bucuti & Tara Beach Resort's holistic approach to sustainability is drilled down by key areas. Everything within the resort falls into a category from drinking straws to energy systems. Each effort is meticulously researched and carefully implemented. Every effort is focused on the health and safety of guests, staff and the environment within the resort and beyond.
Start small, make it meaningful and build on each success. Once your key areas are determined, the next step is to establish short, medium and long-term goals.
Track everything. Absolutely everything must be monitored continually to identify progress as well as discover deficiencies.
Building and renovation projects are a constant in the hospitality business. While designing a new hotel is the easiest way to build a sustainable property, existing hotels are just as much candidates for becoming eco-certified. LEED has an excellent program for properties seeking to retrofit and of course has a well-followed program for new construction.
In the short term, identify unused or leftover materials that can be used in future projects. Doors and molding can be sanded and repainted. For medium term goals, look at bigger capital items that need upgrading or replacing. For example, when the fitness center flooring needs replacement, use recycled tire material. Not only is it an excellent reuse of materials, guests will appreciate the cushioned flooring during workouts. In the long term, replace windows with insulated, reflective options. Indoor temperatures will remain more constant therefore decreasing use of the HVAC system. The savings are immediate.
The largest utility expense for hotels is almost universally electricity. Perform an audit. It's common for the number one consumption of energy to be air conditioning and/or heating, which can easily comprise 60 percent of total electricity expense.
Installing variable refrigerant flow A/C units uses energy-saving technology that allows for changes in temperature in different parts of a building at various times of day. Sealed chillers and heat exchangers can aid large properties. Additionally, install in-room thermostats that feature an eco-mode option. Guests opt-in with a press of the button. This triggers an enhanced energy savings setting, which automatically increases in-room temperatures in warm climates and decreases it in cooler climates when unoccupied and resets to the guest's preference upon re-entry. When used to its fullest, this type of system can reduce energy costs by 20 to 30 percent.
As energy efficient technology becomes more advanced, adopt and implement new equipment. Switch from compact fluorescent lighting (CFL) to light emitting diodes (LED) light bulbs. While the upfront costs might be higher, the long-term benefits and cost savings are much greater because they use less power and have a longer life span. In addition, as many lights as possible should be placed on timers or motion sensors.
Energy efficient appliances such as those with the ENERGY STAR rating should be used. Opt for induction stove cooktops instead of natural gas. Instead of using fossil fuel-based energy to heat water, use a solar panel-based system or heat exchangers.
Ultimately, use rooftops to your advantage – they are the perfect place for solar panels. There are many excellent options in the marketplace for generating electricity other than traditional fossil fuels. If possible, source locally. Maximize the panels you can place on property or that meet local law.
While carbon neutrality is focused on the elimination of carbon emissions, water efficiency still factors in to the plan. According to the International Water Association, the energy used to supply water to cities and clean used water is responsible for 3 – 8% of global greenhouse gas emissions. This is roughly similar to all global air traffic emissions.
It's hard to think of a hotel that no longer gives the guest the option of thinking green by using towels more than once and not having bed linens changed daily. After so many years of it, guests expect this practice. It's time to think far beyond what some now call greenwashing.
Pledge to be part of the Water Sense H20tel Challenge, a U.S. Environmental Protection Agency initiative to track usage performance measures and reduce consumption.
Getting started is as simple as adjusting sprinklers based on rainfall. It's easy to set the timer and let the system run automatically, but it's a major waste of resources and money. A maintenance staff member can easily add this to their daily or weekly checklist.
Examine the laundry operation. Every load should be maximized, which is easy. Take it to the next level by implementing double-up laundry water recycling. With ozone laundry systems, which run on cold water, laundry departments can reduce their use of natural gas by up to 100 percent, use 35 percent less water and run dryers 20 percent less.
Every drop of gray water can be reused. Instead of sourcing fresh water for irrigation, install a multi-chamber water tank to hold gray water collected from laundry, dining facilities, guest rooms and public restrooms. The gray water, along with rainwater collected from rooftops can be used for irrigation after purifying in-house to some extent and irradiating with UV light for safety.