Finding Hospitality Design Solutions in an Altered New World
By Monika Moser Managing Director, Wilson Associates | November 15, 2020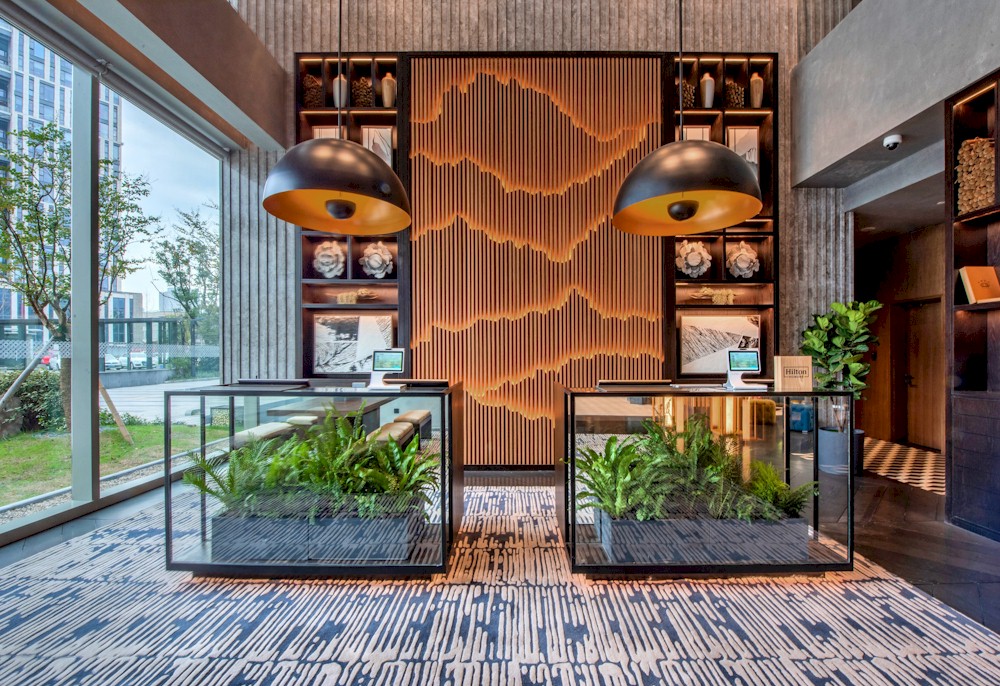 In the past several months, our design team and I have been asked on numerous occasions how the pandemic will affect our immediate projects and the design of hotels in general. Will we change our design? Will we have to include mandatory new regulations? How will the new consumer behavior change our creative process?
We obviously would like to have the perfect answer to this; it certainly is difficult to foresee a situation resulting from an unprecedented global health scenario like this.
We can safely say that all of us have re-examined human and social interactions, cleanliness and hygiene. While we are unable to say which actions and measures resulting from the COVID-19 pandemic will remain and become permanent, we can however assume that some form of physical (not social) distancing will remain the rule in the travel and tourism industry.
In terms of design, there is, of course, the immediate need to find solutions that will create the feeling of a safe environment for hotel guests. With small design elements, we are able to create a fast and easily adapted safe environment that will allow continued operations in the hotels.
We can develop long-term design and architectural solutions for our upcoming hotel projects, such as larger restaurant spaces with fewer seating options. It is our belief that the major, long-lasting concern resulting from COVID-19 will be the hygiene of all hotel spaces and the possibility of physical distancing while keeping the social interaction we are used to in the hospitality and food service industry.
As mentioned, our greatest and immediate responsibility as interior designers will be to design spaces that aid the operating team to keep the environment safe and clean, while keeping the sense of elegance, luxury and refinement required by the establishment.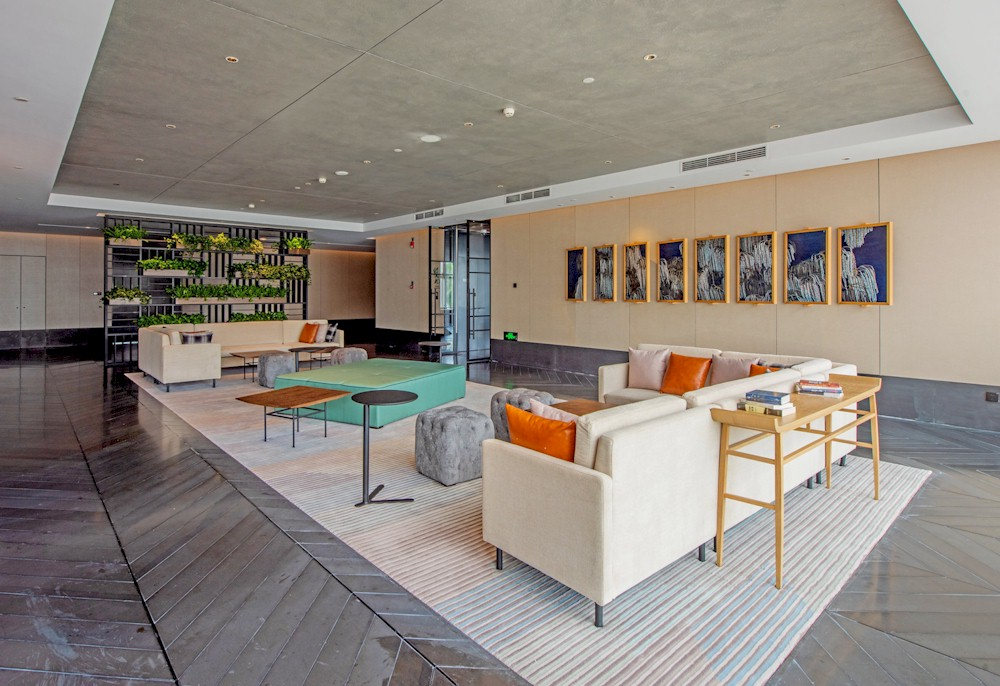 Drawing a connection to the cultural roots of Hangzhou, locally curated artwork in public spaces of the Canopy by Hilton Hangzhou Jinsha Lake hotel celebrates the connection between community and nature; the eclectic range of holograms, paintings and drawings showcases inspirations of plant life, local fauna and tide patterns of the river.
Following a recent McKinsey survey, respondents mentioned the intense and thorough room cleaning as a top action they would like to see from hotels to protect their guests. Disinfection of public spaces becomes the priority and part of the new cleaning procedures for the housekeeping team. In addition, housekeeping managers will need to make sure that the customers clearly see the cleaning work of their team that usually was active in the background. Safety will become a commodity, the future selling point of a brand and the much-needed reassurance for tourism.
As designers, we find solutions together with hotel operators to simplify the new cleaning process by using, for example, specific materials and products. A variety of suppliers and partners have already adapted their offers, and we would like to highlight some examples here. The German bathroom supplier Kaldewei has developed hygienic surfaces of steel enamel for their showers and bathtubs. These are not only sustainable but offer the best possible hygiene against viruses and bacteria in general through a seamless, pore-free surface covered with glass that is free of joints. The surface is also resistant enough for the use of strong disinfectants without altering the quality over time.
In regards to fabrics, the Italian supplier Flusko has developed products like Sanirise for the protection and disinfection of their fabrics, carpets, and draperies, that can be easily used by operations on a daily basis and do not change the quality and overall aspect of the products. The tile manufacturer Agrob Buchtal developed antibacterial tile treatments for hygienic solutions.
In addition, Interior designers can use patterns and colors to evoke a feeling of clean and pure environments. Surfaces will have pore-free materials, rather than stones and concrete. Floors without carpets evoke purity and cleanliness. Using white towels and linens gives the immediate feeling of fresh and clean laundry. Decluttering the room from all sorts of unnecessary marketing materials, amenities and stationary will enhance the sentiment of purity. Additionally, eco-friendly, natural elements bring the outside in and raise the idea of health and wellbeing.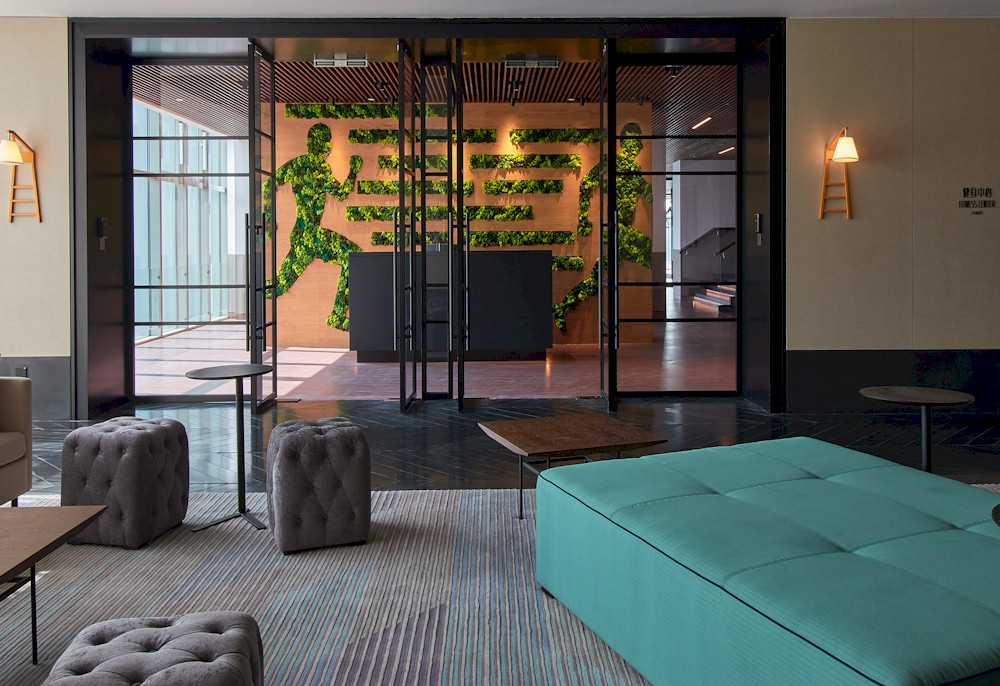 Wilson Associates' New York-based design took cues from garden planning to create open spaces in the lobby that offer guests intimate enclaves for social interaction or moments of solitude.
We strongly believe that the hotel sales teams will need to adapt to a new consumer, who will in the future avoid large MICE events and prefer smaller and more exclusive gatherings. We will see less oversea travelers and more local tourism. Despite ourselves, we have become used to remote working and virtual meetings. Having the new need of distancing in mind the hotel amenities might change, with technology facilitating physical distancing and touch-free services. While hotels must carefully implement new processes without losing too much human interaction, clients will use the hotel spaces differently in the future.
We have recently seen some hotels like the Sacher Hotel in Vienna to offer private dining options in their vacant rooms, with personalized service and menu from their restaurants. The traditional breakfast buffet might in the future be serviced by the restaurant staff to avoid too many people manipulating the food. We might as well see an increased demand for room service dining to which hotel operations needs to adapt. On a personal note, requiring a tray charge for room service delivery will seem to the consumer as obsolete and unnecessary as the mandatory WiFi charge a couple of years ago.
Meaningful experiences while travelling will become more important than ever, searching for an increased connection with the destination, the nature and its surroundings. It is not surprising that remote properties did suffer less from the COVID-19 reduced tourism than city hotels. The customer has the feeling that he will be safer outdoors, the designer can enhance this impression with adapted design and architecture.
Sustainability and ecological friendly travelling had been an issue over these past years and will hopefully increase in the future, transforming the possibility to connect with nature as the new luxury for experienced travelers. Biophilic design has been a subject these last years and some hotel brands have adapted to this trend. Hotel operations can, in addition, increase this need for sustainable experiences with local, seasonal and traceable food offerings.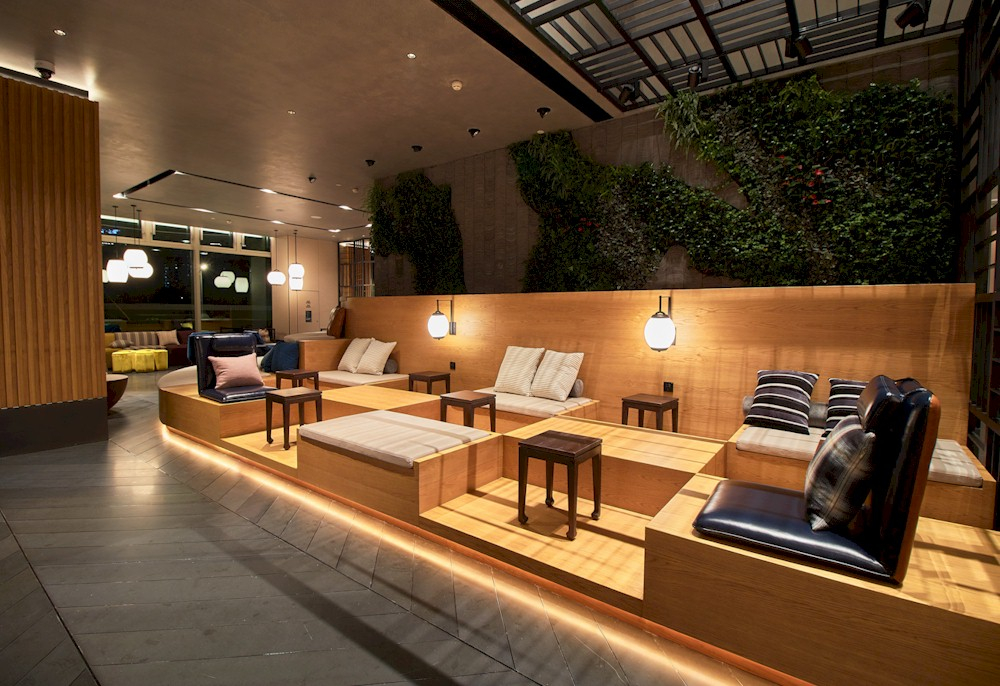 The lobby of the Canopy by Hilton Hangzhou Jinsha Lake features a lush green wall that serves as the backdrop for bleacher style seating, while a wood-slat pitched ceiling above the lounge area pays homage to traditional Chinese farmhouse architecture.
Indeed, adaptations towards a new diversification of the clientele might result in new, more creative and adapted offerings by the hospitality industry. We have all seen the recent rise of the staycation packages and offers for work from home spaces. There have been a variety of interesting solutions over the past months from hospitality brands in an attempt to recover and survive.
As designers, we must take into consideration that hospitality projects are made for the long-term and that investments are too important to do one-shot changes based on the new needs resulting from the pandemic situation. While we might find immediate solutions for existing projects to enhance the required social distancing and touch-free operation's we do not expect to see related fundamental changes to the hotel services or spaces, for food and beverage outlets or rooms.
The main focus nowadays for operators, investors and designers should always be flexibility of spaces, flexibility in hotel services and offerings-and hence adaptability to ever changing situations. The main transformation for hotel brands, if not yet implemented, will be to create spaces that are flexible and multipurpose, giving the possibility to transform as needed over time. We will need to adapt to the use of a variety of new sources of income and the traditional hotel offerings will change.
Mixed-use properties are already in development. We must now go a step further in creating spaces that are reusable and have the possibility to revert back to the original function when needed. Hotel rooms might transform to short- or long-term student housing facilities in dense city landscapes, hotel meeting spaces can easily change to co-working spaces with the new work/play/stay business models, retail space can convert to pop-up events and showrooms. Let's not forget the endless possibilities to co-brand properties, offer space to wellbeing offerings, open space to senior living, medical care,...
Again, the key to the success of these transformations is the flexibility and adaptability, not only of the spaces but more importantly of the hotel operations and the employees.
Inclusion, meaningful experiences, and the generosity of sharing on a more spiritual level will become relevant in everything we do. Therefore, we will adapt to a more flexible, relaxed and personalized approach to design. The design will focus on creating lasting experiences that will be tailored to each traveler. Design must meet its needs for human values, living the local experience, mingling with the neighborhood and being part of a real community. The new consumers will be knowledgeable, sophisticated and very curious. They will be driven by well-being and health and nurtured by sincere relationships that have a lasting impact on those around them. The ethical brands that can meet these needs will survive.
It has been clear all around the world that the travel and hospitality industry will return even if the recovery might be slower than for other industries. However, we believe that the current crisis is an amazing opportunity to change an industry that might have been reluctant with changes in the past. One thing is certain, the current situation has changed many things in our lives, but we still will strive to experience travel and services.
HotelExecutive retains the copyright to the articles published in the Hotel Business Review. Articles cannot be republished without prior written consent by HotelExecutive.