Zello@Work : A Voice App for Faster Hotel Communications
. March 11, 2015


Austin, TX - March 11, 2015 - In today's fast-paced society, where instant gratification is often the norm, hotels must ensure that guests' needs are promptly addressed and met. By using state-of-the-art technology and apps to improve operations and communications, hotels can provide superior service, but with less effort and cost.
Zello@Work is a new app that can improve hotel communications while reducing operating costs. Today, Zello@Work is used by properties from global chains including Starwood, Wyndham, Hilton, Hyatt, and Intercontinental.
What is Zello?
Simply put, Zello turns smartphones, tablets, and PCs into lightning fast walkie-talkies. You can talk to one person or a group of people by using "channels." Zello uses voice over IP (VOIP) technology to transmit real-time, high-quality voice transmissions. Zello@Work offers features such as history, image sharing, persistent call alerts, and availability indicators.
Zello runs cross-platform on most devices, including Android, iPhone, iPod, iPad, Blackberry, Windows Phone, Windows PC, and mobile computers. Zello can even work with existing 2-way radios via a gateway; but unlike 2-way radios, Zello has no distance constraints. Additionally, Zello can run entirely off a Wi-Fi network or on any carrier's data plan.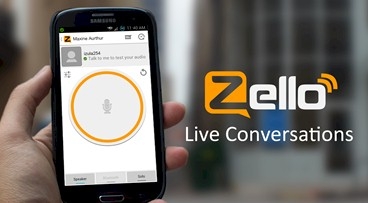 Zello networks are secure and private with RSA 1024-bit authentication and AES 256-bit encryption. Staff can use Zello hands-free with wired or Bluetooth headsets, speaker/mics, or small wireless buttons. See accessories for a complete list of compatible accessories.
Zello@Work Benefits
Easy to use and manage: Zello@Work provides a web-based admin console for device management across the network. From the console, the administrator can manage users, channels, and device settings. All changes are automatically updated on users' devices in real time. Channels can help segment out hotel functions such as front desk, security, housekeeping, etc. The number of channels and active users allowed per channel is unlimited.
Fast and Reliable: Zello is faster than dialing a phone number or texting, with less than 0.1 second channel ready time (Wi-Fi) and less than 0.5 second transmission latency (Wi-Fi).Thousands of businesses around the world, including hotels, have used Zello@Work since 2012, with 99.9% availability of service. There is 24/7 tech support available to assist new and existing customers with network setup and training.
Reduced equipment costs: Zello reduces the number of devices staff need to carry. Zello can be installed on the same device as other popular hotel apps, such as HotSOS, REX, Synergy, or SOTI. By replacing 2-way radios with Zello, annual licensing fees and equipment costs are reduced or eliminated. If your hotel property has strong Wi-Fi coverage, there is no need to use a carrier with Zello, thus eliminating data plan charges and the need for specialized carrier devices.
Affordable to use: Prices for Zello@Work start at $5/user/month and are further reduced with volume discounts and annual payment discounts. There is no binding contract or penalty for canceling the subscription. Administrators can easily add or reduce the number of users from the admin console, and the subscription payment is adjusted accordingly.
Flexible setup: Zello accommodates any combination of devices and carriers on the network, making it ideal for hotels using a "bring your own device" (BYOD) type setup. Zello can be gradually transitioned into existing communications systems or a 2-way radio system. Older devices and 2-way radios can then be slowly phased out and replaced by smartphones, tablets, or iPods running Zello.
To date, Zello@Work and the free consumer Zello app has been used by 80+ million users worldwide. For a free unlimited trial of Zello@Work for 5 users, go to http://zello.com/work.htm. For any questions, contact sales@zello.com or see the datasheet for more information. Read this case study and see how Zello saved 75% on recurring costs at Wyndham Hamilton Park.
About Zello Inc
Zello Inc was founded in 2012 by Bill Moore (CEO) and Alexey Gavrilov (CTO). We are located in beautiful Austin, TX. Zello is the most popular free PTT walkie-talkie app in the world, with over 80 million users world-wide. Zello@Work is our paid subscription service for businesses and organizations. Zello made global headlines recently when it was touted as the communications tool of choice for protesters in Turkey, Venezuela, Hong Kong, and the Ukraine. Zello works on all carriers and major platforms, including iOS, Android, Blackberry, Windows Phone, Windows PC, and even 2-way radios. For more info, see www.zello.com.
Media Contact:
Nancy Pickering
Community and Translation Mgr
Zello Inc.
nancy@zello.com
http://zello.com/