Bulls or Bears: Which Pricing Strategy Is Your Hotel Using?
By Kristi White Director of Revenue Optimization, TravelCLICK, Inc. | January 27, 2012
Every year since 1591, from July 7 through 14, the town of Pamplona in northern Spain has hosted the San Fermin Festival-otherwise known as the "Running of the Bulls." In the first day of this time-honored celebration, thousands of daredevils dash through the narrow streets to willingly-and literally-run for their lives, chased by a half dozen fighting bulls. These human runners are possessed with an uncommon fearlessness, as though they've discovered their "inner bull."
In reviewing the June 2010 Smith Travel Research (STR) report, I was reminded of the San Fermin ritual. For the sixth month in a row, the Asia Pacific (ASPAC) region was bullish on rates, while the rest of the world still seems bearish. Through the end of June, this region is up 12.8% in occupancy, 10.6% in ADR, and a whopping 24.6% in RevPAR. By comparison, at the same point last year, ASPAC was down 14.4% in occupancy, 17.8% in ADR, and an astounding 29.7% in RevPAR. Somewhere in the last nine months, this region decided to run with the bulls and run their rates up, up, and up.
On the converse side, other regions of the world seem to be hibernating in a bear market. The European region has minimal growth at 1.9%; the Middle East and Africa region is moderately better at 2.1% growth. But, the Americas and the United States (US) are still below the zero line with a 1.0% and 2.0% decline, respectively. However, each of these markets (with the exception of the Middle East and Africa) has realized a 4% or more growth in occupancy.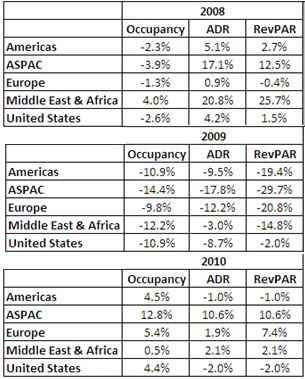 This chart is especially disturbing when we look back to 2008. In the Americas and the US, hoteliers aggressively drove rates despite declines in occupancy. Now, with occupancy growing again, why are these markets reticent about rate? Why aren't they driving rate in line with occupancy growth?
These questions have two answers. The first: hoteliers aren't comfortable with the growth and are taking a wait-and-see approach to pricing. This reason, while acceptable earlier in the year, needs to be put to rest with 8 months of sustained occupancy growth behind us. The second: hoteliers still view pricing in terms of what we used to do in the "good old days."