Staying Local from a Food and Beverage Point of View
By Ian McPhee Hotel Manager, Ritz Carlton Kapalua | December 25, 2011
Over the years, Hoteliers have provided value to the luxury traveler via various amenities -- from thirsty bath robes and opulent spa escapes -- to bespoke mini-bars, personal butlers and the latest in technology at one's fingertips. These however, have become industry standards at high end properties across the globe and for the guest whom the dollar amount is not a question, The Ritz-Carlton, Kapalua augments world-renowned service with island-savvy and innovative approaches, offering both tangible and intangible added-value for our guests.
The Ritz-Carlton Kapalua remains an impactful, active community partner with the island of Maui and the Aloha State -- taking great pride in existing harmoniously with its breathtaking, natural surroundings. As a result in March, officials from the Department of Business Economic Development and Tourism, Department of Health and the state's Chamber of Commerce named the renowned resort hotel one of only a few 'Green Certified Businesses' in Hawaii.
The islands of Hawaii are bountiful with fruits and vegetables, while also offering an abundance of fresh fish in its surrounding waters. From the top of the Big Island and Kona, to the mountain sides of Kula in Up Country, Maui – Executive Chef John Zaner has embraced staying local with our menu selection throughout the resort, an ethos subscribed to by the Ritz-Carlton brand as well.
Creative and Innovative - The Botanical Vegetable and Herb Gardens at The Ritz-Carlton, Kapalua
The Ritz-Carlton has taken the organic approach to cultivating herbs and vegetables that are featured throughout the resort's dining outlets, creating a true 'Garden-to-Table' experience for our guests. Not only do these efforts support environmental preservation, but they also provide our guests a socially-conscious, delicious and healthy dining experience grown just steps from where the flavorful dishes are relished.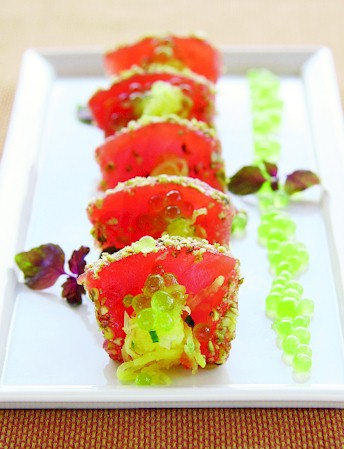 Pumpkin seed crusted ahi sashimi