Fashioning a Sense of Place with Curated Art in Adaptive Reuse Hotels
By Deborah Forrest President, ForrestPerkins | October 09, 2016
Transforming historic buildings for hotel use, particularly luxury hotels and boutiques, presents certain challenges and rewards. Buildings that meet the requirements for historic tax credits can be attractive as hotel or mixed-use projects for economic reasons, especially when they are in key urban locations, which may be cost prohibitive for new construction. Combine these features with the fact that retaining an existing building and repurposing it for renewed use is more sustainable than demolishing and rebuilding and the case for adaptive use becomes even more compelling.
Creating the identity for a new hotel in an older building, however, brings challenges, particularly when the desire is to establish a sense of authenticity that resonates with locals and guests. Unlike renovating or restoring a historic hotel which has a long history with numerous events or famous guests that can inspire an authentic design story, an office building, warehouse, apartment building or department store may seem less plausible as a luxury or boutique hotel in and of itself. Some recently opened hotels in buildings that had a significant identity previously, such as The Chicago Athletic Association and The Emma in the former Pearl Brewery in San Antonio, have successfully tied the hotel's identity to the building's reputation and former use. Establishing a credible identity for a hotel in a building designed for another commercial purpose that has little distinction and tying it to its city or neighborhood requires a compelling narrative to anchor the design.
One way to connect the "new" hotel to its location is to create a curated, distinctive art collection rooted in history and local culture. The "Art Hotel" has been a boutique hotel genre since at least the early 21st century. Rather than filling a hotel with rotating artwork by local artists, though, establishing a point of view that resonates with locals and guests requires careful and thoughtful planning and dedication to weave that perspective throughout the design and maintain and grow the collection over time. Four such hotels that my firm, ForrestPerkins, has been involved with have carried this off so successfully that the story of the artwork has become a defining characteristic of the hotel's identity.
In 2003, one of the early art-themed hotels, The Renaissance New Orleans Arts Hotel, opened in the city's warehouse district as the first luxury hotel in the area at a time when many of the former warehouses remained shuttered and derelict. Along with its famous neighbor, Emeril's restaurant, and a few local art galleries nearby, the hotel was an urban pioneer in this reclaimed but still gritty neighborhood. To give the hotel its focus and its name, the developers had invited local art dealer and gallery owner Arthur Roger to anchor the hotel's prominent corner with a signature gallery space and curate a collection of artwork and sculpture to be displayed in the hotel. Every space, from the lobby to the atrium, lounge, restaurant, and guest rooms, received distinctive pieces commissioned from local and national artists of note, including a colorful sculptural art glass chandelier by Dale Chihuly, which is prominently displayed in the lobby. From its opening to today the hotel has retained its identity and focus on the arts.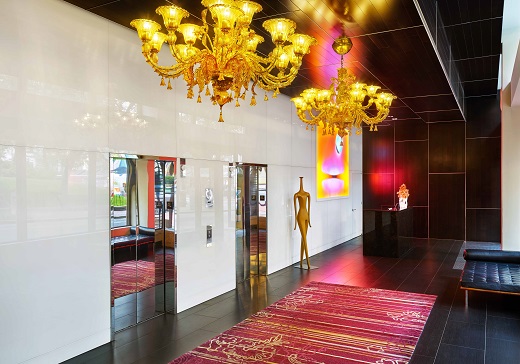 ForrestPerkins refreshed the public spaces and guest rooms at the Nines. The elevator lobby is shown here.
Photo: Courtesy of the Nines
In 2008, the Nines, a Luxury Collection Hotel, opened in Portland, Oregon, born from the repurposing of the top nine floors of the former Meier & Frank department store. The design team carved out a glass roofed atrium space on the eighth floor of this iconic 1932 building, the lower floors remaining as a Macy's department store. This new lobby space includes registration, a lobby lounge, a number of intimate gathering spaces, and the hotel's signature restaurant. Guest rooms surround the atrium, overlooking the highly programmed space which in itself reads as a collage of pattern, color, and activity when viewed from above.
Please Login to read the full story, or you can Get Free 30-Days Hotel Business Review
The Hotel Business Review articles are free to read on a weekly basis, but you must purchase a subscription to access
our library archives. We have more than 5000 best practice articles on hotel management and operations, so our
knowledge bank is an excellent investment! Subscribe today and access the articles in our archives.