Building Loyalty with Intergenerational Spa and Wellness Programs
By Mia A. Mackman President & Owner, Mackman ES | August 2017
Growth in travel and tourism continues to rise in conjunction with intergenerational lifestyles, shifting values and increasing wellness keynotes. Every generation has unique preferences and imperatives that set them apart and stick. Accounting for nearly half of the population, Millennials and Generation Z have considerable weight in the market share. This article examines perceived values vs. core values and the benefits of incorporating a multi-generational, multi-faceted approach to spa and wellness programming to enhance customer spend and loyalty.
Generational Overlay
The structure of the family unit has dramatically changed over the years. This has inevitably impacted families, day-to-day living, tourism and travel. The Pew Research Center reported "a record 60.6 million Americans live in multigenerational households." (Figure 1) This averages to "nearly one-in-five Americans" that are living in a diverse family environment with a multigenerational overlay.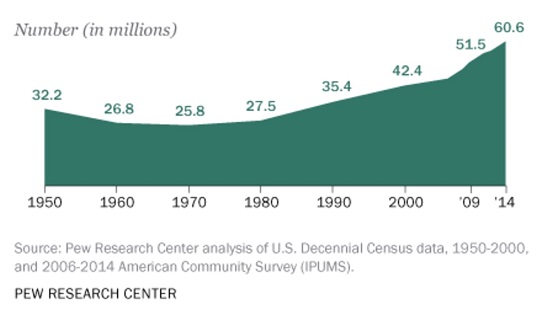 Generation X and Millennials are the "bridge markets" between the aging Baby Boomer population and the radically different mindset of Generation Z. The Millennial market has been the most studied, documented and #selfie-chronicled generation of all time. Whereas many seek to understand the mentality and profile the millennials up close, most forget they are yet, a part of the bridge connecting the choices made today to the behaviors and preferences of the future.
Unlike the generations before them, Millennials and Gen X are immersed in modern-day parenting. They face higher demands on time, financial uncertainty and chronic social, political and lifestyle changes. They are also the first generations to raise children in a highly digital age alongside a constant interface with the internet. Despite the challenges of parenting and striving towards well-being and work-life balance, their dedication to multi-task, care-take and provide for their aging parents is stronger than ever.