You're Opening, Now?!
By Elizabeth Blau Founder & CEO, Blau & Associates | August 23, 2020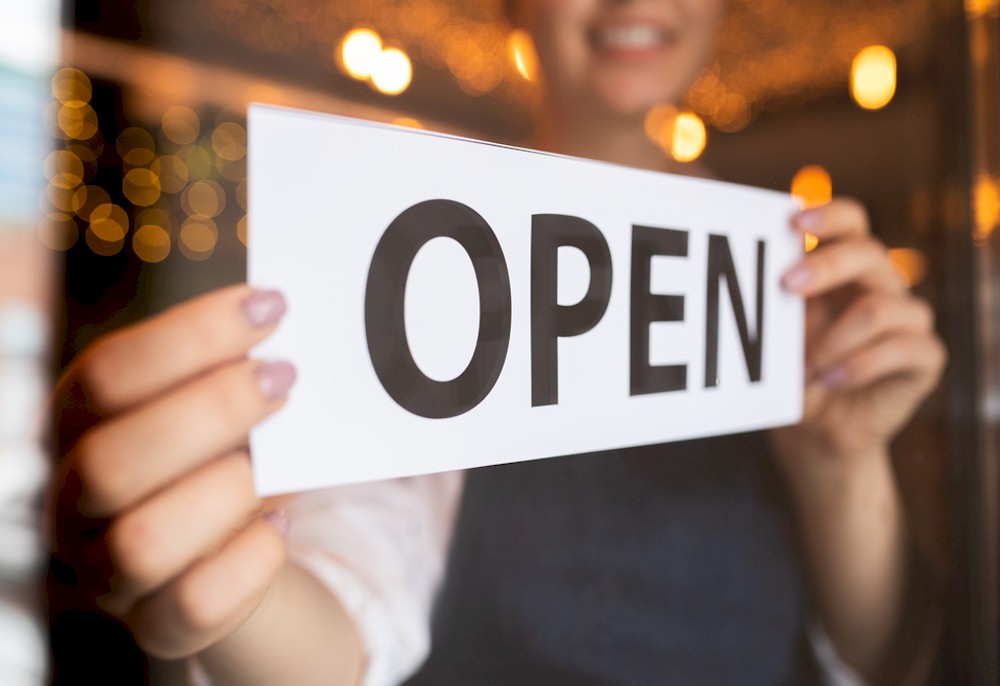 Whether your hotel is starting construction of a new concept or you are about to premiere your property's latest restaurant, the project is underway and you have decided to move forward. Under the finest circumstances, the development pipeline is a complex series of timelines, twists and turns; today's unavoidable elephant in the room is an unprecedented global pandemic bringing tragic consequences, single-digit hotel occupancy, and enormous operational challenges.
So, what to do?!
We believe smart operators can and should proceed with thoughtful adaptations to existing plans. When the pandemic emerged as a disruptive global event, the hospitality industry was already in the midst of an evolution. We were already in a collaborative evaluation process with many of our clients. The greatest hoteliers operate under hyper-adaptive conditions and instantly began the process of questioning and innovating.
To be of the utmost value to our clients and our industry, we have developed various guidelines to help navigate these turbulent times. Our approach is an optimistic long-term vision grounded in a methodical assessment of the present and a careful forecast of the near future. At every stage of the project, informed critical decisions, the utmost flexibility, and strategic creativity are of paramount importance. 
Our restaurant development process has evolved over several decades and economic cycles. From the great recession in 2008 to the bull market we were just experiencing, our process maximizes the customer experience and profitably regardless of the economy. In reality, every project is unique and requires adaptation! We therefore took the constant in our methodology and rearranged projects into three categories.
To do so, we had to accept, even embrace that this pandemic has and will continue to require every enterprise in our industry to immediately and consistently evaluate and recalibrate. With this in the forefront of all our decisions, we developed three precise analyses for each of the three categories of projects in varying stages of development.
We see operators working within three time-based phases; those opening immediately (within the next 6 months), those in the planning stage (opening in 6 months – 1 year), and those in development (opening in 1-3+years). Adaptations to construction, design, finance, operations, marketing, technology, service and much more are more vital than ever throughout each stage.
For example, the current consensus is that many existing industry food-service operating standards will become obsolete as a result of this pandemic. One advantage is that certain standards long overdue to expire will finally be forced to do so. A trivial but recognizable illustration (which not so secretly makes me sad) is pouring your own batter in the lobby waffle-iron as part of a complimentary breakfast. This vision certainly no longer delivers the warm, satisfying value proposition it used to.
If Opening in the Next 6 Months…
Some operators are on track to open immediately because they have to. These scenarios, defined by timelines and stages of development, require immediate consideration and adaptation of novel, best-safety practices from around the globe.
The reality is that the investment on properties preparing to open within 6 months is so substantial that the operator either opens in this climate or four-walls and looks towards better times ahead. The former is not financially viable for most, so chances are, the venue is opening now. There are certainly considerations and tactics to enhance opening viability, however local and regional health department guidelines continue to evolve and require constant monitoring with nimble responsiveness. Presently, there is no perfect budgetary adaption to reflect this, however one should be prepared for sales to be only 40-50% of initial projections and liquor sales to be drastically reduced.
We advise looking to enhance financial stability by managing your cash flow first. Review projected margins and budgets YOY while remembering that in a crisis, all YOY analysis takes a back seat to smart cash flow management. Take advantage of any and all programs designed to support the industry during this time. The PPP, labor programs, tax credits and other evolving financial remedies can offer real support.
We strongly recommend you stay up to date with local, regional and federal opportunities as these programs change frequently and require ongoing follow-up. Where relevant, be proactive in landlord negotiations. Seek to establish fair and equitable solutions for both parties and remember that both of you are struggling.
Prior to opening, immediate physical space adaptations are necessary, such as reconfiguring dining room floor-plans to create 6-foot spacing between tables. Explore mobile partitions and creative seating arrangements. Where viable and possible, consider building temporary outdoor dining space if city officials permit. Restaurants are proudly a high-touch business now forced to operate in a "no-touch" world. Keeping guests, staff and servers safe is essential. Technology affords restaurant operators numerous options for adaptation.
QR menu codes are everywhere, smart-phone menu browsing and ordering platforms are popping up more and more, and the use of disposable paper menus can be implemented while transitioning to digital solutions. Streamlining your planned menus, meal periods, and offerings can increase efficiency and decrease labor. While cuts are vital, look to potential revenue opportunities with enhanced take-out, curbside pick-up and delivery options.
One of the surprisingly successful programs we implemented at Honey Salt was to offer small retail sales of grocery-type products unique to the restaurant such as house-made sauces, fresh baked bread, artisanal oils, and more. Alcohol was a prevalent request and at the onset of the shutdown, toilet paper was even on the menu. "Family Meal Kits" to go were another small triumph.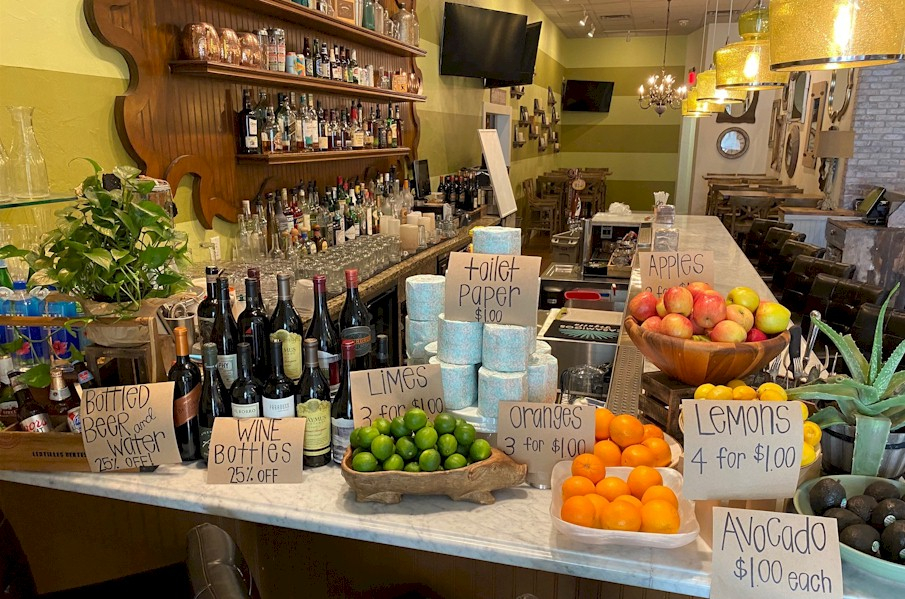 Honey Salt "Market Place"
In all on-site operations and promotions, it is critical to create clear, positive, branded signage that indicates the restaurant is open, where curbside pick-up is available, what the phone number, website, and social media handles are to assist in ease of ordering, pickup and brand awareness.
Staffing is critical in a crisis, and training will need to address current regulations regarding masks, handwashing, temperature checks, as well as the "house philosophy" about service and hospitality. More than anything else, reinforce the safety concerns for your staff. While initially training your opening staff, train them to work as multi-taskers rather than specialists. This will allow your team to become fluent and adaptive to "do more with less." Look for opportunities to creatively reward your staff in ways other than just with cash. Consider offering financial counseling, meal replacement, flexible scheduling, advice, and other regionally and locally meaningful options.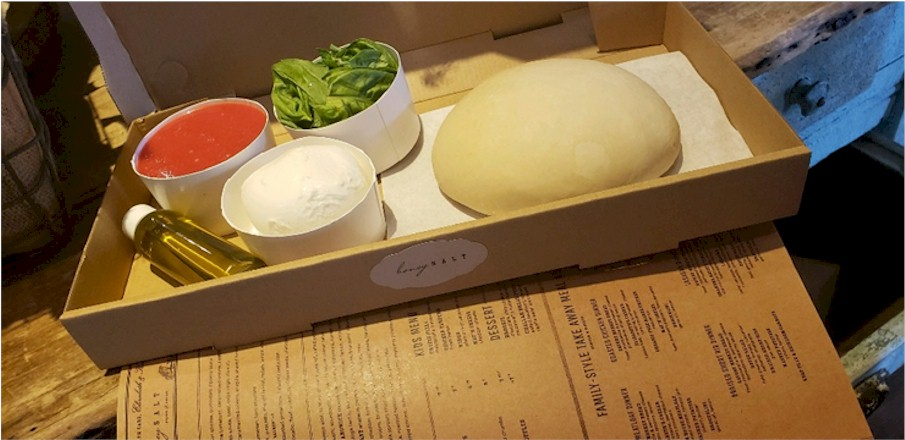 Pizza Kit-To-Go
Once you are open, welcoming guests becomes essential. Marketing and public relations are critical to communicate your opening which must include assurances about comprehensive measure to assure your guests health and safety.
Aggressive promotions are necessary during this period and marketing tactics such as offers that we have found effective include up to 50% off, buy one hot meal get another meal to take home, or ½ off bottles of wine with purchase of a family meal. And if business continues to be slow, consider making kitchen space available in another part of the hotel as a ghost kitchen for more active outlets offering take-out, delivery and family meal kit service.
We also recommend seeking a partnership with a local charity or community outreach organization, to collaborate with other restaurants in your area. We had a powerful response from our partnership with Delivering with Dignity in our home market of Las Vegas. This program provides a way for restaurants to receive an additional revenue stream and keep staff employed by creating daily meals that are delivered safely to homes of the most vulnerable in our community. In addition to our regular restaurant operations, we were able to utilize our currently unused Private Dining Room and transform it into the staging area to these prep these meals on a daily basis.
Remember that we are in the business of hospitality and making experiences for our guests memorable and fun.  Having guests enter your dining room, no matter how beautifully designed it once was, is not an optimal ascetic at half capacity. One solution we created in response to the seating capacity mandate was to fill empty seats and bar stools with whimsical stuffed animals.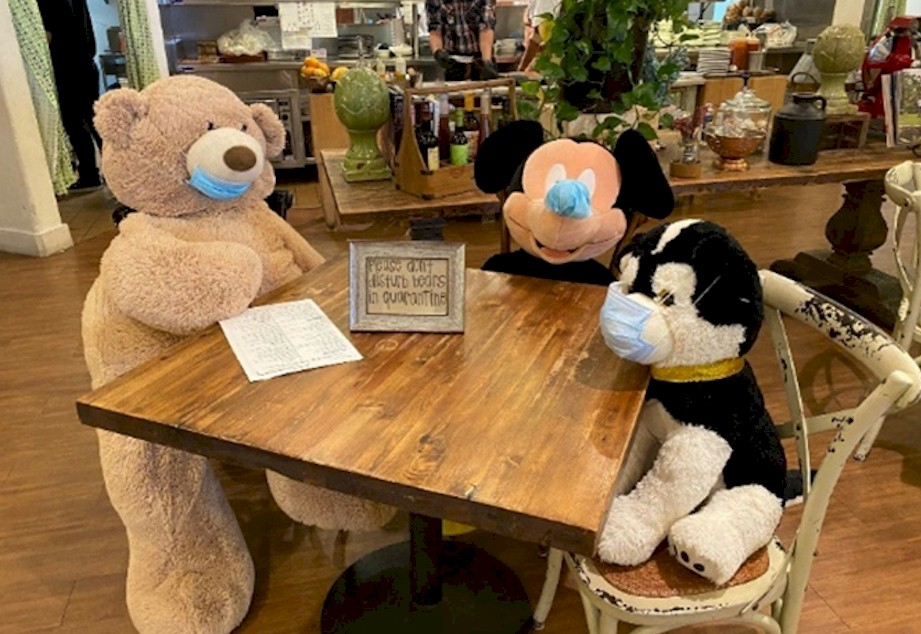 If You're in the Planning Stage (Opening in 6 Months – 1 Year) …
The planning stage of opening a new restaurant is when your timeline is 6 months – 1 year from opening. There is a silver lining to this stage of restaurant development where you have time to make meaningful adaptations adapt in response to the dynamic landscape and operating future we all face. These silver lining long term changes will reflect opening in 18 months.
Immediate considerations must include a re-evaluation of your proposed business model, staffing models and future revenue streams outside of traditional dining service. Originally, in March 2020, we considered an "after" scenario for our industry that looked similar enough to our existing operating paradigm that we could confidently cling to existing success strategies and tactics. Today, we can say with confidence that many of the successful, creative industry adaptations we have seem emerge during this crisis have become or will become standard in our future. Things that work better, that offer more value or convenience to our guests deserve to stick around.
At this stage of planning, it is essential to embrace the full range of digital technology solutions to maximize a future operation with potentially fewer staff and increased guest's participation, cost management and enhanced "no-touch" health and safety. The swift adoption and implementation of digital technology solutions such as contactless payments, QR code menus, all digital ordering and payments can result in improved operating efficiencies, reduced costs and space optimization.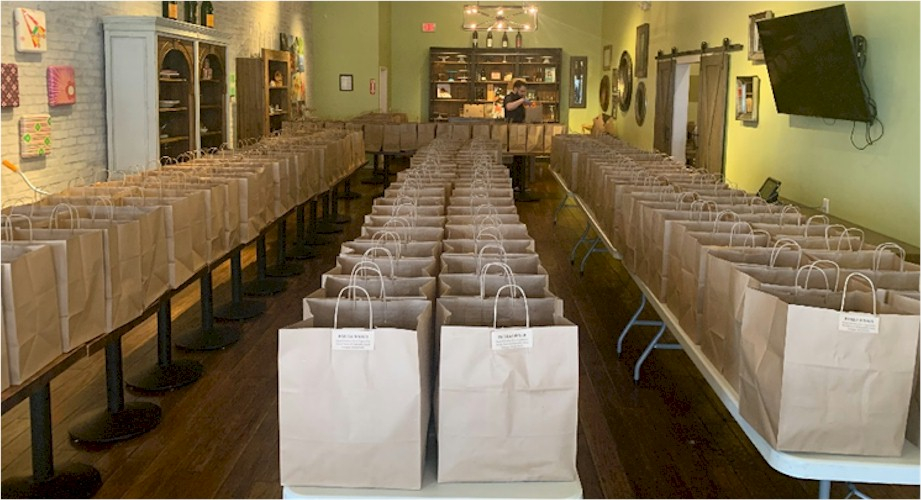 Private Dining Room transformed into Delivering with Dignity staging area
In hotels, consider self-service options such as high-sterile, pre-packaged grab and go options. The buffet is being creatively re-imagined with served, all-you-can-eat service in luxury properties. Imaginative "no-touch" solutions are emerging worldwide and evidence that the nature of hospitality industry professionals is to welcome, serve and delight guests. Innovations in room service have been under consideration for years. Room service has long been a money losing proposition, especially in full-service luxury hotels. During the pandemic, traditional room service has all but disappeared. Operators in the planning stage could take advantage of the change and embrace package delivery models, touchless ordering / pick- up, and even robotic delivery.
We believe that the focus must be on brand differentiation through experiences rather than complex menus. This will enhance guest's experiences as well as keep labor costs lower.
Where possible, expand outdoor dining, patio spaces, seating and if possible integrate this with food service delivery service strategies. In addition to expanding outdoor seating and dining options, interior considerations must be re-worked. Re-organize floor plans, seating options and if possible build more booths and spaces with natural partitions to increase capacity while maintaining governmental social distance mandates.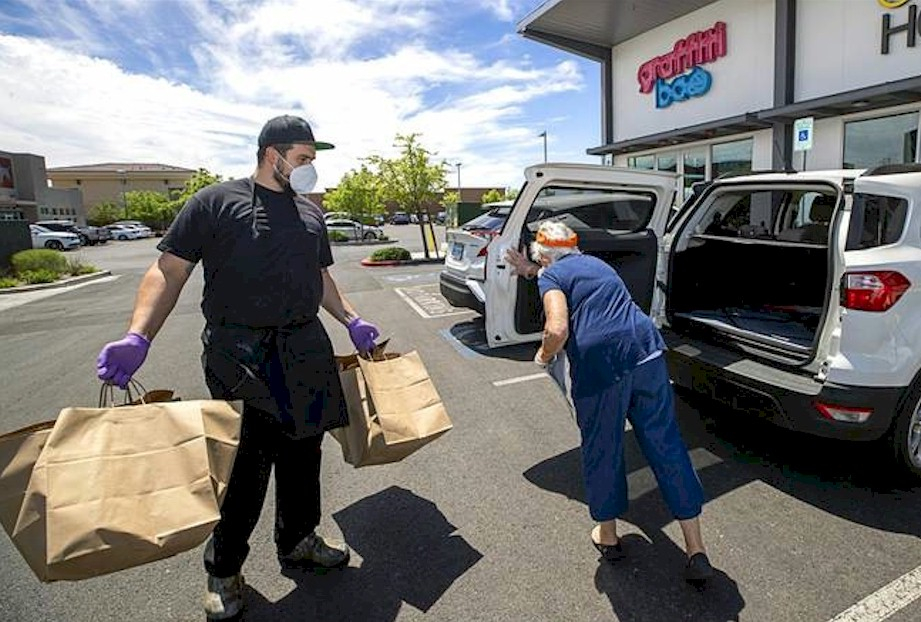 Delivering with Dignity meals
If You're in the Development Stage (Opening in 1-3+ Years) …
The decision has been made to proceed with the project and the configurations, considerations, designs and build might be so malleable as to allow for the greatest forethought and redesign to maximize future utilization.
Foremost is the need to explore any possible lease negotiations and finance considerations. Nothing is more important that the costs moving forward into uncertainty.
Recent findings suggest that HVAC and air circulation requirements can have an impactful role in maintaining guest and staff health and safety. Now may be a good time to re-evaluate planned systems and consider investing in an upgrade to these systems to better protect guests and staff.
24-36 months out until opening will allow you to re-consider and re-evaluate the physical configuration of the dining rooms to accommodate more take-out/curbside orders, 6-foot table spacing, and additional booths. Even if the world goes back to normal in two to three years, we have seen that people will always gravitate to the outdoors. Patio and outdoor space should be maximized, and is often available rent free.  Weather protection, misters, fans, and heaters can extend the season. Creative programming can be developed to ensure the areas are used to their full potential.
In the exterior of the build-out, reconsideration of all third party delivery access and pick-up locations can be evaluated and reconfigured. This can also be done to increase and enhance take-out orders and curbside pick-up, as well as additional outdoor guest seating.
Lastly, while it may sound counter-intuitive, consider a smaller footprint for a restaurant space, that will allow you to increase and enhance other low-touch and no-touch guest food service options.
Our team validates that the operational impact of the current pandemic, for both immediate and longer term projects presently in development, who have already made the decision to proceed, to be dynamic and opportunity laden for creative operators. While guest and staff health and safety are paramount, we see that this crisis has brought out the best creative, solution oriented adaptations in our industry. We are encouraged by these worthy improvements, brought about from crisis, and which we believe deserve to become a part of our standard operating future.
HotelExecutive retains the copyright to the articles published in the Hotel Business Review. Articles cannot be republished without prior written consent by HotelExecutive.