Crafting Authentic and Multi-Functional Hotel Lobbies: a Holistic Approach
By Carla Niemann Senior Vice President of Design & Architecture, Premier | November 2023
Hotel lobbies have undergone a remarkable transformation, transcending their traditional role as guest check-in spaces.
Today, they serve as dynamic hubs that significantly influence and enhance guests' overall experiences.
In recognition of this paradigm shift, both hoteliers and designers have an opportunity to embrace a fresh and multifaceted approach, one deeply rooted in authenticity, adaptability, and inventive thinking. This evolving perspective on lobby design empowers us as designers to curate spaces that not only pay homage to the local environment and community but also respond to the diverse needs of guests and anticipate the forthcoming trends in this ever-evolving field.
In this new era of lobby design, authenticity reigns supreme. These spaces now serve as more than just a passage to guest rooms; they embrace an immersive approach that not only enriches the guest experience but also fosters a deep connection between travelers and the destination they are visiting, setting the stage for an unforgettable stay.
Reflecting the Local Environment and Community
To create a memorable guest experience, hotel lobbies must reflect the local environment and community. This entails drawing inspiration from the region's architecture, materials, art, and design traditions. By doing so, hotel lobbies can establish a sense of place and authenticity that resonates with guests. The architectural style of the lobby can take cues from local buildings and landmarks. Incorporating locally sourced materials, such as wood, stone, or textiles, can further enhance the lobby's connection to the community. A curated art collection featuring local artists and cultural elements provides travelers with a window into the region's creative culture, fostering a deeper understanding of the destination. Additionally, selecting furniture that embodies local design elements, such as traditional patterns and textures, adds to the lobby's immersive experience.
At The Ritz-Carlton, St. Thomas, Premier undertook a transformative mission, completely revitalizing this Caribbean property into a world-class haven of luxury. Drawing inspiration from the rich tapestry of diverse cultures and the island's early Danish heritage, the design journey started right at the heart of the hotel – the lobby. Serving as a symbolic hub of commerce, the island of St. Thomas thrived through centuries of bustling import and export trades. To pay homage to this vibrant history, the lobby was christened the "Customs House," extending a warm and lavish welcome to guests seeking the epitome of luxurious relaxation.
The color palette chosen for the lobby and its surroundings pays tribute to the natural wonders of St. Thomas. Borrowing shades from the island's azure waters, verdant palm leaves, and the coral hues of the conch shell, the interior exudes a refined island aesthetic. Soft ivories and delicate accents of pale grays and coral seamlessly flow from the lobby into the guestrooms, creating a serene haven that offers respite from the island's sun-drenched warmth. This renovation represented a harmonious fusion of history, culture, and luxury. Every facet of this space exudes an elegant island aesthetic, inviting guests to experience unparalleled luxury against the backdrop of St. Thomas' breathtaking natural beauty.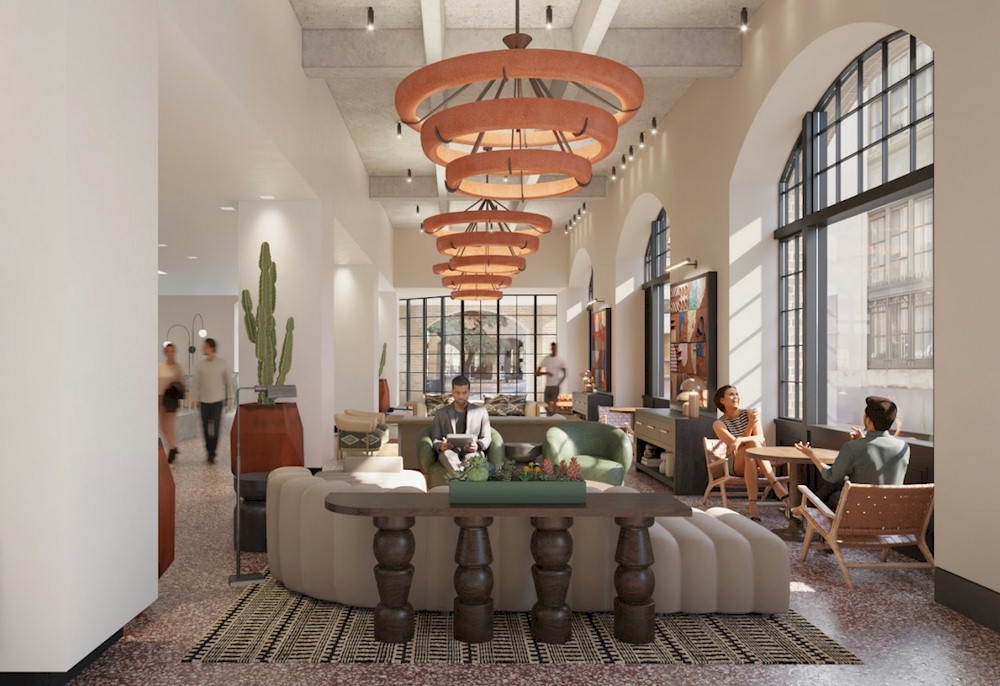 Rendering of a hotel lobby by the Premier team showcases a warm and inviting palette offering guests a variety of seating options with areas to work and socialize.
Meeting Diverse Guest Needs
Meeting the diverse needs of today's hotel guests requires a strategic and multifaceted approach that goes beyond the traditional functions of a hotel lobby. In an era when travelers expect more than just a place to check in, modern hotel lobbies must serve as dynamic spaces that cater to a wide range of activities and preferences. Designing a hotel lobby to meet diverse guest needs is a complex and dynamic undertaking that involves thoughtful zoning, strategic arrangement, adaptable furniture, open spaces, and technology integration.
To address this complexity, designers should conceive of the lobby as a multi-functional canvas. Instead of a one-size-fits-all layout, they should strategically carve out distinct zones within the lobby, each purposefully designed to cater to specific guest activities. These zones might encompass areas for lounging, dining, working, and socializing. By doing so, the lobby becomes a versatile environment that can accommodate the diverse needs and moods of guests. Another important consideration is the arrangement of these zones. Designers should carefully consider the flow and placement of furniture, amenities, and decor to maximize space utilization and create a harmonious, inviting atmosphere. For example, the lounge area should feature comfortable seating arrangements that encourage relaxation, while the work zone should offer ergonomic seating and appropriate lighting to facilitate productivity.
One of the key elements of a versatile lobby is adaptable and modular furniture. Furniture pieces that can be easily reconfigured or moved allow the lobby to transition seamlessly throughout the day. For instance, a section used as a vibrant bar area in the evening can effortlessly evolve into a cozy coffee lounge during the daytime hours. This adaptability ensures that the space remains relevant and accommodating to various guest needs, from morning to night.
Beyond the distinct zones, open spaces within the lobby are essential. These open areas provide guests with breathing room and the freedom to choose their preferred seating arrangements. Open spaces can also accommodate impromptu gatherings or events, enhancing the sense of community within the hotel.
Another important consideration for open spaces is integrating technology into the lobby design.
In our increasingly digital world, guests often require access to power outlets, WiFi, and charging stations for their devices. Incorporating these elements seamlessly into the design ensures that guests can work, socialize, or unwind while staying connected.
A well-executed multifunctional lobby not only enhances the guest experience but also positions the hotel as a versatile destination that caters to the evolving preferences and lifestyles of travelers, whether they seek relaxation, productivity, social interaction, or downtime.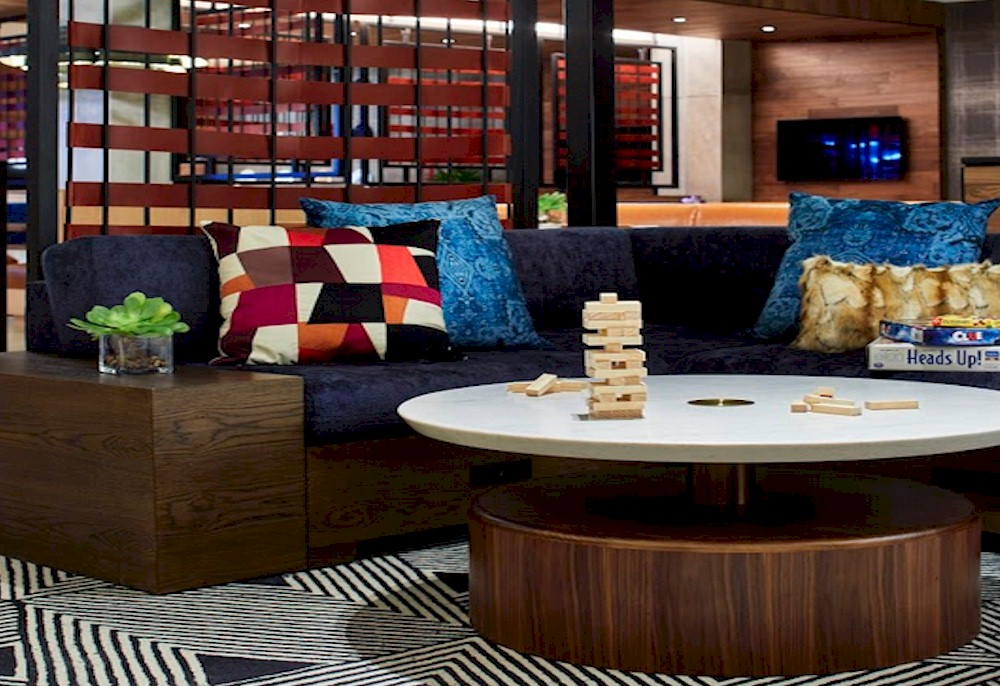 Lounge seating at Renaissance Nashville Hotel's Club Lounge features comfortable seating arrangements that encourage relaxation.
The Next Big Trends in Lobby Design
In the ever-evolving landscape of hotel lobby design, we can anticipate a fascinating shift away from the once-ubiquitous communal tables and charging stations. As these elements become commonplace, the next wave of design innovation is poised to change hotel lobbies into active and versatile environments that respond dynamically to the diverse needs of guests. Traditionally, hotel lobbies have functioned as more than just transitional spaces; they've evolved into vibrant social hubs where guests seek connection, relaxation, and productivity. However, the concept of communal tables, while promoting social interaction, has started to make way for a more nuanced understanding of guest preferences, particularly in luxury properties.
One noticeable trend on the horizon is a preference for individualized seating arrangements. Many guests now covet a sense of privacy and comfort, whether they are working on their laptops, engaging in quiet conversation, or simply unwinding with a book or a drink. The shift towards individual seating fosters a more intimate and exclusive experience within the communal lobby space. It caters to the modern traveler's desire for personal space while still allowing them to bask in the ambiance of the hotel's communal areas.
Despite the move away from communal tables, one feature that will remain indispensable is the provision of versatile and accessible power outlets. In an increasingly connected world, guests rely heavily on digital devices, whether for work or leisure. Hotel lobbies of the future must seamlessly accommodate this digital lifestyle. Adequate and strategically placed power outlets, as well as charging stations, will continue to be a non-negotiable aspect of lobby design, ensuring that guests can stay connected, work remotely, and recharge their devices effortlessly.
Additionally, the ambiance and overall vibe of the lobby will take center stage in the future of hotel lobby design. Beyond physical comforts, the atmosphere of the lobby will play a pivotal role in creating a distinctive and memorable guest experience. Designers will focus on crafting environments that engage the senses and evoke emotions. Lighting, music, scent, and decor will be carefully curated to set the tone, creating a unique and lasting impression on guests.
In essence, the hotel lobby of tomorrow will be a reflection of the evolving expectations and lifestyles of travelers. It will prioritize individualized guest experiences, seamlessly integrating technology, and cultivating a captivating ambiance that transcends the conventional boundaries of a hotel's public spaces. Ultimately, the hotel lobby will continue to serve as the heart of the guest experience, adapting and innovating to meet the ever-changing desires of its discerning clientele.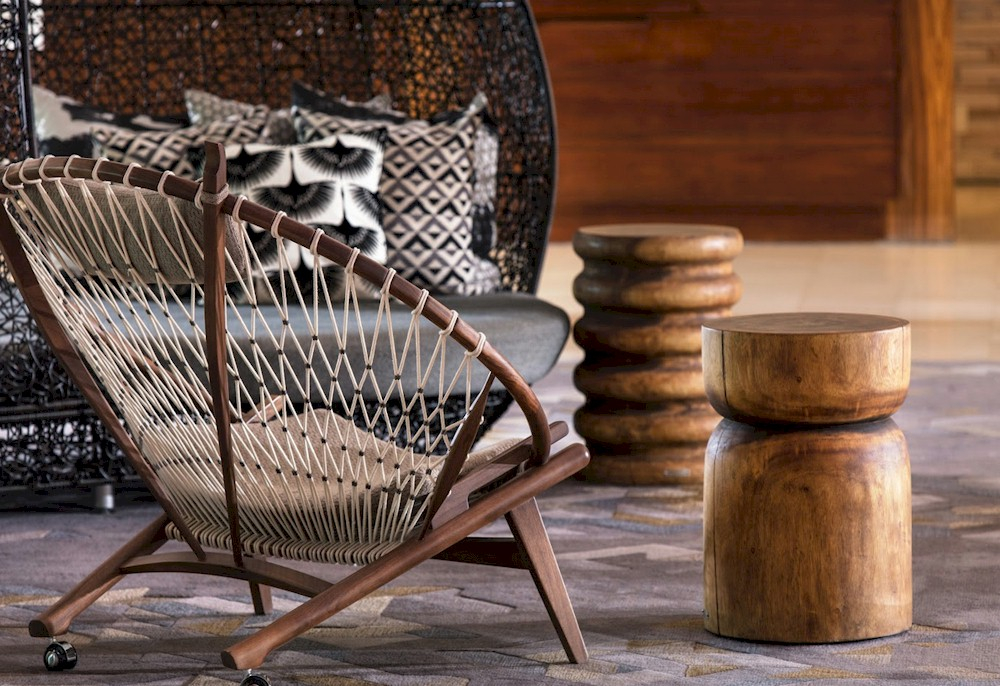 At Renaissance Palm Springs, Premier provides guests with a variety of comfortable yet sophisticated seating options to relax and unwind.
The Key Consideration: Collaboration and Flexibility
The lobby serves as the first impression and lasting memory for guests. To succeed, a collaborative approach is essential, where hoteliers and designers work together to understand guest-centric design elements. This collaboration considers the diverse needs, preferences, and behaviors of guests. Flexibility and versatility emerge as the key attributes that underpin the success of a hotel lobby. In the ever-evolving landscape of the hospitality industry, where guest preferences and lifestyles continue to shift, the lobby must be an adaptable chameleon. It should be able to seamlessly transition from day to night, mirroring the changing rhythms of guest activities and moods.
During the day, the lobby may reshape into a bustling workspace, catering to remote workers and business travelers with ergonomic seating, high-speed Wi-Fi, and well-designed workstations. As the day progresses into the evening, it can seamlessly transition into a sophisticated social hub, offering a bar and lounge area where guests can unwind, socialize, or enjoy a meal. The lobby should effortlessly facilitate both quiet introspection and lively interaction. A successful lobby must remain flexible enough to accommodate various events and occasions, from business meetings to social gatherings or even art exhibitions. Its adaptability ensures that it remains relevant and enticing, reflecting the diverse desires and expectations of contemporary travelers.
The hotel lobby is more than just a transitional space; it is a dynamic canvas. The collaborative efforts of hoteliers and designers, rooted in an understanding of guests' needs, are the foundation upon which this transformative space is built. Through its inherent flexibility and versatility, the lobby becomes a vibrant and inviting focal point, continually evolving to meet the evolving expectations and lifestyles of travelers. It is, indeed, the heartbeat of the hotel experience, leaving an indelible impression on every guest who passes through its doors.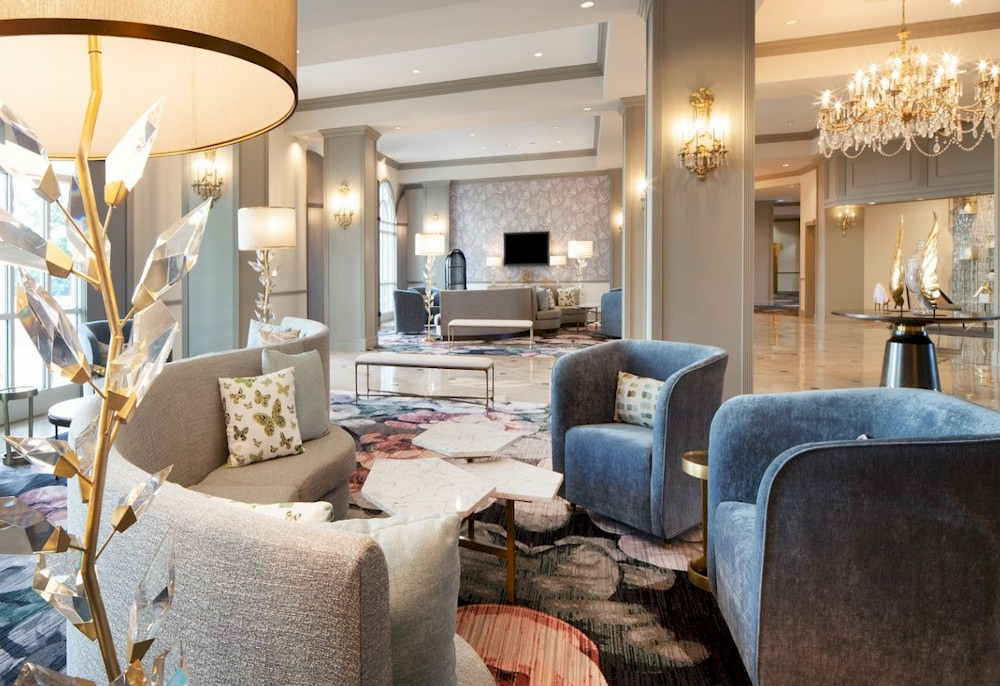 The residential-inspired lobby at Hilton Atlanta/Marietta Hotel & Conference Center creates a warm and inviting environment leaving a lasting impression on guests.
Conclusion
Hotel lobbies have transcended their traditional roles, becoming integral in shaping guests' perceptions and experiences. By reflecting the local environment and community, meeting diverse guest needs, and embracing evolving design trends, hoteliers and designers can create lobbies that leave a lasting impression.
Collaboration and flexibility are the linchpins of successful lobby design, ensuring that these spaces continue to evolve and innovate in response to the ever-changing demands of modern travelers. Ultimately, a well-designed hotel lobby sets the tone for a memorable and enriching stay, making it a vital asset for hotels worldwide.
Main Image: The inspiration behind the redesigned lobby of The Ritz-Carlton, St. Thomas, draws from the vibrant tapestry of diverse cultures and the island's early Danish heritage, reflecting the essence of the local community.
HotelExecutive retains the copyright to the articles published in the Hotel Business Review. Articles cannot be republished without prior written consent by HotelExecutive.