The Operational Changes and Innovations Making Fitness Safe For Hotel Guests
By Ruben Mejia Executive Vice President, SportsArt | October 04, 2020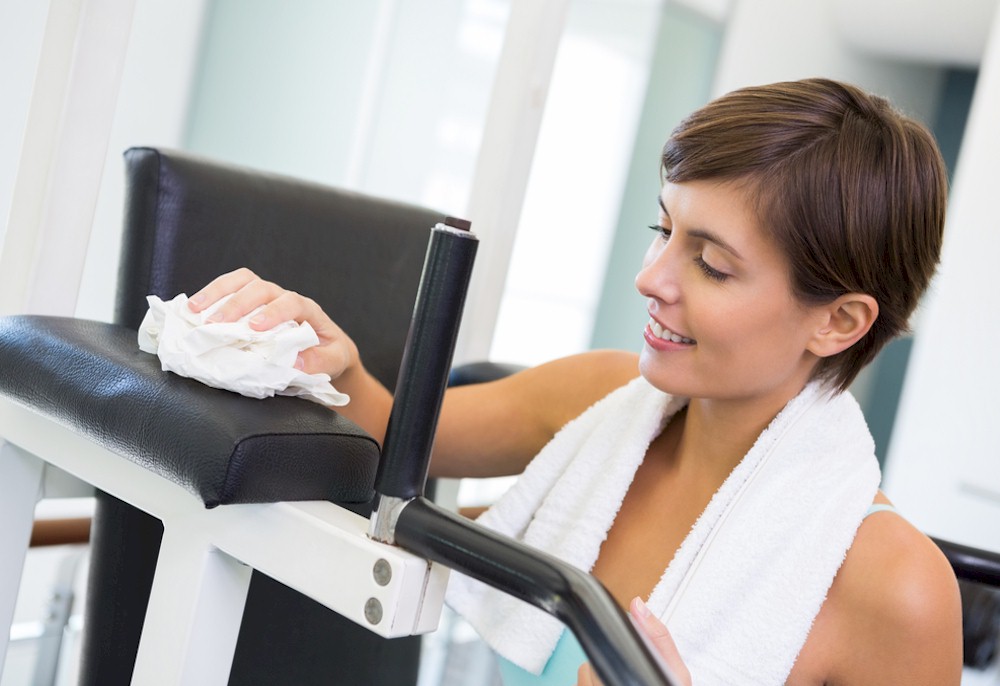 As the economy begins to reopen and government restrictions ease, people will once again make travel plans and hotel reservations. According to a TripAdvisor study that analyzed consumer travel sentiment, consumer desire to travel remains resilient with 41% of consumers optimistic that they will take the same or more trips than last year.
In the COVID-19 environment and beyond, the hotel experience for guests will look a lot different. From contactless check-in to grab and go meals to hotel staff wearing masks and gloves, the hospitality industry is implementing a wide range of enhanced safety and health protocols to keep guests and employees safe. Fitness centers are one of the areas where guests will experience a new normal. Hoteliers are making operational changes to fitness facilities and innovating to offer a safe environment for guests to exercise.
Skift recently reported that cleanliness not "location, location, location" provides a competitive edge and has become one of the three most important factors in the road to recovery and, in the process, this is changing practices.
In May, the American Hotel & Lodging Association (AHLA) introduced "Safe Stay, " an industry-wide, enhanced standard of health and safety protocols designed to prepare America's hotels to safely welcome back guests and employees. The Stay Safe guidelines address employee and guest health, employee responsibilities, cleaning products and protocols and physical distancing.
Cleaning, disinfecting and sanitizing are now an essential part of a hotel's operational playbook. As the pandemic continues its global impact, hoteliers are getting a crash course in the proper approach to preventing the spread of infectious diseases. This includes knowing the difference between cleaning, disinfecting, and sanitizing. According to the U.S. Centers for Disease Control and Prevention :
Cleaning removes germs, dirt, and impurities from surfaces or objects. Cleaning works by using soap (or detergent) and water to physically remove germs from surfaces. This process does not necessarily kill germs, but by removing them, it lowers their numbers and the risk of spreading infection.
Disinfecting kills germs on surfaces or objects. Disinfecting works by using chemicals to kill germs on surfaces or objects. This process does not necessarily clean dirty surfaces or remove germs, but by killing germs on a surface after cleaning, it can further lower the risk of spreading infection.
Sanitizing lowers the number of germs on surfaces or objects to a safe level, as judged by public health standards or requirements. This process works by either cleaning or disinfecting surfaces or objects to lower the risk of spreading infection.
Fitness centers can present a particular challenge for hoteliers when it comes to cleaning and sanitizing protocols to make them safe to use. The unfortunate fact that coronavirus can live on surfaces such as metal, wood, plastics, glass and fabrics from hours to days makes maintaining diligent hygiene standards across all areas more complex. This requires frequent cleaning of all high-touch surfaces which includes most areas of a fitness facility.
In accordance with industry standards and federal, state and local regulations, many hotels are reopening fitness centers, which in today's wellness society are an important part of a traveler's stay. In fact, a Business Traveler Sentiment Index by CWT found that 83% of travelers consider fitness options when booking a hotel.
Hoteliers can keep their gyms open safely and sustainably by adjusting operations and implementing new policies and protocols in several key operational and physical areas:
Operations
Continue to review and keep up to date on local and state guidelines for area specific information and restrictions.
Provide personal protective gear like face masks and gloves for staff - and guests to wear.
Set up a temperature check station for guests as they enter the fitness center.
Schedule workout windows to prevent surges and set capacity limits on the number of guests that can be in the fitness center or recreational facility at one time to adhere to social distancing guidelines. To determine capacity limits, hoteliers can reference the U.S. Fire Administration's advice for calculating social distancing occupant loads.
Ensure that appropriate hand sanitizer and equipment cleaning solutions are always accessible and always fully stocked.
Fully train and educate staff on how to look for signs of illness.
Be transparent and consistent about communicating steps the hotel is taking to make sure the fitness area is clean and safe for guests to use. Providing a poster with cleaning schedules or having a sign in the fitness center as well as in rooms explaining the cleaning schedule and changes are simple and effective ways to instill guest confidence and trust in the safety of the facility.
Cleaning Protocols
Consider closing the fitness center for windows of time each day for cleaning, adding more sanitizing materials to high-traffic areas and increasing the frequency of deep cleans.
Provide an abundance of wipe stations and/or spray bottles for guests to clean their workout stations.
Align cleaning processes with CDC recommendations for cleaning and disinfecting public spaces and EPA-approved disinfectants to eliminate COVID-19 on surfaces.
Frequently clean areas around the fitness center, such as the changing rooms, showers, and toilets.
Assign staff -  to clean machines, workout accessories and area surrounding equipment on a regular schedule, ideally once an hour.
Provide instructions for guests to clean their stations after use, including cleaning benches, barbells, and weights when finished.
Set a schedule for staff¬ to deep clean the strength area, post the schedule for guests to see, and make sure to follow it.
Use non-abrasive, chlorine and ammonia-free cleaners for equipment to keep them in good shape and avoid corrosion.
If budgets allow, consider an electro spray device or a vapor-based device to quickly and effectively clean every surface of an area and the equipment within it.
Establish one-way traffic flow patterns throughout the facility with floor signage makers.
Set a locker room use plan. Ensure there are proper social distancing guidelines in place and use tape on the floor to indicate where people should stand.
Cleaning and Safety Considerations for Fitness Facility Areas
Cardio Area.
Space cardio equipment at least 6 feet apart. If space is limited, turn every other piece of cardio equipment off and place a sign on the consoles indicating the equipment is out of service.
Instruct guests to follow traditional gym etiquette and wipe down machines after use.
When wiping down cardio equipment, avoid spraying cleaning solutions directly on the equipment. Instead, spray into cleaning cloth and then wipe down.
In addition to cleaning all obvious touch points like seats and handles, wipe down entire frame.
Clean the floor surrounding your cardio equipment to ensure you clean sweat that may have jumped off.
Strength Area
Space benches, weight racks and other commonly used stations at least 6 feet apart for proper social distancing.
In your cleaning schedule, make sure to deep clean dumbbells and weight plates.
When cleaning selectorized equipment, don't forget to wipe down the weight selector pin.
Deep cleaning multi-functional selectorized equipment should include all of the accessories, such as the tricep rope, D-ring handles and ankle straps.
Group Areas
Avoid station rotations during classes. If space permits, mark off individual workout areas for your guests.
Limit the number of people in each class or studio to ensure proper social distancing measures.
Create a procedure script for instructors to go over before every class to ensure each member is aware of the new normal and behaves appropriately.
If needed, provide each instructor with their own headset and clean it thoroughly after each use.
Clean mats, weights, and anything else used or touched during the class once finished.
Provide cleaning supplies for guests to disinfect their used items at the end of the class.
Innovative Solutions
Hoteliers are also looking at other innovative solutions for offering guests fitness amenities. A few of these solutions include providing guests with in-room fitness experiences and converting suites to private workout rooms. Hoteliers can also offer everything from on-demand strength training, yoga and Pilates classes to in-room cardo equipment like studio cycles to provide guests with a safe and comfortable way to exercise without leaving their room. Hotels can even allow guests to order equipment like training bikes, yoga mats and weights just as they would room service.
COVID-19 has impacted and altered many facets of life including the hotel guest experience. Where once a hotel's location, five-star restaurant or list of amenities were the main attraction for guests, now cleaning and disinfecting protocols factor predominately into choosing a hotel. A recent TripAdvisor survey found that for consumers thinking about future travel:
More than 9 out of 10 (92%) said cleanliness is the most important factor in selecting accommodations.
More than 8 in 10 (84%) said cleanliness or sanitization certificates are important when booking a travel experience.
Nearly 8 in 10 (79%) said it's important to publicly display compliance to government safety standards.
Many of the COVID-19 driven hotel operational changes such as enhanced cleaning protocols will likely remain post-pandemic. Consumer expectations for transparency on cleaning and safety protocols will drive a permanent shift in industry-wide cleaning procedures and operations. This is especially true when it comes to fitness facilities. These facilities are one area in a hotel where guests will need added assurance that the hotel is taking extra precautions in cleaning, sanitizing and disinfecting.
The hotel guest experience is changing as a result of the pandemic, but hoteliers can adapt and move forward. Establishing and implementing a high level of cleanliness and sanitization, communicating with transparency about guest safety cleaning initiatives and offering innovative amenities like in-room fitness experiences can be key differentiators that attract guests to the property and keep them coming back.
While the guest experience might be changing in the COVID-19 environment, the mission for hoteliers remains the same: providing a safe, comfortable experience for all guests.
HotelExecutive retains the copyright to the articles published in the Hotel Business Review. Articles cannot be republished without prior written consent by HotelExecutive.