Five Pandemic-Prompted Opportunities to Enhance Your Guest Experience
By Scott Hale Chief Experience Officer, Brand New Stay | April 04, 2021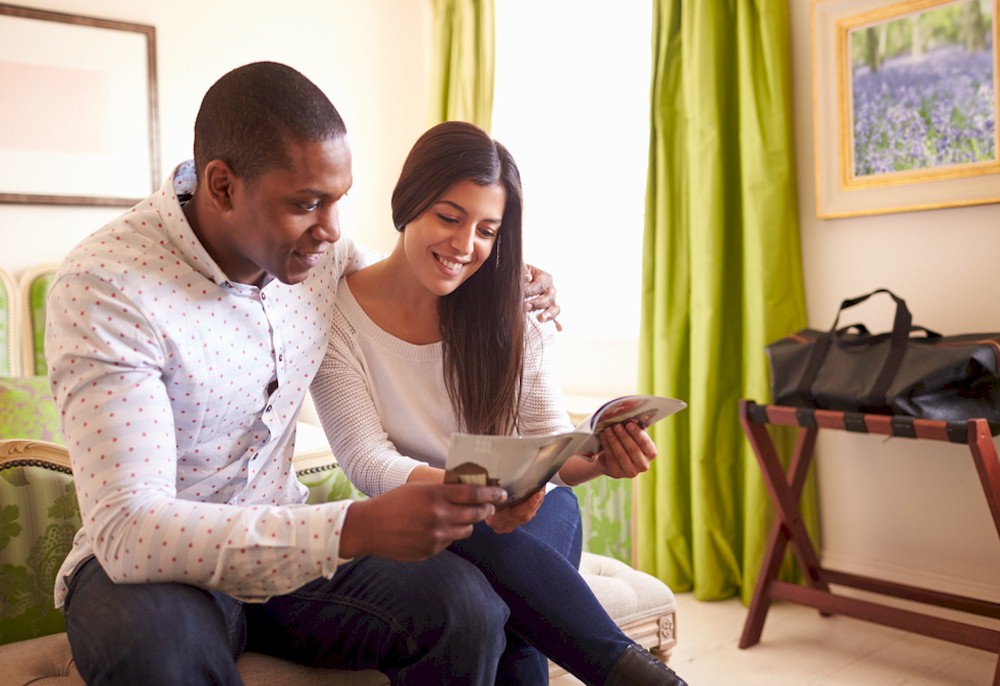 Author's Note: The commentary that follows does not dilute or disregard the sustained planet-wide devastation, loss, suffering, and tragedy. This article modestly and merely offers hoteliers and lodging professionals additional perspective as they continuously guide their guests, teams, businesses, neighbors, and communities through evolving circumstances.
No words capture the unending uncertainty that we're all enduring.
As I drafted the April 2020 guest service feature, Engaging Guest Communications, the unfathomable pandemic reality was taking shape. It didn't look good then. It doesn't look all that much better now. Like many of the intrepid hoteliers carving out some time to read this 2021 article, I love getting things done and moving on. Especially tasks that enhance experiences for teams, guests, and communities.
That ready to move on posture tilted a few days into the pandemic. I accepted that there was no quick way to conquer the cascading circumstances. No task list that could check-off the gravity of competing crises. This was, and remains, bigger. Generation-defining bigger. Irreversible impact to every life, every business, and every piece of our planet bigger.
This is an endurance test to irrefutably determine future viability and vitality.
That perspective, and subsequent thinking, made some things more manageable. If there are no problems, only challenges and opportunities, then these are likely the biggest challenges and most important opportunities we'll have. If opportunities multiply as they are seized, then we'd better accept the challenge and seize these opportunities.
Easier said than done. But, as well all know, the only way to finish is to start.
Seize these FIVE Pandemic-Prompted Opportunities to Enhance Your Guest Experience
1. Regain or Reinforce Stakeholder Trust
Hotels, inns, and other lodgings, are a complicated confluence of cultures: local versus out-of-towners. Local citizenries rely on hotels for their goods, services, tax dollars, and employment opportunities. Local businesses rely on hotels to create a bigger and more robust customer base that generates stronger (or all) demand for their complimentary goods and services. When navigating a pandemic, this confluence could easily escalate to conflict.
As travel resumes, and updated experiences take shape, set a new standard in care and confidence for your teams, guests, and communities.
Any and all hospitality pursuits require health, safety, and wellness. Guests trust that the hotel or lodging they've chosen will take good care of them while they're away from home. Hotel teams trust that the hotel they've chosen to work with will take good care of them as they navigate on-the-job duties and work to support personal and financial goals. Communities must believe and trust that hotels positively impact the health, safety, and wellness of their municipality, economy, and culture.
2. Develop, Sustain, and Grow Community Connectivity
The pandemic prompted most of us to refocus on the importance of connection.
Looking to your neighbors offers innumerable mutual rewards ranging from social, to economic, to ecological. Imagine the collective sense of place you'd craft by connecting travelling and hosting communities. Here's hoping that you didn't look too far when you first confronted this crisis. And, if you find yourself looking further afield, here's hoping that you'll reel-in your perspective to refocus on your neighbors.
Looking beyond valuable social and ecological benefits, weaving your guest experience in local fabric offers you a competitive advantage and increases the cost of switching for your guest. When comparing available experiences, conscious travelers will be compelled to calculate the cost of all the good that they'll give up with you for the sake of staying at a disconnected replacement spot. The higher you increase the cost of switching from your venue to a replacement option, the higher the guest loyalty and the higher the derivative economic benefit.
When travel resumes and you rebuild your business, be sure to keep your neighbors in mind. Rather than recruit seasonal support from far-flung places, take a dip in your community talent pool. Depending on your market size, you might also be able to collaborate with your neighbors to benefit respective employees and your community.
Your neighbor restaurateur might employ an amazing server that woud love additional shifts. That neighbor might only be able to offer that awesome server a few shifts a week. It's possible that the top-notch server could be a great fit for your Front Desk and is happy to round out their schedule and strengthen their community by balancing two separate schedules.
Relying on your neighbors amplifies community benefit. Socially, trusting your neighbors could have a big positive impact on your community. Organizationally, we all strive to cultivate mutual appreciation societies. Growing that concept beyond the bounds of your venue will help both your organization and your community thrive. Be sure to seek opportunities to engage with your neighbors outside of traditional business partnerships and institutional subscriptions like Visitors Bureaus and Chambers of Commerce.
3. Rinse Your Cottage Cheese
Beyond amplified community connectivity, the ongoing pandemic prompts endless opportunities to assess and explore your business, your practices, and the resulting guest experience.
If you haven't already explored this opportunity, now's your chance to attack your organization. Be objective and be aggressive. If you're sensitive because you've shed your blood, sweat, and tears building your business, this is your opportunity. Be open to the possibility that, while your decades-old way has proven to be mostly okay, there's a new way to get things done, and it may be better than what you've been up to.
There's no rule book on a self-assessment. Do what works for you, but do it yesterday. Most important, go everywhere. Assess why your sheets are folded and stacked on the shelf the way that they are. Question why there's a trash can in every corner of a room, but no recycle receptacle. Investigate why you order the light bulbs that you do.
As illustrated in the famous book, "Good to Great" (Jim Collins, 2001), "rinse your cottage cheese." The pandemic recovery period is the right time to seize the abundant opportunities to gather and grow what you need to move forward, while shedding anything and everything excessive that could hold you back.
4. Embrace Disruptive Innovations
Whether by way of a self-sponsored operational attack or government guidelines, chances are good that the persistent pandemic has challenged you to innovate, adapt, change, or replace what you do and how you do it. You host. You guide. You gather. You serve. You and your team of hospitality professionals offer a friendly smile and attentive hands-on service.
You just do that differently these days.
Disruptions to everyday and every-stay standards and practices have likely compelled you and your teams to infinitely innovate to continue to enhance your guests' experience. Some of these disruptive innovations may have irreversibly enhanced your Team and guest experience and should remain mainstays in your operating model. For lots of hotels, the pandemic has accelerated the implementation of the disruptive innovations that they had been looking at, but didn't have a firm timeline for.
Across lodging segments, the pandemic pushed lots of venues to quickly transition from traditional analog methods to digital tools. Rather than a sign-in-person paper registration card, venues quickly flipped the switch to online registration. To maintain physical distancing and lobby occupancy limits, lots of hotels also introduced text messaging platforms to keep in touch with their guests during their arrival, throughout their stay, and upon departure.
Though disruption may have compelled quicker implementation of these innovations, many guests and operators couldn't imagine a successful hotel stay and top-notch guest experience without these digital amplifiers. These types of disruptive innovations should be here to stay. And you should be on the lookout for more disruptive innovations as experiences evolve.
5. Structure and Spotlight the Mysterious and Undefined
"That's just how we do it." Let's keep this reading the last time you think that way. Better than "how," be sure to explain "why." Now is the right time to assess your guest-facing service systems and, if you know the way you do something, but not the why you do it, it's time for a closer look and further clarification.
Stayover service is inefficient and challenging during the best of times. Embracing that challenge, some hotels are going next-level on customizing guest experiences by providing made-to-order room refreshes.
Historically, your housekeepers might patrol for DND (do not disturb) signs. No DND meant knock and enter to offer a standard refresh. Inevitably, there'd be an experience collision or, at minimum, confusion. If the guest didn't return whilst the stayover service was underway (a collision), they'd, more times than not, follow-up by phone to share that though the housekeeper offered "Service A" they had anticipated "Service B" (confusion).
If you've got the right tools accompanied by the right communication, you could enhance your guests' and your team's experience by scheduling made-to-order stayover service. A simple online form could infinitely improve an otherwise un-orchestrated process. Remaining mindful of everyone's health and safety, require rooms to be unoccupied and personal items to be clear while the refresh is underway. Guests could choose the specific tasks they'd like your team to complete from a refresh menu to help eliminate confusion.
If health concerns ease, scheduled made-to-order stayover services could be one of the disruptive innovations that your team and your guests would like to keep.
Pro Tip: The only way to stay on the bicycle is to pedal.
Again, it goes without saying that the challenges we're all facing can be overwhelming. We don't know what we don't know. However, we can proactively control what we can control. We can enhance the guest, team, and community travel experience by accepting challenges, seizing opportunities, and inviting disruptive innovations.
None of this is easy, but all of this is what we signed-up for. Whether it be in a cave, tavern, staging post, motel, or inn, hospitality is tied to humanity. Hoteliers offer strangers food, shelter, and safety. While expectations may vary by centuries and circumstances, your unwavering commitment to offer the best possible experience to your guests, your team and your communities hasn't changed. And it shouldn't.
HotelExecutive retains the copyright to the articles published in the Hotel Business Review. Articles cannot be republished without prior written consent by HotelExecutive.