Five Crucial Aspects in Maintaining Hotel Group Business
Creativity is the New Buzzword for Hotel Meetings
By Allison Handy Senior Vice President, Sales & Marketing, Prism Hotels & Resorts | September 12, 2021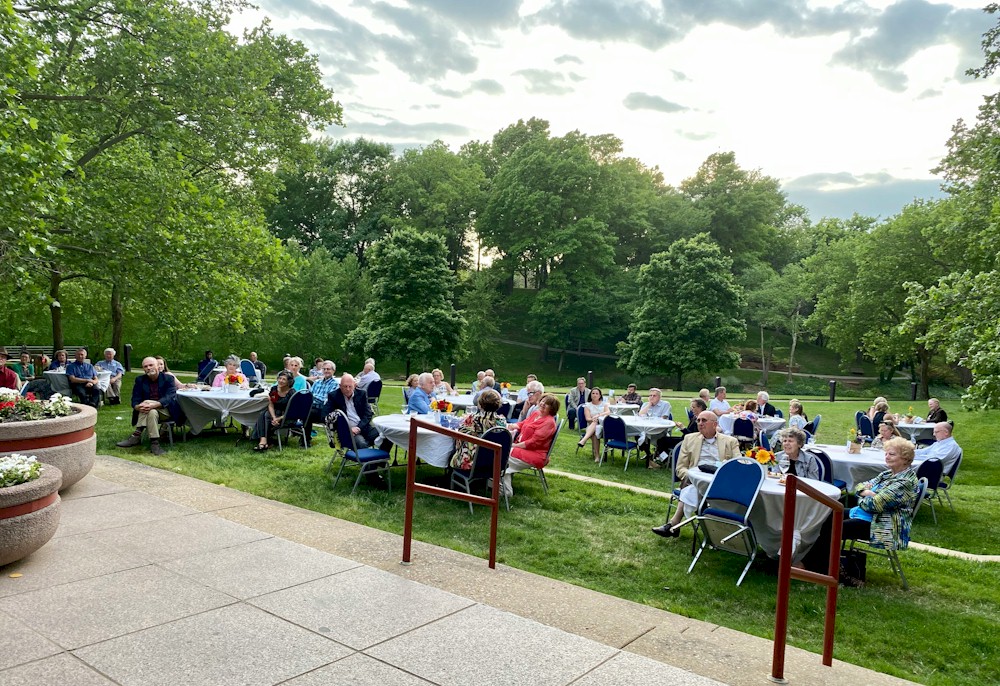 While almost all American businesses have been impacted by the COVID crisis, the hospitality sector has been particularly hard-hit. Hotel owners and operators have seen their properties and personnel bear the brunt of a historic disruption. Perhaps inevitably and, to some extent unavoidably, the impact on hotel group meeting business has been especially dramatic.
With recent news of new variants, details and timing on the hoped-for group business recovery remain somewhat elusive, and it remains to be seen when it will truly return to pre-pandemic norms. It isn't a stretch to say that the effects of pandemic could be felt for many years to come.
Until that recovery manifests, hoteliers will need to continue to be both thoughtful and creative in finding ways to capture the modest amount of group business currently available-and to do so in a manner that comports with all relevant public and health and safety guidelines from local, state, and federal authorities. From spacing and staging, to service and staffing changes, the myriad of ways that hotel management professionals have found to keep the group business train on the tracks is an inspiring example of the spirit of innovation and service that distinguishes the best hotel entrepreneurs-and the best hotel experiences.
What follows are five of the most crucial aspects hotel owners and operators are using to get the most out of their group business during one of the most challenging periods in the history of the industry".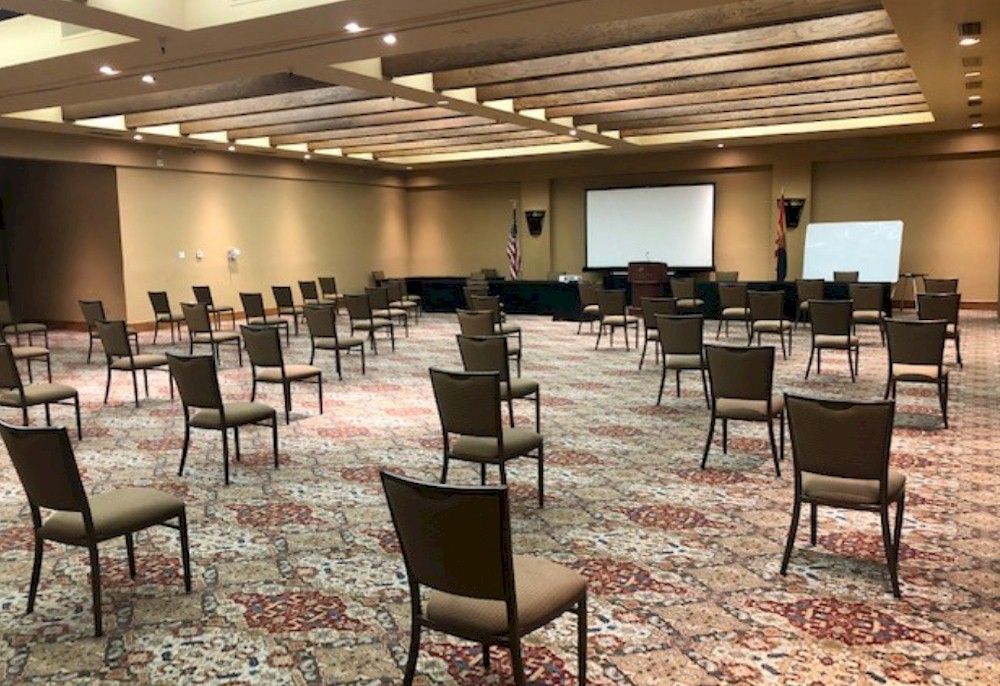 Socially Distanced theatre seating at El Conquistador Tucson, a Hilton Resort.
1. Health & Safety
Safeguarding the health and safety of both attendees and employees is not just the top priority for all events-big or small-it is the built-in cost of doing business in the age of COVID. While state-to-state mandate differences have had a significant impact on what specific guidelines hotel management professionals must abide by when hosting group events, all operators have had to implement some degree of modified operation at various points since the onset of the pandemic.
Adhering to recommended standards from government officials and public health organizations is especially important given the variability of risk tolerance-both on the part of guests and hotel operators-and the evolving nature of the pandemic. Implementing and abiding by health and safety guidelines is obviously important for protecting the health and wellness of employees and guests, but also for liability reasons, and for safeguarding the reputation of your flag and your property. To that end, a number of hotel chains proactively implemented their own health and cleanliness measures, such as Hilton's "Clean Stay" regulations.
2. Air and Space
At a Westin Hotel in Illinois, changes in restrictions have been difficult to navigate at times. Fortunately, the hotel was able to use extensive available outdoor or indoor/outdoor space to meet group event requirements without compromising the health and safety of attendees or employees. In the case of this hotel, a large open-air atrium-style feature in the center of the property creates an 11,000-square-foot space where larger groups can safely gather and enjoy the protections of outside air, as well as sufficient space for social distancing during meals, receptions, and other group events. While not every hotel has this kind of asset, creative use of outdoor or partially open spaces has been enormously helpful for some hotel properties.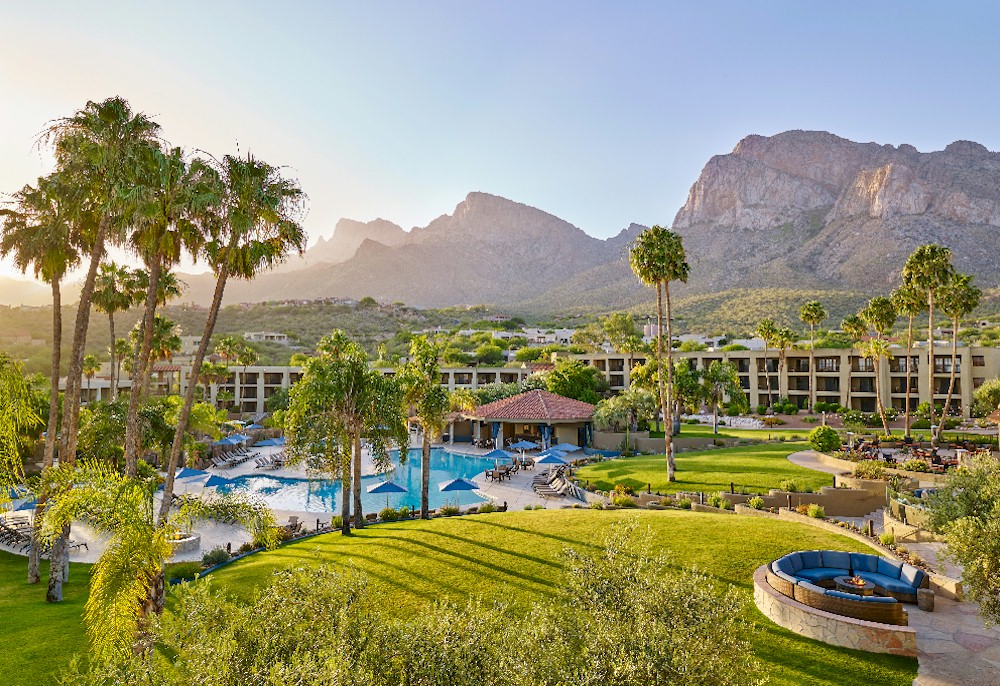 El Conquistador Tucson, a Hilton resort, utilized outdoor space and lawns to accommodate larger groups that couldn't safely fit in traditional meeting space.
3. Staging and Separation
In cases where the number of attendees and the size and nature of the available space makes social distancing impractical or impossible, group planners are forced to get creative. Some hotels have utilized assigned seating in conjunction with social distancing, while others have implemented a "grab bag" of disparate solutions to reduce crowding and make guests safer and more comfortable-sometimes for the same event.
Prior to the recent easing of guidelines in the state, the El Conquistador Tucson, a Hilton Resort in Arizona had some groups utilize a colored bracelet system (identifying who was more or less comfortable with social distancing), use assigned seating to prevent mingling, move some formerly indoor meetings outdoors, and even had one extensive long-term production group quarantine at the resort prior to production and agree to be repeatedly tested throughout the duration of their stay. Other properties have used similar isolation strategies, sectioning off a wing or dedicated area in the hotel for a group event, thereby minimizing outside contact and reducing the risk of transmission.
In one instance a hotel property worked with several local churches to accommodate their weekend services, taking reservations from parishioners and setting up meeting room chairs in dedicated family groups to maintain social distancing outside immediate family.
4. Serve and Protect
Service modifications have also been an important part of the health and safety modifications required to keep group business viable during the pandemic. At the Embassy Suites by Hilton Oklahoma City Downtown Medical Center, the management team accommodated a group of essential workers from a local company by employing a range of modified protocols and services. Among those was the decision to have staff members man the coffee station and provide bar-style service to ensure limited contact.
At the Doubletree by Hilton Hotel in Tulsa, Oklahoma, staff hosted the Oklahoma University College of Community Medicine graduation event, by serving 200 people their food in individual disposable containers. Other food service modifications hotels have utilized include salad dressings and other condiments served in personal ramekins, and using individual creamers and individual salt and pepper packages. Banquet staff have been deployed to serve food at all buffet-style events, and some properties have used exclusively disposable flatware and silverware, with no presets on tables.
When possible, hotels are assigning dedicated doors for entrance and exit, ensuring guests use the same tables and chairs throughout their stay, and thoroughly sanitizing key touchpoints in meeting spaces before every meeting, including tables, chairs, in-house phones, light switches and doorknobs. In some cases, meeting spaces are locked and sealed after cleaning to ensure that the cleanliness of the space is not compromised.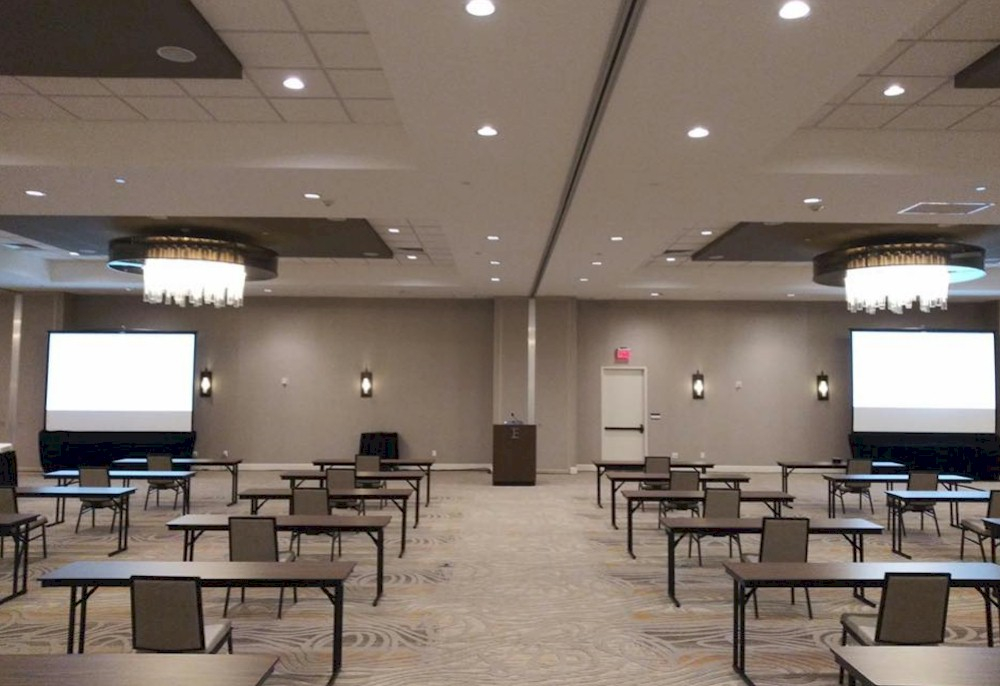 In addition to assigned seating and socially distanced room setups, Embassy Suites Oklahoma City Downtown Medical Center assigned dedicated doors for entrance and exit into meeting rooms to safely guide traffic.
5. Utilizing Technology
Across the country and around the world, technology tools like video conferencing have been a saving grace for so many organizations. The same tools and tech that have facilitated new remote and hybrid operational models for so many companies - at a time when pandemic separation would have otherwise left many of us both literally and figuratively disconnected - can be used in hospitality venues to help make group events safer and to minimize risk to attendees.
Conference and event attendees who feel symptomatic are far less likely to "suck it up" and attend (risking the health of others) when they know that, thanks to live-streaming or sophisticated video-conferencing coverage, they won't miss any important content. Hybrid meetings allow a mix of live and virtual attendance that can be utilized for specific events and facilities. The same Westin hotel used dedicated time slots for performance competitions at dance conventions, but they also live broadcasted performances for spectators to watch outside of the event space.
While there is no replacing the important networking and social elements of in-person events, the ability to design meetings or conferences with virtual attendees opens new flexibility and gives hotel management professionals and event planners a wider range of options when it comes to designing safer events and adapting to space limitations.
Looking Forward
The big question, of course, is where do we go from here? Hotel management pros and event planners need to recognize that, despite the relative success of vaccine rollouts, COVID is still with us. For the foreseeable future, the industry landscape is a fundamentally different place than it was 18+ months ago. In a health emergency as all-encompassing as a global pandemic, there will always be elements that are well out of your control. One thing you can control is the way you approach these challenges.
Adopting a constructive mindset focused on effective problem-solving is enormously important. The pandemic experience has taught so many hospitality professionals to think more creatively and much more outside the box than ever before. The goal, as always, is to find ways to make things work instead of simply telling customers what won't work.
The good news is this: professionals in the group meeting space report pent-up demand for many clients to resume their group meeting business in earnest. And while the rise of variants looms as a concerning complication, the rapid rate of vaccinations in recent months have led to easing of both restrictions and guest demands. The El Conquistador Resort by Hilton in Arizona has seen many of their groups reducing their strict enforcement on masks, social distancing, and other COVID protocols.
Anecdotally, guests are anxious to get back to something closer to normal. In some markets, blocks are filling and even exceeding expectations. Throughout the pandemic, the majority of customers have been flexible and willing to think differently, in order to have their event safely and within state and local guidelines. And so, while most or all restrictions have been lifted in many states, hotels and guests will need to continue to be creative, be flexible, and apply social distancing guidelines when necessary.
After more than a year of innovation and modification, there are seemingly few obstacles group business can't overcome over the course of what is sure to be a stop-and-start recovery in the months and years ahead.
HotelExecutive retains the copyright to the articles published in the Hotel Business Review. Articles cannot be republished without prior written consent by HotelExecutive.