Where to Dine, Wine, & Stay in Style in Marrakech, Morocco's Fabled Red City
By Jochen Ehrhardt Managing Director, Founder, TRUE 5 STARS | September 12, 2021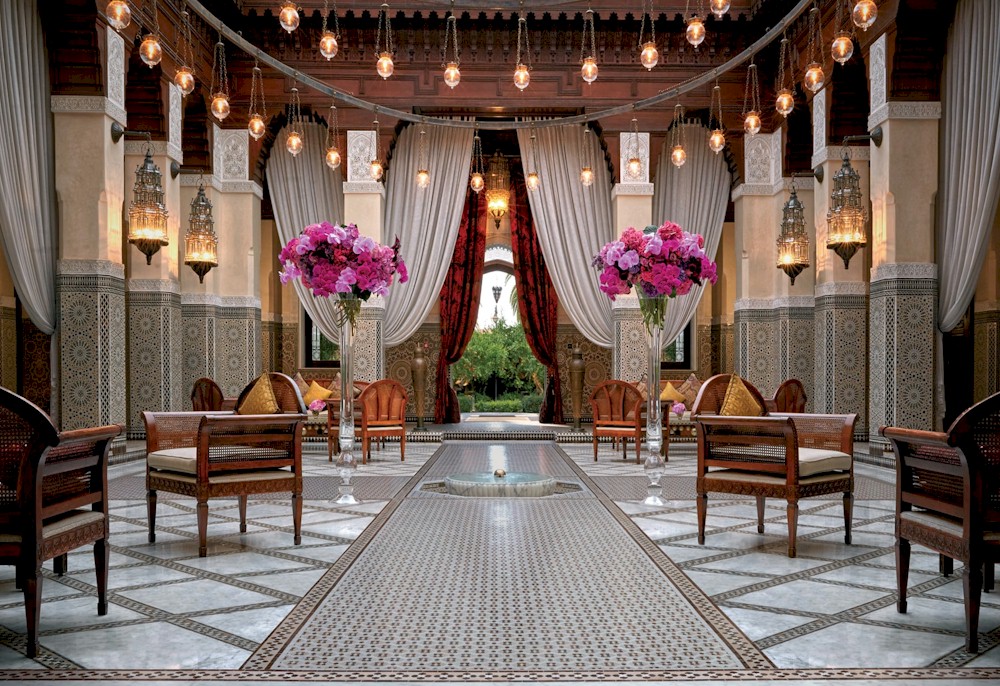 While Marrakech is already on the to-visit-list of European and North American travelers for the ultimate and truly authentic 1001-Nights experience, who would have thought that Morocco produces its own wine?
Allow me to start by providing a little bit of background on this colorful city:
Moroccans are generally good at languages. Typically, they grow up with up to three languages: The Moroccan dialect of Arabic, the so called Darija, French, and Berber.
Marrakech, with a population of roughly one-million inhabitants, is Morocco's fourth largest and best-known city-apart from Casablanca, which owes its entire fame to the famous, same-titled movie, even though it was not even shot on location! Founded in 1070, Marrakech is served by a world-class airport, Menara International, and draws mostly French, British, Germans, Spaniards, Americans, and Moroccans themselves. The city is famous for its fortified city, the Medina, which is a UNESCO Heritage Site, and boasts the largest traditional market in the country, the Souk.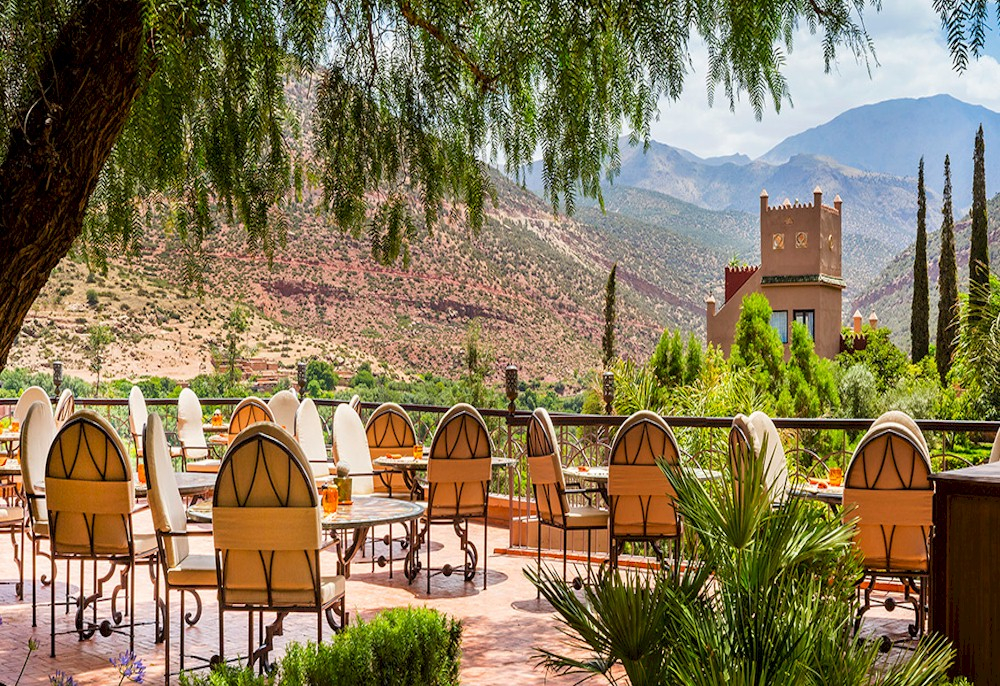 Kasbah Tamadot
Marrakech is a year-round destination with dry heat peaks during the low season in July and August and a cooler winter during December to March. High season is during the months between.
Marrakech, the Red City-so called because of the Medina's buildings and ramparts being of beaten red clay-is one of only two African cities with a large luxury hotel offering, the other city being Cape Town, the Mother City-being the original city in South Africa-at the other end of the continent.
Hotel development has been progressing rapidly over the past two decades. While in the beginning of the century there were only two world-class hotels, La Mamounia and Amanjena, as of July 2021 this number has at least tripled, depending on how you look at it. Booking.com displays up to 55 results when you filter for 5-star hotels. Interestingly, the reason for staying in a hotel in Marrakech is probably 95% leisure, be it for a weekend trip from nearby Europe or longer trips from overseas that mostly involve some kind of hotel-hopping. The nature of Marrakech's luxury hotel scenery lends itself perfectly to dividing a stay into at least two different hotel stays. In addition, at the very top end of the market, it is very hard to decide on just one hotel.
So, here's a little guidance from someone who has just spent two weeks in Marrakech's top hotels, and from someone who has visited, inspected or stayed at about 1,800 of the world's best hotels in over 80 countries.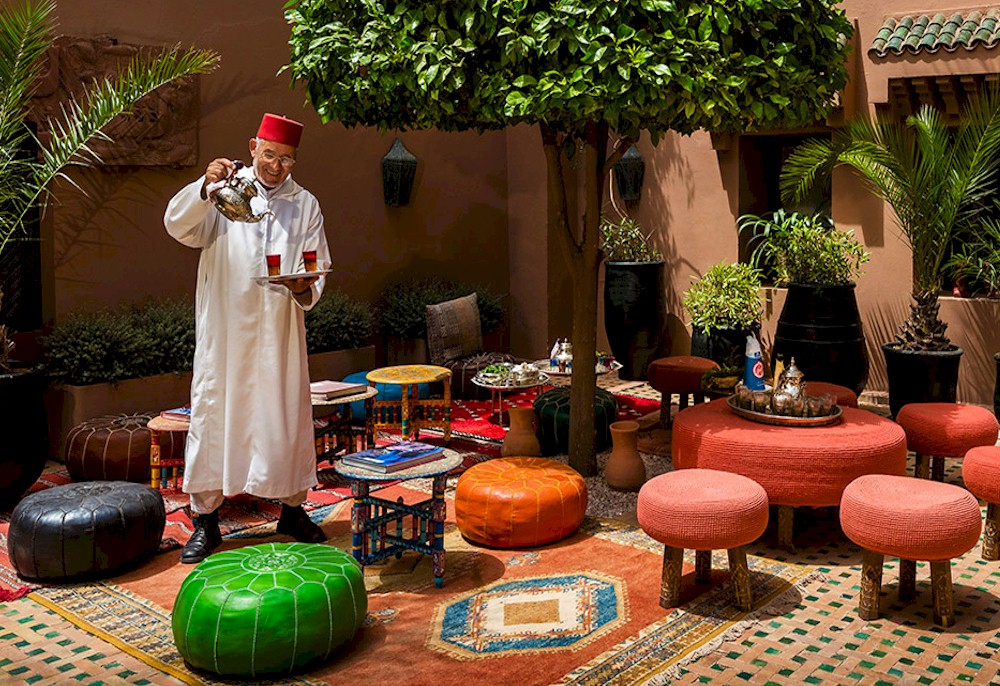 Kasbah Tamadot
There are basically three regional clusters for luxury hospitality offerings, the Medina comprised of mainly Riads, small establishments with windows looking out on calm courtyards, L'Hivernage, La Palmeraie and anything outside the city boundaries but within a 20-30 minute drive.
My top picks for opulently-adorned Moroccan-style über luxury hotels are clearly La Mamounia, Marrakech's Grande Dame, and the Royal Mansour which belongs to the Crown's treasuries. Here, the 1001 Nights fairy tale comes to life, albeit in very different forms. While La Mamounia is the place to meet and mingle while staying at its 202 beautifully-appointed rooms, suites and villas, the Royal Mansour is, with just 53 Riad-style homes each with its own rooftop plunge pool, a place to find refuge and enjoy the privacy of one's own Riad. Rates from USD 1,200 a night are not for everyone.
There was much talk about La Mamounia's complete makeover a few years ago. Rumor has it that some of the regular guests did not particularly like it as they felt the hotel had lost part of its soul. In any event, I would like to agree to disagree! Not moving with the times means running out of customers sooner or later. Let there be no mistake, and don't let anyone tell you otherwise, the hotel is an absolute beauty and not many hotels on the planet can match its magic.
Leaving the city, you don't have to go far to find two other beauties, the Mandarin Oriental and Amanjena. They are my top picks for staying outside the city boundaries. Both are absolutely beautiful, and at the same time, very different. The Mandarin Oriental draws Marrakech's elite to its Chinese Ling Ling restaurant, overlooking the resort's pool area and facing the High Atlas mountain range. The vibe on weekends is very chic and classy, seeing and being seen! Starting at 3,229 sq ft/300 sqm, the 54 pool villas are magnificent in every aspect while seven of the nine at least 1,453 sq ft/135 sqm suites have splendid views of the nearby High Atlas mountains, in addition to plunge pools.
Amanjena is a classic already. As one of AMAN's first resorts, the 40-villa property has lost only a bit of its former glory. Regardless, along with the Royal Mansour, it is Marrakech's most exclusive resort with a distinct focus on the privacy of its celebrity clientele.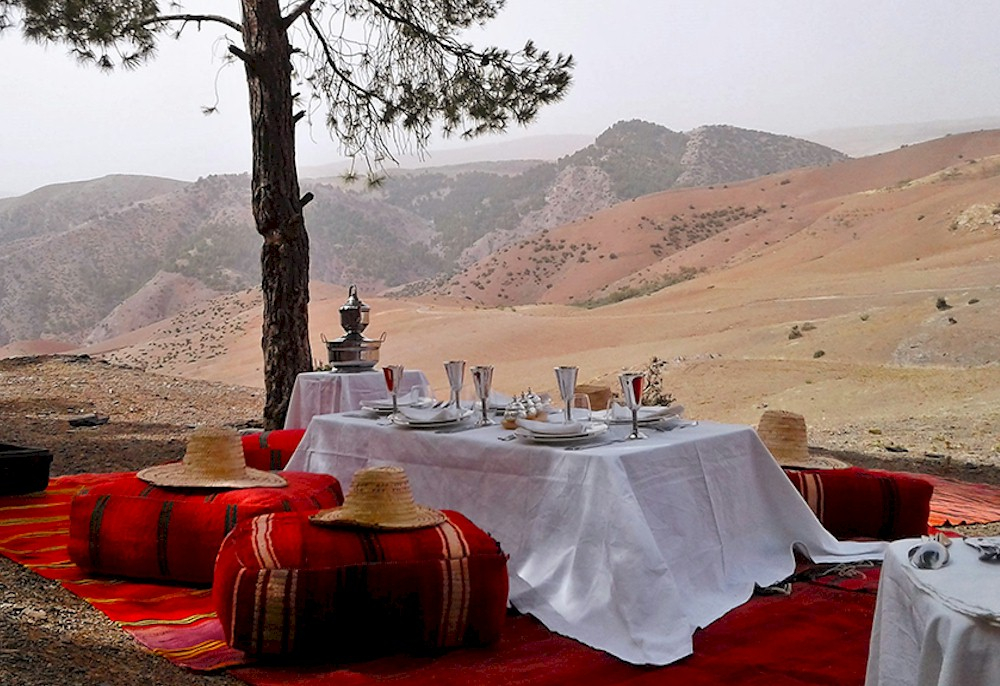 La Sultana Marrakech
In the southern part of the Medina, there is a hidden, magical place, called La Sultana. Your 28-bedroom museum-like Riad with, of course, a rooftop bar. By the way, did you know that Marrakech is one of the three (hotel) rooftop bar hotspots worldwide? The others are Barcelona and Bangkok. For those in search of the ultimate Riad-experience in the city's old quarter, look no further! After a day or two, all employees will know you by name, and, maybe, vice versa.
Another rooftop bar recommendation would be the 360-degree top level of the Pearl-soon-to-be-Nobu Hotel. Located just outside the city wall in the Hivernage district, within walking distance of La Mamounia and Royal Mansour, this rooftop boasts some of the greatest unobstructed views of the mountains and the city.
Should you decide to head out to the mountains, there is another magical place, thanks to Sir Richard Branson. His Moroccan Retreat, Kasbah Tamadot, is so worth a stay! The setting and views are absolutely stunning and with just 28 rooms, suites and tents spread over 27 acres/11 hectares including its own organic tomato garden, two tennis courts and a 72 ft/22m outdoor pool, privacy and fun are more than guaranteed. Moreover, situated 4,265 ft/1,300m above sea level, temperatures during the hot summer months of July and August are always notably below the level in Marrakech. The snow-capped peaks of the High Atlas are highly visible during the December to March winter period. No worries, there are enough hot spots in the main building such as the library to cuddle up in front of the fireplace when temperatures go south.
If you are into horses, the Selman is for you. Located just outside Marrakech, a beautiful pool and real Arabic horses are the main draw. Your own private horse show for a special occasion? Ask Madonna.
As a sports enthusiast, you might want to try the Fairmont hotel, located within its own 18-hole golf course. Additional sports offerings include four tennis courts and a squash court. Bedrooms are oversized.
As for the quality of the service and guest engagement in Marrakech's top luxury hospitality offerings, there is definitely room for improvement, as reflected in guest reviews. In any case, there is the one or more highly motivated employees who knows how to serve without losing his/her authenticity. I view it as of paramount importance to leave behind limiting standards such as scripted language and any kind of robotic behavior: A hotel offering that aspires to exceed should not be standardized or forced into a template.
What's in store? Park Hyatt is said to open next year and Ritz-Carlton in a few years.
In case you travel on a budget, try Riad Tarabel or AnaYela in the Medina or BAB Hotel in Gueliz.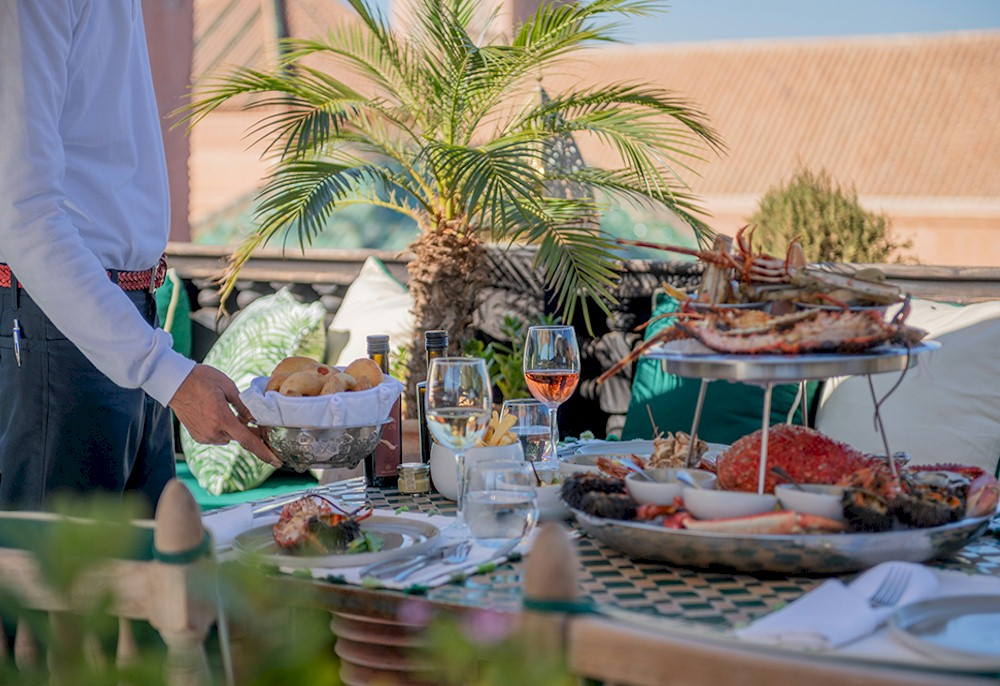 La Sultana Marrakech
Needless to say, Marrakech boasts many beautiful restaurants. A favorite among locals and visitors alike is La Trattoria Marrakech. Established in 1974 by Italians, it was taken over by a local businessman in 2001, and subsequently given a complete makeover. While you will be hard-pressed to find any Italian elements, except for the food of course, the indoor space is a real stunner. Tables are arranged around a pool. The place is packed seven days a week, so reservations are recommended. Another good sign, the owner is personally present, every evening. And of course, they are serving excellent wines from Italy and...Morocco!
Wanting to know more about this hidden gem, I conferred with one of Morocco's top sommeliers, Mr. Rabi Ahsina, from the Fairmont Royal Palm in Marrakech, who was kind enough to shed light on the status quo of Moroccan wine:
How did you become interested in wines and how did you become a sommelier?
I began my hotel career in 2004 and it was during my first period of training that I immediately discovered a real passion for wines, one that I wanted to study further, as it looked to me a great world to discover. Six years after that I had the opportunity to work at Sofitel Marrakech with a wonderful wine cellar, which pushed me to dive deeper into my discovery of the art of the sommelier and wine knowledge. The support of the team gave me extra motivation to explore this passion, to study and visit Moroccan vineyards.
When did Morocco start producing wine?
Morocco first began its wine production in 1927 with the first harvest in the Domaine of Thalvin in Oulad Taleb, not far from Benslimane in the region of Casablanca.
What are the major wine regions?
One of the most important regions for wine production is surely Meknes with several wineries such as the Domaine de la Zouina, Les Celliers de Meknes, Baccari and more. Other equally important regions include Val d'Argan near Essaouira; well known for its Biodynamic production; and of course Benslimane, which pioneered wine production in Morocco.
How do they cope with the heat?
Moroccan vineyards are all influenced by the Atlantic Sea breeze and by their own microclimates, which help ameliorate the hot weather. The grapes we have adopted were selected carefully by the Moroccan vignerons (wine growers) from the ones that grow best in hot-climate areas.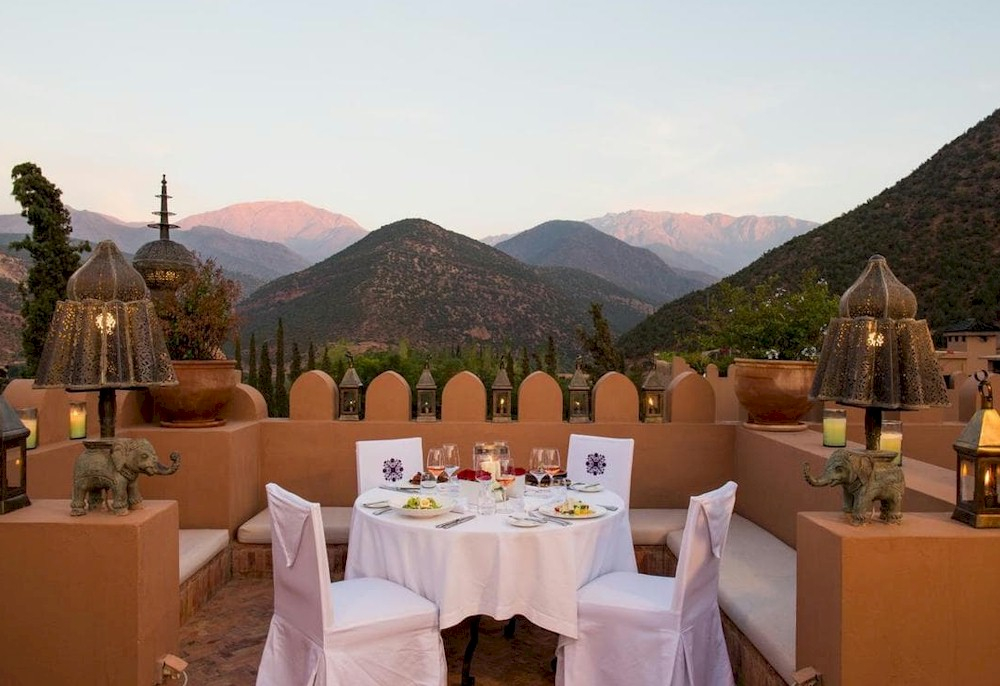 Kasbah Tamadot
Which grapes are prevalent?
The vignerons' favorite grape is probably Syrah, well known for its rounded and complex aromas; the Grenache is one of the grapes most present in our rose wines, whereas the Cinsault is harvested for our famous Gris, a typical Moroccan rose with a shorter maceration that results in a lighter color, a dry taste and good acidity.
Are there any established wine brands yet?
There are several well-established wine brands in the local market, which are gaining more and more international visibility. The most establish vineyard is Chateau de Roslane-the first AOC and the only Chateau in Morocco.
Does Morocco export wine?
Yes, Morocco exports several of its wine brands mainly to France and Europe. The vineyards and the institutions are putting great effort into promoting Moroccan wines in the international market, participating in different exhibitions while receiving several accolades.
Is wine consumed predominantly in (luxury) hotels?
Wine is served mostly in touristic establishments, such as luxury hotels, where we have an excellent opportunity to introduce and promote our Moroccan wines for their higher quality, taste, and aromas.
How do you see the future of Morocco as a niche wine country?
As mentioned before, the vineyards in Morocco are making strides when it comes to gaining international recognition for their wine. Nevertheless, we should not forget the hard work done by the recently established Association des Sommeliers du Maroc (ASMA - Association of Moroccan Sommeliers) that participates in several international events and supports the growth of the wine culture and knowledge in the country. ASMA is also putting great emphasis on training new sommeliers to better promote domestic production further afield. The influx of travelers to Morocco also helps in gaining international visibility as demand for Moroccan wines increases around the world.
Having benefited from Mr. Ahsina's expertise as well as Fairmont Royal Palm's cellar, I can personally recommend Morocco's excellent wines!
Main Image: Royal Mansour Marrakech
HotelExecutive retains the copyright to the articles published in the Hotel Business Review. Articles cannot be republished without prior written consent by HotelExecutive.