The Argument for Why Travel Is Essential... and How to Win
By Ewald Biemans Owner & Chief Executive Officer, Bucuti & Tara Beach Resort | May 2023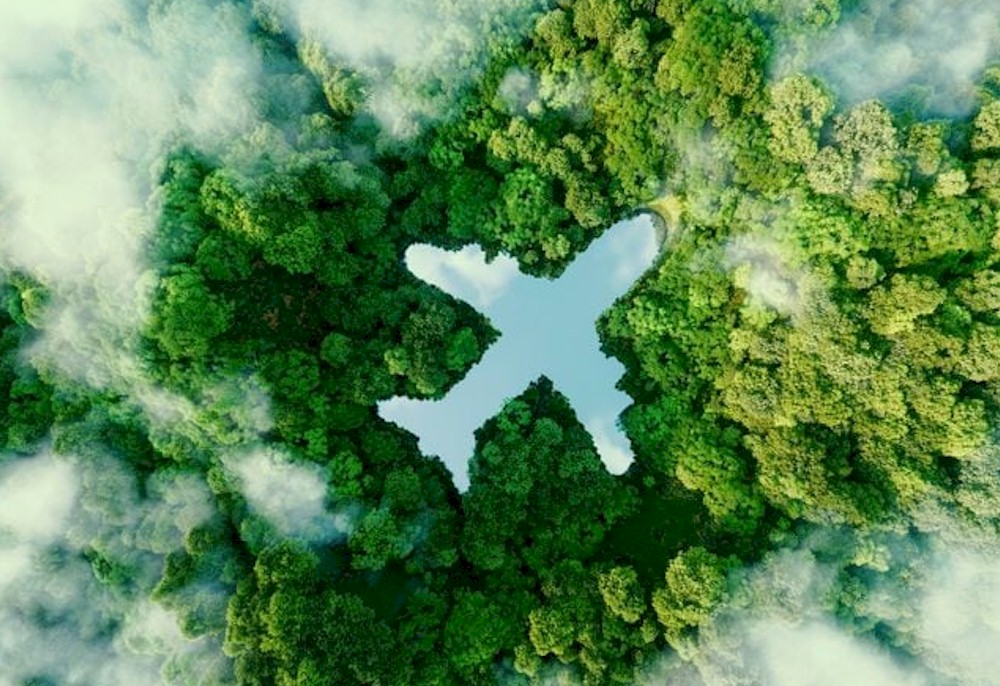 Travel is back in a big way, yet…now stories are percolating with the message that travel is not essential.
This is not prompted by the virus of the past couple of years, rather it is by the largest pandemic of our lifetime, climate change.
Flight shaming and banned short-haul flights are on the rise in Europe. A Feb. 2023 Travelpro article, "Travel is Not Essential, " explored a nonprofit organization gathering support to ban advertisements for anything requiring fossil fuels. Among its biggest targets, the travel and tourism sector. The United Nations' March 2023 Synthesis Report from the Intergovernmental Panel on Climate Change drastically cut short by 10 years the timeline humanity has to avoid the 1.5 degrees Celsius global warming caused by emissions.
As headlines continue, ultimately, people are showing they are going to travel. Despite inflation being up to 6%, year-over-year travel is climbing by 11% according to NerdWallet's Travel Price Index.
Being sedentary is just not in our nature. Humans are curious and learn best through storytelling. We broaden our horizons by immersing ourselves in places first hand and connecting face-to-face, shaking hands and even exchanging hugs. Some of the most significant discoveries and human progress have been through in-person experiences. As hoteliers, we have the opportunity, and truly, the privilege, of helping people do so responsibly.
As the Owner/CEO of the Caribbean's first and only certified carbon-neutral hotel, Bucuti & Tara Beach Resort, Aruba, our journey to sustainability success allows guests to have a vacation that is literally better for the planet than if they stayed home. The property runs at 97%+ year-round occupancy and is an example of how sustainability and business success can go hand in hand.
Travelers' Tipping Point
The promising news is that our very own guests are literally searching for hotels that walk the talk when it comes to sustainability. What's more, they are factoring in various pillars of sustainability - economic, social and environmental.
Travelers are increasingly looking to book with companies that align with their ethos. Sustainability is no longer niche, it has a seat at the table. Year-over-year, responsible travel is climbing the search rankings. A Google-commissioned 2022 Travel Search Trends report revealed sustainability as one of the top six search criteria travelers are including as they research trip options. A 2022 Sustainable Travel Study by Expedia showed that 90% of consumers are looking for sustainable options and seek hotel, transportation, dining, and excursions that align with their own personal commitments to sustainability. A new study by Virtuoso found that 80% of respondents feel the pandemic made them want to travel responsibly and 75% were even willing to pay more to do so if they know how their money is being used.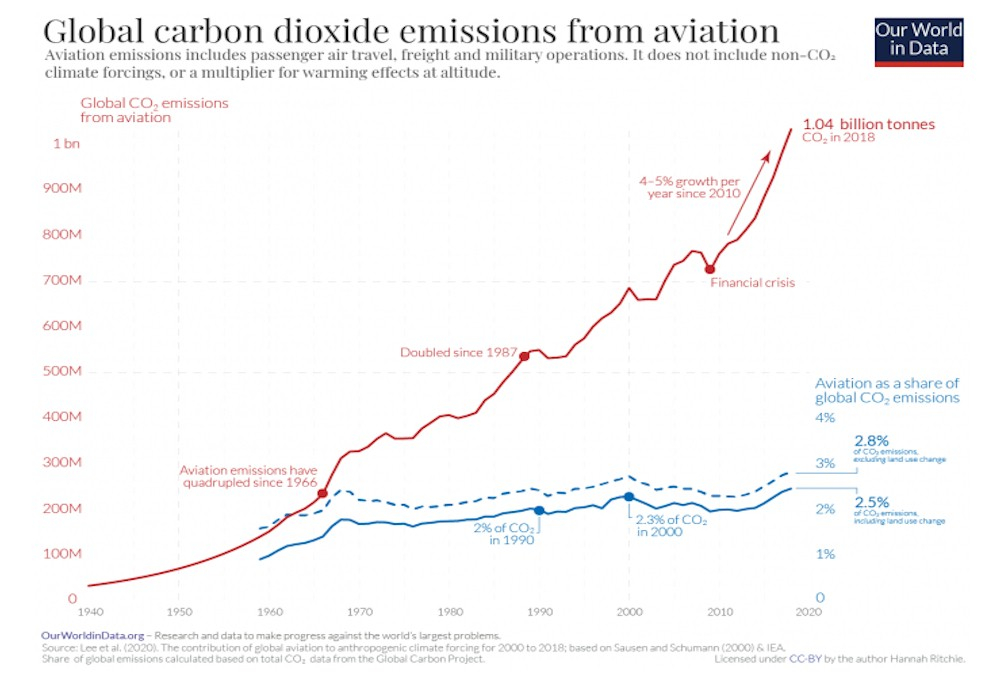 Airlines: Not Necessarily The Biggest Culprit
Without a doubt, air travel generates emissions. Planes are loud, more noticeable as they roar down runways and leave contrails across the sky, ultimately making them easier to pick on. The fact is, aviation accounts for just 2.5% of CO2 emissions or 3.5% in total greenhouse gas emissions according to Our World in Data.
The pandemic is the only time in current generations where the world was able to pause and a byproduct was seeing how it would affect greenhouse emissions. While they dipped, it was highly temporary and the effects returned as travel returned. The United Nations acknowledges this in its report, "No, the pandemic did not help climate change."
While some business travel continues resuming, leisure travel has witnessed a huge uptick from pent up demand. Both 2021 and 2022 were more about reconnecting with family and friends.  This year has been deemed the year of traveling wherever your heart desires as revealed by Expedia, Hotels.com and VRBO, in its 2023 Travel Trends Study.
People can still do so responsibly with our help. Curbing climate change requires everyone to collaborate. While the aviation industry is working towards cleaner energy solutions, hotels can encourage travelers going to fly destinations to book non-stop, long-haul flights to save on emissions. Full flights versus automobile travel create three times less CO2 emissions per person.
In 2021, Bucuti & Tara Beach Resort introduced the world's first Carbon Neutrality Concierge. While offsets can be a lightning rod subject, until there is a better solution, it is better to assist guests with offsetting their air travel and even airport transfers and excursions through verified offset programs. There are many and the easiest is to go through the airlines themselves. Once at the destination, encourage EV transportation or walking or bicycling. Make EV chargers readily available.
For long distance vacations, it is healthier for the planet and ultimately everyone, if travelers opt for a long-haul flight and a stay at a highly sustainable hotel, such as one that is carbon neutral or working towards it, than even staying at home or driving long distances.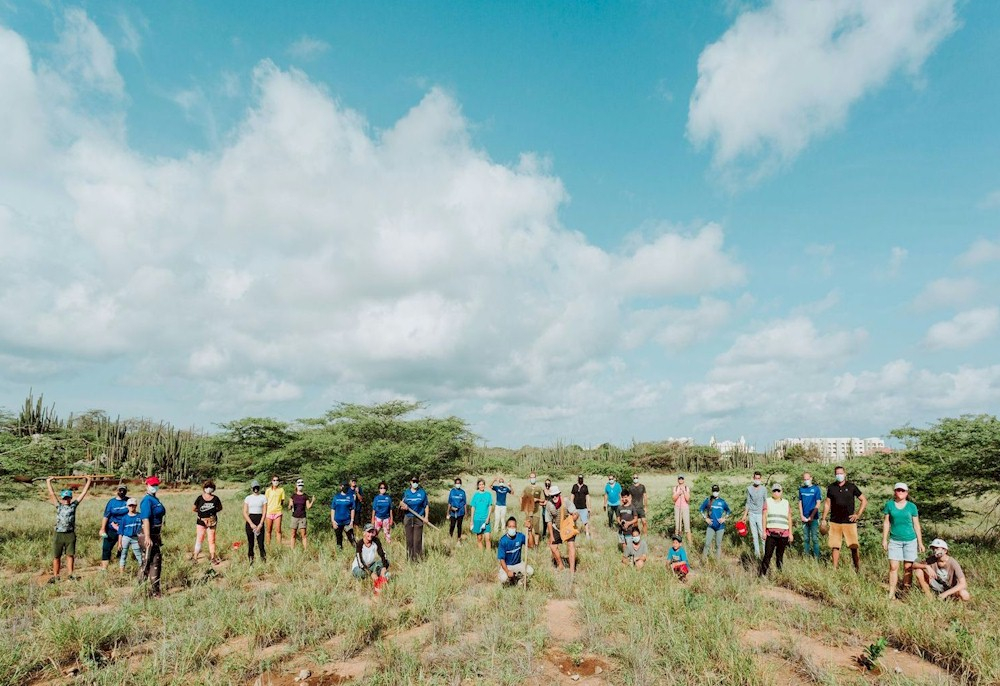 Staff and community members reforesting Bucuti - GMC Nature Preserve in the middle of cosmopolitan Noord, Aruba.
Invest in a (Carbon) Sink
After closing the gap on carbon emissions through initiatives throughout the hotel's departments, invest in a carbon sink. Soil, forests, oceans are the most common carbon sinks. They absorb CO2, also known as carbon capture, from the atmosphere, however with overdevelopment, polluting industries, and greenhouse gas emissions heating up our shared planet's atmosphere, more carbon sinks are needed.
Hotels can get involved in creating more carbon sinks to help capture carbon from the air and neutralize some of their emissions. Staff and even vendors can collaborate on such projects including planting trees or even coral restoration. Consider inviting guests to join in – their top travel search criteria includes directly contributing to the community they are visiting.
In 2023, in celebration of the resort's 35th anniversary, Bucuti & Tara was key in gifting Aruba with its new Bucuti - GMC Nature Preserve. This 12-hectare/30-acre span in the heart of one of the island's busiest areas protects flora and fauna. It creates a space for nature to thrive and locals and visitors to relax. With an extensive reforestation project underway, the collective of trees and plants are helping to absorb carbon dioxide from the atmosphere. What if instead of overdevelopment, as hoteliers, we focused on sustainably improving what we already have and incorporated a more collaborative approach within our communities such as saving land from development or tapping into more locally sourced ingredients?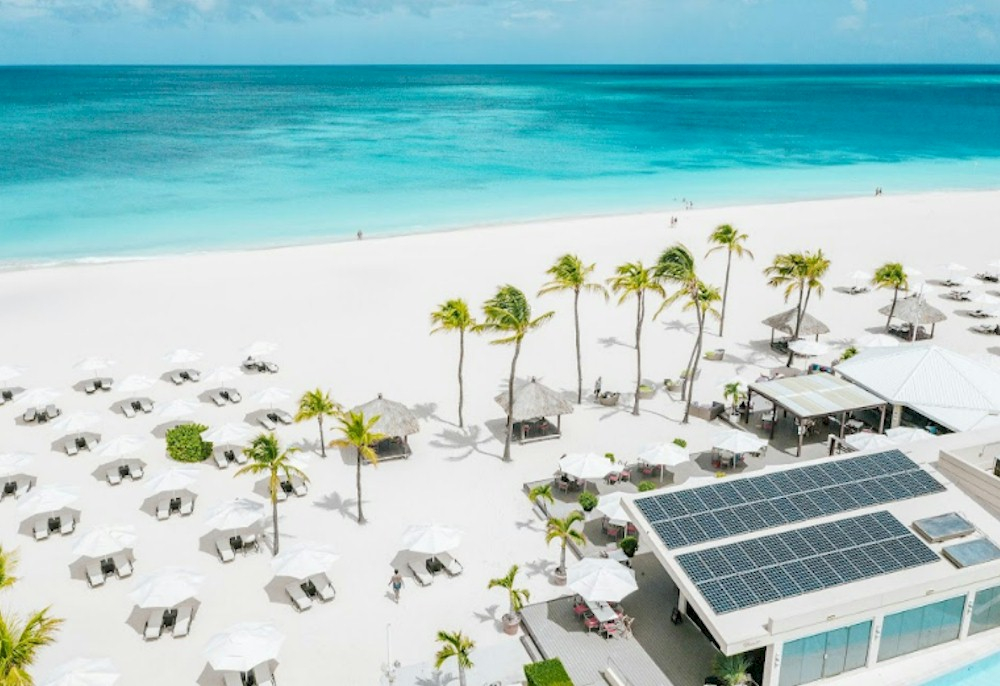 Renewable energy harnesses the natural power of the planet that already exists and decreases the process and expense of fossil fuels.
More Options Than Ever
While hotels are fiercely competitive in rate and occupancy, interestingly, hoteliers looking to learn more about successful sustainability initiatives often find their counterparts to be open books.
The number one question I am always asked is "what prompted us to start down a path of sustainability at Bucuti & Tara Beach Resort," and the second question is, "how did you know what to do?"
The first answer is that I moved to Aruba in the early 1970s. The tiny island was largely undeveloped. Soon, the pristine island had cranes reaching up to the sky as some of the Caribbean's first mega resorts were sprouting up. Natural resources were being depleted too fast. We were on the fast track to losing the very thing travelers wanted to enjoy - Aruba's stunning nature. This is when I knew there had to be a change in how we operated and I began researching ideas. I was also inspired by the United Nations 1992 Earth Summit.
The second answer is we began researching and earning eco-certifications. Today, the certifications are the fastest, easiest way to make major strides within a hotel's sustainability operation.
The certifications form the framework for the resort's sustainability program. Each has its strengths whether it is in utilities, construction or operations. Green Globe (spawned by the 1992 Earth Summit), Travelife, ISO, LEED, and CarbonNeutral created the gridwork and informed every one of our SOPs throughout every operation in our property.
The key is that it is not a standalone sustainability program, rather it is woven into the entire culture. A full-time, onstaff sustainability and certifications manager leads the resort's entire staff and vendors while tracking, monitoring and reporting key metrics. With the climate crisis and the increased demand from travelers, having a sustainability leader on staff is just as important as having a chef in a restaurant.
For Bucuti & Tara Beach Resort and our shared community in tiny Aruba, we are among many hotels close to the equator who as a whole are minimal carbon emitters. That sounds great until one learns that climate change impacts us highly disproportionately. The stunning coastline throughout the Caribbean is a vacation playground for travelers from countries worldwide, many who contribute significantly to climate change. Our goal is to also educate them so they can take care of their treasured vacation spots while also taking these initiatives back to their own homes. At this point, one in every three guest reviews through Tripadvisor, other online platforms and our own comment system include guest feedback praising the resort's sustainability efforts and how good it makes them feel to take a guilt-free vacation.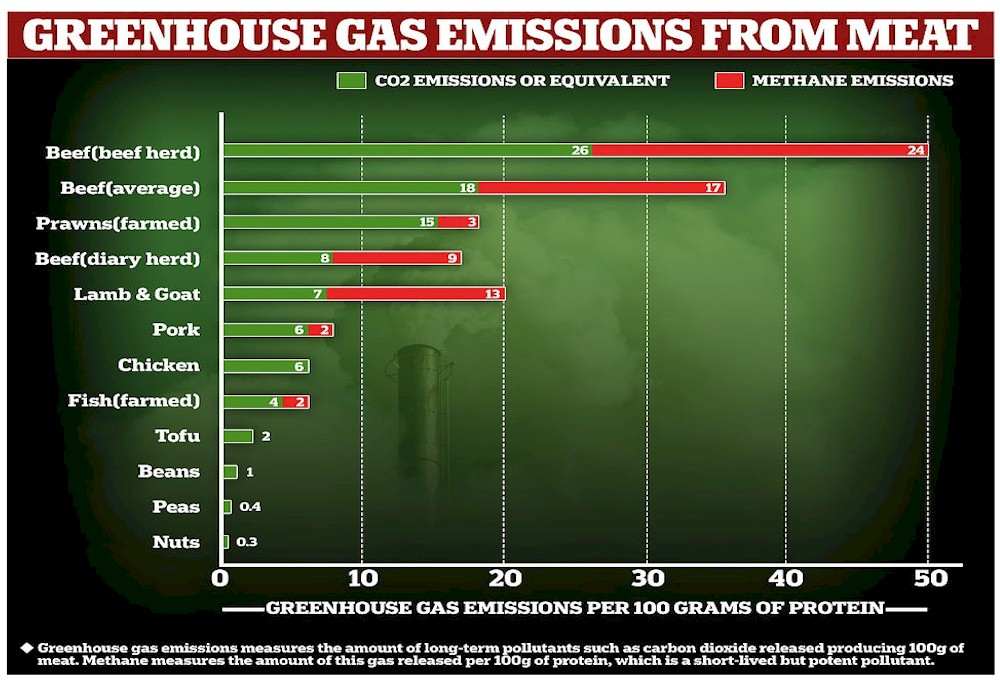 "Steak will become a luxury product like Champagne"
Worse Than Carbon Dioxide
The first culprit that comes to mind when thinking of greenhouse gas emissions is carbon dioxide. CO2 is the biggest contributor. Lurking in second, though, is methane. It results in the production and transportation of coal, natural gas, and oil. It's also a byproduct of livestock and landfills. Methane is insidious. In a Vox story covering the March 20, 2023, United Nations report from the Intergovernmental Panel on Climate Change (IPCC), methane emissions will decide the planet's fate. Reason being, methane emissions are 80 times more powerful than carbon dioxide when it comes to trapping heat in the atmosphere.
Unlike carbon dioxide emissions, which can be naturally captured and neutralized by vegetation, methane cannot be neutralized, so it must be avoided.
What does this mean for your hotel? It means streamline the transportation within procurement to rely less on fossil fuels. Decrease red meat offered on the menu since cattle are excessive contributors to methane emissions. Implement a significant waste management program especially one that defers food waste from landfills.
Jais Valeur, the CEO of Danish Crown in Denmark, the head of Europe's top meat processor said, "steak will become a luxury product like Champagne," as he warned the only way for the industry to reduce its emissions is to cut beef production in half by 2030 to ward off global warming.
At Bucuti & Tara, beef has been all, but eliminated from the guest dining menu. It has been reduced to one entree and completely removed from employee meals. Instead, red meat has been replaced with a variety of other high quality proteins.
Placing Quality and Performance Over The Lowest Price
Traditionally the lowest bid wins for materials and services. Many participate in the traditional triple bid process. Moving forward, it will take a new approach to equally factor climate-forward quality with cost. For example, when it comes time to paint your property, instead of saving in the immediate short-term using less expensive paint, consider using an insulating coating, which decreases energy consumption more than traditional paint and even more than insulating paint. The savings begin to be realized immediately in lower energy consumption, which means lower utility costs.
Being sustainable does not have to break the bank. Building a LEED-certified hotel costs just 1-2% more than one that is not sustainable, according to the United States Green Building Council.
Independents are far more nimble than chains at being able to be innovative and to create and implement change. However, the faster chains take action, the better it is for the planet and the less expensive it will become for the industry as a whole.
Solution Is Systemic Change
The solution is not to halt travel through messaging that travel is not essential, rather, the solution is to improve travel systemically. Extremes, such as banning fossil fuel advertising, will not work because they will not be accepted particularly without agreeable, affordable alternatives.
Systemic solutions include that properties should be providing the most sustainable existence. Grassroot efforts and government and utilities policies must unite. There should be caps on overdevelopment and overtourism. Both result in the degradation of the destination, its resources, and residents.
Systemically, entities must commit to quality and not quantity. That may mean less people, however, the tourism product will not be worn so quickly, there should be an improvement in how travelers treat the product, and in a truly sustainable manner, it should respect the destination and its inhabitants - human, flora and fauna. Advertising, lobbying, and cheap price points led to this place, and ironically, advertising and lobbying will be key components to leading us out of this place.
Key Question
At the Davos 2023 Annual Meeting of the World Economic Forum, many of the world's most influential minds gathered under the theme, "Cooperation in a Fragmented World." Perhaps the most important statement, made by French Economy Minister Bruno Le Maire, was "The key question is not China First, US First, Europe First. The key question for all of us is Climate First."
This article was co-authored by Amy Kerr, Principal, Revel Concepts
HotelExecutive retains the copyright to the articles published in the Hotel Business Review. Articles cannot be republished without prior written consent by HotelExecutive.