Capitalizing on Your Menu
By Michael Van Emmenes Director, Food & Beverage, Landsdowne Resort | November 20, 2011
First and foremost the most important rule is: know your guest. Anticipate what your guests want and when they want it and how much they are willing to pay.
Here at Lansdowne Resort, we have the great luxury of having various dining options. At On The Potomac we focus on what is around us – local farms, local wineries, local dairies and craft beers – we work closely with all to ensure our guests get a true appreciation of the local area and taste phenomenally fresh flavor. The culinary events we host ensure our local guests keep coming back. Seasonal menus, daily specials and often weekly themed dinners in conjunction with vendors, round out the culinary activities at the resort. At the same time we do realize the economy and the impact it has had on so many amazing food establishments.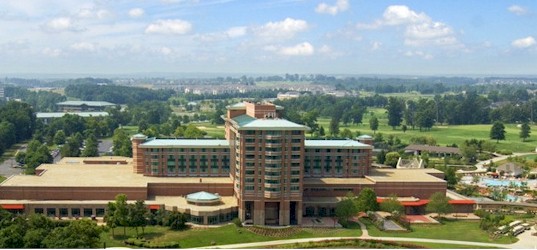 Our restaurant manager, Spenser McKenna, created "30 under 30" – 30 great local wines being offered for under $30. Additionally Spenser works very closely with our farmers and wine makers who are increasingly more interested in what we do with their product, how we re-invent what they have grown and produced. They are as passionate about the end result as our team is and are willing to work with us through the creation phase to ensure their products are truly appreciated as much as our culinary art is for the completed dish. Guests are also trending to try the unknown. For example, who are the micro producers in the region and what are the rare gems we do not see in supermarkets?
Riverside Hearth, the resort's buffet option, offers our business, leisure and day guests an opportunity to dine in a relaxed environment while still enjoying our healthy cuisine. This restaurant has wall to wall windows and a beautiful view of Maryland. Our buffets are specifically created for various market segments – again playing to know our guest! As the holiday season nears, we are seeing more and more families staying at the resort. Therefore, we have put programs in place that we believe these guests will enjoy, adjusting the buffets to offer more family friendly foods – burgers, chicken fingers, mac and cheese – rather than spinach alfredo. Likewise when a health focused group visits with us, we ensure our hot entrees are not full of cheese/cream/diary, but rather steamed vegetables, grilled proteins and food items that they will appreciate and realize we have taken the extra time to understand their needs and expectations.
In Room Dining – cater to comfort! There are only a handful of reasons why people order In Room Dining (besides the obvious – they are hungry):