Overview: The Success of Embassy Suites 'The Circle of Leadership'
By Darci Riesenhuber Director of Brand Culture & Internal Communications, Embassy Suites Hotels | March 04, 2012
Retaining high quality leadership is critical to the success of any business, particularly hospitality. It is surprisingly difficult, even today, to find quality front-line staff, but even worse to lose them. The best way to attract and retain quality staff at the bottom, however, is by developing great leadership at the top. The General Manager is the lynchpin to a healthy culture at any given property. They set the tone and influence the quality of life for everyone else at the hotel.
The Circle of Leadership (CoL) is Embassy Suites' way of recognizing and investing in our top talent. It is about taking our best, most effective and successful leaders and making them even better. Why? Because we believe that if we do not pay attention, we will lose those who are most valuable. By focusing on our top performers, we raise the bar, and ultimately the performance, of our entire brand. This article provides insight into our leadership development program that both gives and gets back from our best and our brightest.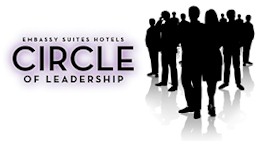 In 2008, the Embassy Suites brand partnered with The Bixler Consulting Group, an Atlanta-based leadership development and executive coaching firm, to design and facilitate a program that specifically meets the unique needs of Embassy Suites GMs. The Circle of Leadership™ is the result of this collaboration. At the onset, a strict set of hotel performance criteria were established to help select the six to eight General Managers invited to participate in the program each year. To be nominated is both an honor and a privilege. Over a 12-month period, participants complete a variety of self-assessments, participate in workshops and interactive webinars, complete a host of real-world activities and receive one-on-one phone coaching as well as peer-to-peer mentoring.
Each personal development journey begins with a 360° evaluation followed by an individual feedback session. In some instances, this is the first time these managers have actively solicited and opened themselves up to very direct and honest feedback from their bosses, peers or team members. Next, they complete the Hogan Challenge Report© to gain insights into their strengths, potential barriers, or success derailers, values and personal motivation and are asked to share their results with others for additional, more specific feedback. The result is heightened personal awareness and a level of vulnerability that allows each individual to grow beyond where they currently are, both personally and professionally.
Each monthly webinar focuses on one or more key competencies including Service, Leadership, Change Management, Building Talent, Innovation, Professionalism, Character and Execution. While maintaining the confidentiality of individual assessments, results are incorporated into the webinars, thus ensuring the program is highly targeted to participant's individual needs. In addition to these formal learning opportunities, the CoL provides a one-of-a-kind opportunity to interact and build relationships with other members of the program, including CoL alumni, and allows participants to expand their career opportunities, learn best practices and, ultimately, provide better leadership and coaching to their staff.
Please Login to read the full story, or you can Get Free 30-Days Hotel Business Review
The Hotel Business Review articles are free to read on a weekly basis, but you must purchase a subscription to access
our library archives. We have more than 5000 best practice articles on hotel management and operations, so our
knowledge bank is an excellent investment! Subscribe today and access the articles in our archives.