Hoteliers Turn to New Technologies to Compete, and Enhance Customer Experience
By Shawn Tarter CEO & Founder, RealTime Reservation | January 2023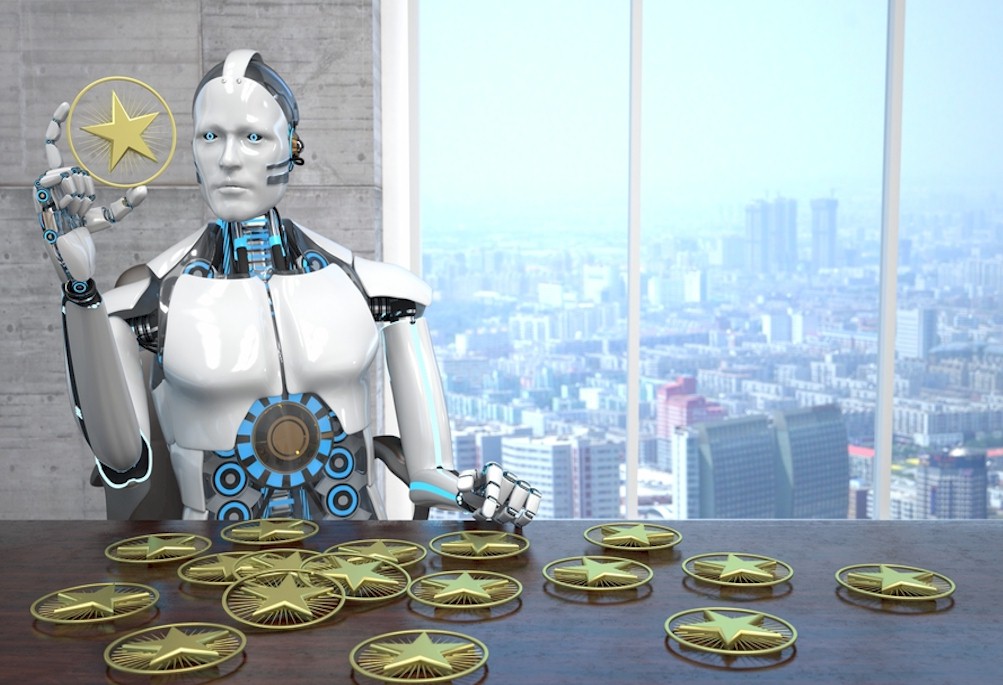 There's no question that technology, when appropriately employed, can have a significant impact on business during good and bad times.
Technology can help streamline operational processes to create greater efficiency, support the challenges associated with staffing shortages, and, most importantly, generate incremental revenue while enhancing the customer experience.
The competitive nature of the hospitality industry – combined with the challenges it has confronted due to COVID-19 – continues to make it essential to be aware of and employ new hospitality technology trends focussing on operations and the customer journey.
What's more, guests are increasingly expecting hoteliers to be forward-thinking and employ the latest in technology, as it makes their life easier and provides multiple benefits they now routinely expect. Customer expectation has never been higher and implementing new technology plays a significant role in helping to meet – and even exceed consistently – these expectations. In addition, the hotel that deploys the latest technology trends and innovations will be a leader in its market, driving occupancy, rates, and satisfaction. These hotels are more likely to take advantage of the technology offering and operations, and guests will benefit. Collectively they allow hotels to provide more efficient services and more personalized experiences.
Start with a Strong Foundation
For the most part, mobile technology has sat at the forefront of managing a guest's journey, providing efficiency, loyalty, and personalization. The basics – which many hotels and resorts already employ – include Mobile Check-In and Check-out. This remains critical, as it expedites the process regarding arrivals and departures and is generally the first impression a guest has with your property. The convenience and flexibility deliver an experience the guest can control.
Mobile Check-In lessens the need for face-to-face interaction (a crucial concern during COVID-19) and provides customization for guests. Hoteliers are already one step ahead by offering mobile check-in, check-out, and digital keys, reducing transactional interactions and creating a straightforward and trouble-free process. There is less likelihood of dealing with long lines during busy times, a concern associated with the pandemic. The demand for mobile engagement with guests establishes the need for technology, which begins with user-friendly services.
Other technological mainstays include contactless payments that speed up payment processes and address convenience, as customers can use their smartphone pre-arrival. Many contactless payment programs are associated with a hotel brand's loyalty app. Still, in recent years, independent hotels have access to programs and software that provide these services and make the transition to technology more accessible.
Popular PDI-compliant software is available and integrates directly with hotels and resorts property management systems or point-of-sale systems, presenting numerous on-site options to guests via the hotel's website, booking links, or App. This includes F&B services, pool, and beach rentals, special occasion packages, activities and amenities, parking, and unique event offerings, all accessed on a guest's handheld device.
Such software platforms make for more efficient interactions between hotel staff and guests before, during, and after the stay. Additionally, this software can be white-labeled, designed to be an extension of the hotel brand, easily integrated into the hotel's website, and allows for integration with existing payment options.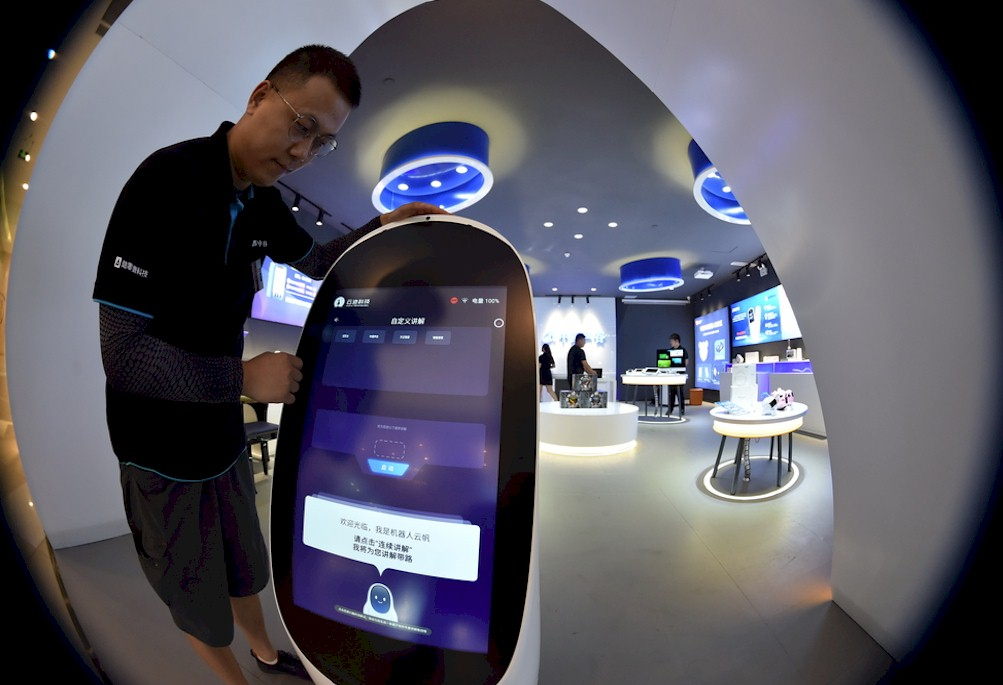 A staff shows a hotel helper robot in Hefei City, east China
More Recent Tech Trends
Increasingly, and fueled with business, operations, and challenges associated with the pandemic – we have seen the emergence of voice search and voice control. Voice search keeps with other customer trends, intended to remove friction and speed up processes. Many guests are comfortable using voice search to find hotels, restaurants, and even activities. The home use of virtual assistants such as Alexa and Siri has created a trend that hotels and resorts should capitalize on if they haven't already. To accomplish this, the hotelier should start by ensuring their website and booking engine can adequately accommodate voice search.
This technology can extend beyond the website and include smart speakers in hotel rooms, voice control of various in-room devices, and automated order-taking from room service. This proves particularly important, as staffing levels still need to be put up to par, and customers can avoid waiting to speak to a representative, thus saving time and stress.
Along the same lines is the emergence of chatbots, driven by the guests' demand for swift, almost immediate answers to their questions, regardless of the time of day or night. Chatbots allow hotels to respond 24/7 and to more visitors at once and can automate more repetitive tasks, which enables hotel employees to focus on other operations instead. An intelligently designed chatbot can answer the most frequent questions without requiring human interaction. In the most advanced situations, the chatbot can gather customer information and, if needed, pass that inquiry along to an actual human. He now has time to prepare and answer their question. These chatbots can combat time zone differences, as it may be difficult for a hotel to provide services around the clock.
Virtual Reality is another example of a technology used throughout the industry. This trend emerged during the pandemic when showcasing and highlighting the hotel offerings became increasingly important. Virtual Reality takes guests on an immersive journey. It magically transports them to a different world, your hotel world, where they can experience the uniqueness of the entire hotel or resort. It creates memorability and enhances the guest's point of view. Today, most virtual reality tours can be viewed from a web browser or a mobile device, making it seamless and easy to highlight your property and reasons to book. In some cases, a V.R. headset will provide a more immersive experience for the customer, and these are quickly growing in popularity in the U.S. and abroad.
What's Next -- Groundbreaking Technology of the Future
When looking to the immediate future, there are several exciting and worthwhile technologies to consider, including robots in hotels and restaurants that can carry out tasks traditionally performed by humans. For example, some use robots as a concierge to welcome guests and provide guidance and information.
The role of robots in hospitality is just beginning and can have widespread use and implications throughout the property. Similarly, some hotels use robots to deliver goods and beverage services in restaurants, either in-room or on-site. Lastly, we even see increased use of robots in housekeeping, mainly vacuum cleaning – and even sanitation – in the room.
Today, more than ever, guests expect to be able to interact with properties across a variety of digital channels and, most importantly, receive a timely response. Similar to Virtual Reality, now popular among hotels and resorts, many are extending into artificial intelligence (A.I.). While still emerging and relatively new, you want to ensure that what you employ is current and allows for rapid responses when investing. Take the time to investigate and speak to technology experts, as faulty technology will not enhance the guest experience and will create additional work for an already short staff. That said, there are advanced features some hoteliers have begun exploring and testing.
Other improvements in technology include WiFi6, which has increased capacity and reduced latency to support higher numbers of users and devices. This is the next generation of WiFi technology – up to 30x faster and features dramatically enhanced throughput. WiFi speed is essential for improving guest communications and supporting online tasks as travelers carry multiple devices and work from anywhere. Quicker and more reliable WiFi will provide hotels with a clear competitive edge based on customer needs and expectations.
The last technology worth mentioning is IoT (the Internet of Things), which extends internet connectivity to everyday objects, devices, and even appliances. These devices collect data and communicate over the internet, potentially transforming benign devices into smart devices, many of which are semi- or fully autonomous. When we think of IoT, it really is the next level of guest personalization and satisfaction. From transforming the guest experience in the room to improving and maintaining the building and providing smart logistics, IoT is set to make the guests feel at home, pamper them and make them love your hotel.
In summary, technology has become predominant in the hospitality industry. The pandemic catapulted the need for automation and the adoption of technology by the guest. We can expect future innovations in hotel technology to focus on customer comfort, service optimization, ancillary revenue growth, workflow improvement, review and reputation management, and enhanced guest communication and personalization.
As the industry becomes more familiar with such advancements, especially as we move into 2023, now is the time to reevaluate your property's tech stack and determine your priorities. With the primary goal of providing an overall positive guest experience and secure customer loyalty, functioning technology is mandatory and critical to the hospitality industry's success and growth.
HotelExecutive retains the copyright to the articles published in the Hotel Business Review. Articles cannot be republished without prior written consent by HotelExecutive.