Taking the Challenge: Creative Takeaways from a Culinary Adventure
One chef's take on how creativity, consistency and quality can be executed and maintained successfully
By Cory York Chef de Cuisine, Deep Blu Seafood Grille | August 26, 2012
As Chef de Cuisine of the award-winning deep blu seafood grille at the new Wyndham Grand Orlando Resort Bonnet Creek, I have had the opportunity to utilize my creativity with a passion for providing diners with a fresh spin on sustainable sourced seafood and local produce. Maintaining a menu that is not only exciting to our diners (a mix of resort guests, Orlando park goers and the local crowd) but is also accessible to an array of palates is a challenge I have whole-heartedly, and successfully, taken on.
One of the biggest challenges chefs face is the need to execute creativity while maintaining quality. Quality is never an option, it is a requirement; creativity vs. consistency is the where some problems can occur. My role as chef de cuisine at deep blu seafood grille located in the newly opened Wyndham Grand Orlando Resort Bonnet Creek, is to be creative, profitable and most importantly, consistent. When the term consistency is used in describing a chef's responsibility, it increases significantly the value of its meaning. I have had great opportunities in the past year. Creating a menu that interprets my passion, personally training a hand-picked team of passionate culinary professionals, and exposing my philosophy of cuisine in the public eye. As chefs in this day and age we must step back from our pretentious and somewhat arrogant outlook on OUR cuisine and listen to our guest, taking into consideration the culinary needs of our demographic. After doing so, we can successfully infuse our creative twist. This method does not hinder quality, or the passion we have for our profession, and we walk away as chefs, content.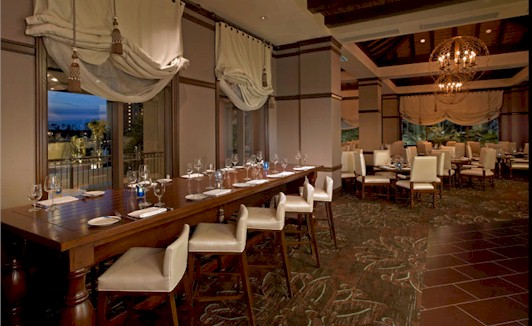 The signature dining establishment of Wyndham Grand Orlando Resort,
the casually chic deep blu seafood grille
I received the opportunity to have a culinary adventure in Spain this year and knew it would be an opportunity to delve into new cuisines and bring twists of creativity into my menu. Fernando Salazar, Vice President of Food & Beverage for Wyndham Hotels and Resorts selected nine chefs to embark on a culinary crusade into the heart of the Spanish country side. Not sure what to expect, I went loaded with the ambition of a child arriving to Disney World for the first time. From our flight landing in Madrid, to our first stop in Segovia, my eyes were wide open with anticipation. I was ready to see, smell and taste the finest foods of the region. With lunch at Meson de Candido at the base of the Roman Aqueducts, I knew this journey would be a nothing less than a culinary revelation. We then proceeded to the city of Valladolid in the heart of Castilla y Leon. This is the proclaimed tapas capital of Spain, as well as where Escuela Internacional de Cocina is located, the international culinary school of Spain.
With a full agenda and little sleep we proceeded for the next nine days participating in training classes led by the country's best chefs. We studied pastries with Chef Julian Arranz, created inventive tapas with award winning Chef Daniel Mendez, and refined our knowledge of molecular gastronomy led by none other than Chef Jesus Ramiro Sr. I think I speak for all of us on the Wyndham team when I say we were enlightened. As the days passed we tasted many great foods and wines of the region, but when we came to the small town of Matapozuelos, and arrived at La Botica, our adventure reached a culinary climax. Chef Miguel Angel de la Cruz dazzled us with a 14 course wine dinner full of creative plays on the native white pine, incorporating the freshly grown produce from his garden behind the restaurant. A humble yet creative dinner, the flavors were true to his region with no hint of arrogance, only care for quality and his guest.
As a chef I admire the goal of providing a guest with a dish focused on quality and train my team to adhere to this same philosophy. We can create dishes that satisfy our needs as chefs, but we also have to create a perception for our guests in which they can share our vision. I do this by training - a word that tends to be lost in manuals and spreadsheets, that becomes stale and aftertime falls on deaf ears. If we train by motivation and passion however, it resonates longer. Give your team something they will take with them, not necessarily on paper but in their heart as chefs or servers. To incorporate the molecular gastronomy aspects or more traditional Spanish Flavors into my menu, I must first ensure that there will be consistency in my vision. Further, I need to know that my team with or without me at the wheel will be able to execute the newly influenced dishes one at a time exactly as it should be.
Please Login to read the full story, or you can Get Free 30-Days Hotel Business Review
The Hotel Business Review articles are free to read on a weekly basis, but you must purchase a subscription to access
our library archives. We have more than 5000 best practice articles on hotel management and operations, so our
knowledge bank is an excellent investment! Subscribe today and access the articles in our archives.