Why Grounding or Earthing is Relevant to the Spa Experience.
By Deborah Evans Parker Principal, Deborah Evans & Associates, LLC | July 20, 2014
If possible while reading this article, sit with your bare feet directly on the Earth's surface – concrete, dirt, gravel or grass. You will experience what you are reading about, how contact with the Earth's natural healing energy, electrical field, restores your body's natural electrical field. The positive shift you feel is the beginning of process in which your body becomes recharged from the multitude of Earth's electrons when direct contact is made. This is Earthing, a simple, safe and natural healing process that reduces inflammation, improves sleep and energizes the body.
While the concept of connecting with the Earth is not a new concept, it has more relevance today, as we have become so disconnected. We wear rubber and synthetic shoes, sleep on elevated beds made from insulated materials, we work in insulated buildings and rarely walk barefoot anymore and miss this the opportunity to naturally heal ourselves. We watch more television, spend more time in front of computers, carry our smart phones on or near us, play more indoor computer games and now read on pads or electronic book pads.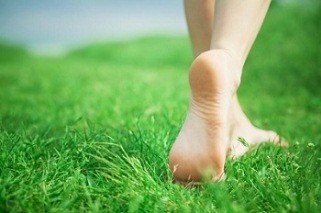 Many cultures historically have practiced healing techniques that connect with the Earth and honored the Earth's healing energies. Qi is a central principle from Chinese Medicine regarding the Earth's energy as a natural healing force that fills the universe. From India's Vedic Medicine the word, prana, means "vital force" and is a major principal in healing. Native Americans honor the connection to the Earth as sacred, as do the Australian Aboriginals.
The very basics of electrical energy, is to ground or connect equipment and appliances to the Earth to protect against shorts and interference. Applied to people, Earthing is a natural process that protects the body's sensitive bioelectrical circuits against static electrical charges and interference. It facilities the reception of free electrons and the stable electrical charge and energy of the Earth. Open-minded experts in the fields of medicine, physiology, biophysics and cell biology have documented the many benefits of the grounding or earthing effect. Many are advocating it for reducing inflammation, reducing pain, improving sleep, increasing energy, reducing cortisol levels and lowering stress, relieving muscle tension, speeding healing and accelerating recovery from injury.
The land and water of the Earth are alive with an endless supply of electrons that constantly are replenished. When our skin contacts the earth directly with the surface, our conductive bodies naturally equalize with the Earth. The Earth is negatively charged and has an endless supply of negative charged free electrons. Anytime you have a conductive object and it makes contact, electrons will flow from the place where they are abundant to the place where there are less. The electrical potential of the two objects will then equalize. Literally, you are filling your tank and these negative charged electrons, overwhelm smaller, positive-charged free radicals. Science backs up this common sense explanation. Bio-Physicist James Oschman, coined this the "living matrix" –our body as one dynamic conductor of electrical impulses. Other studies documenting this concept include William Amalu, President of the International Academy of Clinical Thermography, conducting "earthing" studies with confirmed positive results. Stephen Sinatra, board-certified cardiologist and certified psychotherapist, co-authored a book about "Earthing –the most important health discovery ever?" and Gaetan Chevalier, Ph.D., Developmental and Cell Biology, UC Irvine have documented the work and the list goes on.