Engaging with Customers Beyond Their Stays
By Shayne Paddock Vice President of Product Development & Innovation, TravelClick | March 29, 2015
Getting engaged is a life-changing event. From December to February, couples around the world are knee deep in engagement season, according to a recent study. For hoteliers, engagement season isn't fleeting; rather it's a 24/7/365 courtship of continual communication via email, mobile messaging, social media interactions and review site monitoring sprinkled in. In years past, hotel marketers were focused on popping this question: "Will you give me your email address so I can send you a one-time reservation confirmation?" Today, the big question has changed: "Will you opt in to receive personalized communication from my hotel filled with relevant content before, during and long after your stay?"
Communication has, and always will be, the key to any lasting/loyal relationship. If you want guests to engage with your hotel, they need to be "courted." This requires knowing just the right thing to say and the right time to say it. The one-and-done days of sending out an email confirmation and then not speaking to the guest until they check in are over. To build loyalty and get guests eager to hear from you, a courtship must ensue between hotel marketers and their guests; that means learning about each person on the reservation and what he, she or they like and dislike along every step of the customer's journey (from the research phase, booking and pre stay, to onsite, post stay, and through incentives to get them to return).
Consider this: If dad is traveling on business and brings the family along; what is available for mom to do during the day with the kids? Are there activities that would appeal to children? What about adult activities for mom like spa services or golf lessons while the kids are being entertained? The only way to truly engage guests on their level -- and to make them willing to provide you with critical personal information -- is to speak to them as if you really know them intimately. But how and where do you begin?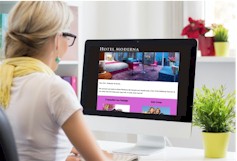 The first step is to do away with the tedious and time consuming manual eMarketing process and implement Hotel Marketing Automation practices. The most efficient hotels today are those that streamline marketing workflow processes via highly targeted and personalized email marketing, social media/website marketing, eSurveys, drip marketing campaigns and semantic analysis. When routine tasks are automated, it frees up time so staff can become more customer focused and service driven.
An Epic Engagement Story
Please Login to read the full story, or you can Get Free 30-Days Hotel Business Review
The Hotel Business Review articles are free to read on a weekly basis, but you must purchase a subscription to access
our library archives. We have more than 5000 best practice articles on hotel management and operations, so our
knowledge bank is an excellent investment! Subscribe today and access the articles in our archives.