Going Local With a National Distributor
By Robert Hood Corporate Food & Beverage Manager, Atlific Hotels | August 09, 2015
Many times the words 'local purchase' are meant to assume by many those exact words 'local purchase' from vendors who are just along the street from our operations. Many times the word of sourcing and purchasing food from local vendors has been romanticized in the imagination of restauranteurs and restaurant patrons of a long gone world with the farmer bringing his freshly harvested goods and crops to the back door of the kitchen to be inspected personally by the Chef where a handshake cements a partnership that represents all that is good to be served and savoured! This is a wonderful dream, now we must quickly return to the real world, where product sourcing, time and menu creation need to be quick, cost efficient, and most of all profitable. Here is where I will explain how to get the best of both worlds and most importantly your dining guests can expect and enjoy the best of local purchase on an affordable scale.
I was recently interviewing for the position of Executive Chef for a remote resort property that is within our company and after vetting the resumes received, I drew up a short list of potential candidates. When the interview discussion turned toward the subject of culinary direction I received the same old culinarian dialogue of "I would only use locally sourced fresh ingredients" or "My menu would be used exclusively from local producers" all of this was pretty much the same statements that I had heard many times before.
Now putting into perspective that this particular property is set in the mountains, and enjoys much winter snow and great skiing, my come back to the 'purchase from local purveyors' statement was "What do you intend to procure locally, when all that is available in the region in November through March is snow, rock, gravel and extremely chewy mountain goats?". This is when the phone would go silent, and I would smile. There was only one candidate that answered the question honestly, and had clearly thought about their answer, a culinary realist who could understand the restrictions of the location and a true understanding that local purchasing could not be a year round endeavour for many properties.
The answer that was given was very thought out and made practical business sense, and most of all honest. In Canada the ability for any operation to be able to find local and regional products is very limited. All operations need to be honest with their guests that at certain times of the year the even though these items may not be available, offering fresh innovative product from further a field is also a great option. While not produced locally it will afford the menu standard to continue year round to the same standard and with the same cost control and economy of scale through a broad line distributor. The answer that I was looking for was very plain "I will attempt to source local product through the broad line program wherever possible and when that is not available I will get the best deal and efficiency through the best sourced product alternative…."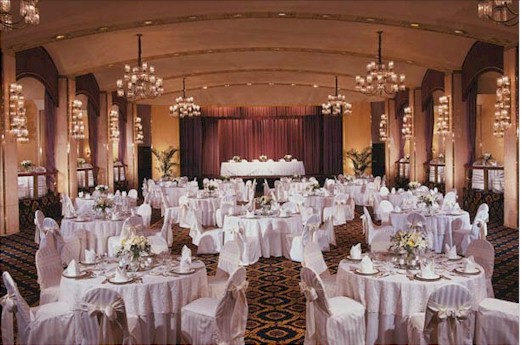 Montreal Marriott Chateau Champlain, Quebec
As a national hotel company representing all of the major hotel brands across a county as large and geographically challenging as Canada, the need to keep an efficient scale of food purchasing economy while making sure that all of the menus that we are offering to our guests are as regionally appealing and diverse as possible if an ever moving challenge. There are many quality local purveyors in every city and town from Atlantic to Pacific offering amazing quality produce, meats, fruits and specialty products. Again as much as this would, could and should be the staple for any kitchen who caters to out of town guests in the majority the practicality of using these vendors comes with it challenges.