Relationships with Local Purveyors and Farmers
By Justin Ermini Executive Chef, Las Alcobas | August 02, 2015
When approached to launch a farm to table concept at a leading hotel in Mexico City, Las Alcobas, recently named #1 hotel in Mexico by Conde Nast Traveler, I considered it an opportunity that I just couldn't pass up. After relocating to Mexico's vibrant city capital, I spent a year traveling and eating through the country, sourcing and becoming familiar with its most unique resources and ingredients. My familiarization and education of the city, clientele and regionally sourced products have all played an intricate part in the development of Anatol, Las Alcobas' restaurant. Each season, I introduce a completely unique menu based on the farm to table concept, through the use of local and well-sourced high quality ingredients combined with organic planting and flavors of comfort.
You are able to find many similar ingredients here in Mexico as we would find in the United States, but at Anatol, the use of them can be adapted to fit not only our style but the Mexican clientele's palate. For example, the Ceviche on our menu involves a local fish I discovered called Mero (a grouper fish) which we marinate in lime juice and smoky Mezcal for the curing process. It is later paired with dry chili, avocado and cilantro to finish. Although many ingredients are available in the US, the combination is very much attuned to the local's flavor preferences.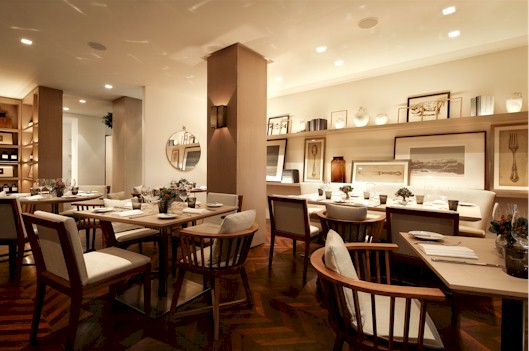 Restaurant Anatol at Las Alcobas, Mexico City
Growing up in Waterbury, Connecticut, and working with some of the top Michelin-starred restaurants throughout the years, I feel that one of the biggest challenges was familiarizing myself with ingredients, and the logistics of how to get special ingredients from these small towns to my restaurant. On a daily basis, I also dealt with a challenging language barrier, which was the most difficult aspect of building relationships with the community's ranchers and farmers since I spoke very little Spanish before relocating to Mexico City. Despite these challenges, I am proud of the relationships I've been able to build with the city's talented local purveyors from whom I source my ingredients from daily.
Purveyors here in Mexico are excellent and willing to build ongoing relationships, which is an ideal scenario for a chef that is new to the region. Over the past year we have been able to establish specific orders on certain products with our contacts, which are honored on a daily basis. In the beginning this was a difficult process but as any relationship overtime it develops and grows accordingly.
When designing Anatol's first menu, I found it was disappointing to see that a lot of products that are readily available in the United States aren't as available here. Luckily, on my third day into menu development, a woman showed up at the kitchen door with an assortment of products she had brought from Chiapas, Mexico. She had the most amazing large, polished black beans unlike any I had ever seen. They were extremely fruity and like nothing I had ever tasted before. Immediately, I wanted to create a dish that kept the integrity of these extraordinary beans, but stay true to my own style. I originally started creating the recipe by cooking the beans in pork fat, but switched to duck fat out of consideration for our Jewish clientele. We didn't want to exclude anyone from being able to enjoy the dish, and the flavor varied very little with the change in fats. I then wanted to incorporate other local ingredients that were new to me, such as Chilhuacle from Oaxaca. Chilhuacle is an amazing chili that almost became extinct due to its common use in Black Mole recipes.