Liquid Art, How Sonesta Provides A Sip Of Local Inspiration
By Mark Sherwin Executive Vice President, Operations, Sonesta International Hotels Corporation | August 23, 2015
Sonesta takes a great deal of pride in introducing our guests to what we call Liquid Art. We've taken our Food is Art concept in a new direction incorporating spirits, fine wines and craft cocktails to create its counterpart on our beverage menus. This initiative has been embraced across the full service hotel and resort properties and encourages the infusion of local inspiration, ingredients and influence into the development of signature hand-crafted cocktails to shake, stir and pour for our guests.
Hotels are now so much more than just a place to sleep. Travelers today use hotels as a casual social hub, meeting spot, collaboration space, and work space – and that's just in the lobby! We've woven a bold, independent minded aesthetic into the reimagination of the public and private spaces, and into the overall experience of all of our hotels and brands. Our commitment is to provide guests with more than just a place to stay – but to create a real sense of place. Our Liquid Art program is the latest way to interpret that focus.
We've invited our property teams to embrace the local influences through their beverage presentations at Sonesta properties and to delight guests with craft cocktail creations that reflect the best of that destination – meant to be appreciated with your eyes before your palate. This is true regardless of where our guests choose to enjoy that Liquid Art moment – at one of our signature restaurants, enjoying a cocktail at the lobby bar, on a rooftop patio, or at a special event or meeting reception.
"A great example of incorporating the local into our beverage menu is what ArtBar at the Royal Sonesta Boston has introduced this summer. The seasonal patio overlooking the Charles River doubles the size of the restaurant during the spring, summer and fall – offering a chance to experiment that the visitors and locals really appreciate. All six of the outdoor bar draft beer lines for ArtBar have been dedicated to local beer companies this summer. All other imports and non-local product will be carried in bottles only. Many of our guests prefer draft over bottle while dining on the patio, and using the outdoor bar to sell local will supply a nice boost in sales for our local craft beer partners," commented Brian Dandro, Executive Chef and Food & Beverage Director at the Royal Sonesta Boston.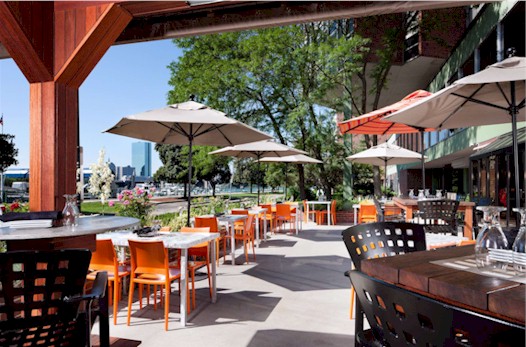 The re-emergence of gastropubs mirrors the significant growth of the craft beer evolution over the last five years. A new concept under consideration at the Sonesta Coconut Grove is a casual gourmet American concept for a gastropub that will offer a tap tower of 6-8 beers on draft and 15-20 bottle beers with a wide range of taste and style – with a heavy focus on local seasonal options. The rooftop restaurant will use that local angle to encourage guests and locals alike to stop by and stay a while. A similar choice was made this spring to replace a longtime lounge with a fresh new gastropub in Atlanta. The new ArtBar at Sonesta Gwinnett Place Atlanta features three locally brewed beers – Jekyll American Amber Ale, Red Hare Bohemian Lager and Sweetwater 420 which have been very well received. The concept has reinvigorated local sales and provides a real sense of place with the guests who are visiting. Local bourbons round out the beverage menu – providing opportunities for tasting flights and menu pairings not possible before.
Please Login to read the full story, or you can Get Free 30-Days Hotel Business Review
The Hotel Business Review articles are free to read on a weekly basis, but you must purchase a subscription to access
our library archives. We have more than 5000 best practice articles on hotel management and operations, so our
knowledge bank is an excellent investment! Subscribe today and access the articles in our archives.