Designing Around the Outdoors in Phoenix
By T. Dupree Scovell Managing Partner & Chief Investment Officer, Woodbine Development Corporation | November 18, 2018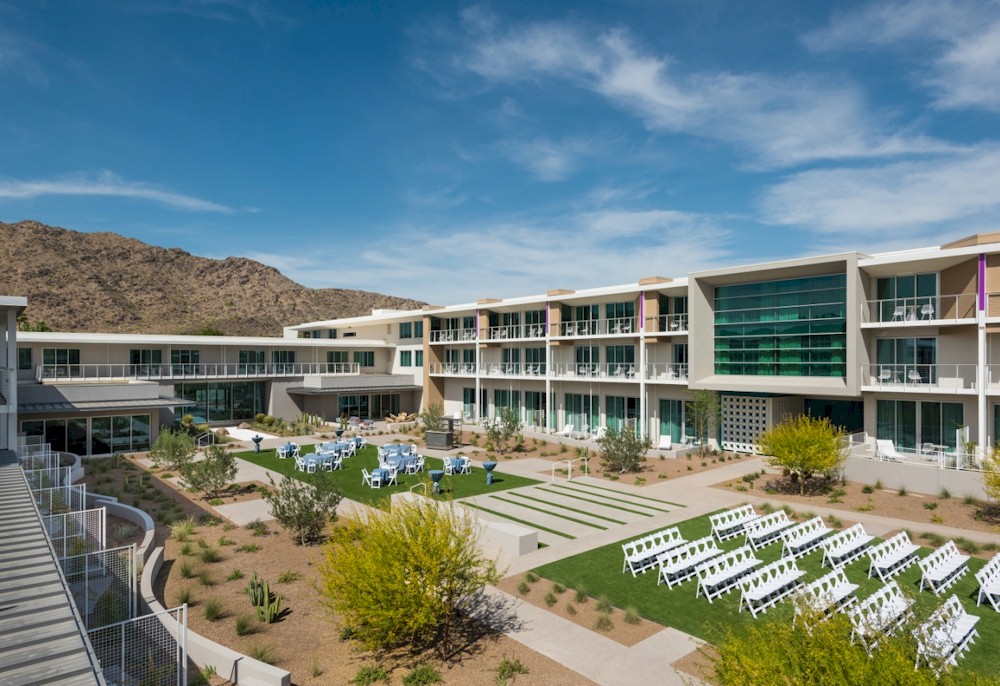 Most cities have a perception that originates from some underlying truth. For example, Los Angeles is often associated with its traffic. Portland is keeping it weird. And the state of Arizona tends to stir up thoughts of blazing temperatures.
Phoenix is, after all, called the Valley of the Sun. From May to September the desert's dry heat and triple-digit temps are just about unbearable, but the balance of the year is actually quite pleasant and the reason the area has so long been a haven for travel and tourism.
While the annual forecast calls for sweat nearly half the time, the extreme conditions tend to win the day when it comes to hotel and resort design. Hotels both old and new try to minimize the impact of the sun, but this only limits views and leads to a concentration of indoor spaces where temperature control reigns. So why on earth would a developer design a $100 million resort with ground-floor rooms that open up to landscape? A lobby and bar with retractable doors? A gym with a garage door that lifts to let the outside in?
Some of it has to do with the fact that the predictable heat wave is nothing new to Phoenicians and the people visiting the city generally plan around the hottest parts of the day (to whatever extent possible). Some of it has to do with the fact that I have spent the last decade in California, where just about everything has some outdoor element, including office buildings, shopping malls, restaurants, etc. And last but not least, a good chunk of it has to do with the fact that Woodbine has a history of creating places people want to be-and more than ever, people want to be outside.
But there's even more to it than that: people not only want to be outside, they need to be. Not surprisingly, medical research tells us that our health, wellbeing, and aptitude are improved by getting a breath of fresh air. Studies have also shown that access to natural light improves productivity and performance, and that access to plants and trees (yes, even a cactus counts) can help reduce tension and stress while restoring concentration. Of course, a picturesque view of Camelback Mountain certainly does not hurt the place making effort, either.
And that's how what's outside of our most recent resort in Paradise Valley, Arizona, came to be the key driver for what's inside it. In designing Mountain Shadows, a 183-key desert-modern hotel with 43 luxury residences, we took an intentional "outside-in" approach to design, which is uncommon among hotels in the Phoenix/Scottsdale market. Mountain Shadows seized the opportunity to build on its history (being a new-build of an old, storied resort ), and to bring something to the table that others weren't: ditching the standard Spanish tile roofs and embracing butterfly rooflines; dodging the beige building in favor of stark white facade; and foregoing a vertical footprint in favor of horizontal one. The resort's two- and three-story layout stretches across the landscape to blend in with the neighboring residential communities and provide quick and easy access to the surroundings. This hotel, like many residential dwellings, leverages its architecture and design so to augment the comfort, beauty and value of the guest experience, inside and out.
The second you step into the resort, you're immediately welcomed and rewarded with a scenic view-as Camelback Mountain fills the entire glass wall adjacent to the check-in desk. The desk, along with the surrounding lobby space, is minimalist, making it easy for the mountain's grandeur to take over and guests to be taken in.
This is possible because of the location, location, location factor of Paradise Valley in general, but also the specific slice of desert our resort occupies in the town. The parcel sits near the base of jewel that is Camelback Mountain, which is why it made sense for us to frame up the rising terrain in every way possible. In fact, the original footprint was a long arch design that unintentionally created the haves (with Camelback views) and have nots (no Camelback views). By rotating the footprint and creating three wings that are perpendicular to the mountain range, we gave every room a point of view. This re-orientation allowed us to create leasable event spaces at the ends of each corridor that have unimpeded views of Camelback-as well as capture eyefuls of Mummy Mountain to the north.
There's also is what others might consider an inordinate amount of outdoor gathering areas and meeting space, and again, that's by design. Although it's hot nearly five months of the year, the other seven are just about perfect, and we are finding that people are actually becoming increasingly willing to schedule events in the shoulder months. All in, the resort features 25,000 square feet of space, which can accommodate up to 500 guests indoors and multiples of that when you utilize the outdoor lawns. But my favorite space is the Camelback Overlook-a very special elevated area that stretches 4,140 square feet and ranks among the best places in town take in the sunset (with or without a drink in hand).
But no matter how great the scenery or how thoughtful the designs of what's placed into it, programming plays a vital role in the success of any resort's outdoor spaces, and Mountain Shadows is no exception. Sure, the great outdoors always tops the a la carte menu of amenities (after all, the outdoor opportunities are always a driving force behind destination choices). However, it's important to extend experiences that give people an avenue for making the most of their natural surroundings.
Programming at the resort plays out across the leisure and group sides of the resort equation, with each complementing other in terms of awareness, experience and enthusiasm, as well as offering a blend of active and passive ways to enjoy the desert.
Yoga and barre classes on the lawn and paddle-board yoga in the pool lend well to a multi-season alfresco practice for guests and locals alike, whether as part of workout regimen or corporate teambuilding activity. The Citizens Club, which features two 75-foot pools and a 5,000-square-foot fitness center (that bears a strong resemblance to a CrossFit gym), also has a strong connection to the outdoors-with walls of windows overlooking the pools and a garage door that allows the yoga, spin and TRX room to become breezy at the touch of a button.
For those seeking a more adventurous excursion, I tend to recommend a sunrise hike at Camelback Mountain. There are two trails that lead to the summit and 360-degree views of the Valley, and both are fairly challenging. (Insider tip: rather than walking to the trailhead, have the hotel take you in the Tesla X). If something a little milder is more your style, guests can consider a walk or jog along the "sunshine mile," a one-mile loop around The Short Course featuring with plenty of flora and fauna to admire along the way.
Our resort course also makes the most of the local weather. Though the standard in Phoenix and other golf meccas is 18 to 36 holes of golf, we downsized our layout-or, you could say we rightsized it-for a different kind of customer, in part because there are plenty of other great options around town for those looking for a long game. We considered the value we could add to the overall lineup of the city and our destination, and we ultimately determined that a distinguished and different golf experience made the most sense in terms of competitive advantage and hotel resources.
As a result, the Short Course's par-3 layout accommodates people's busier schedules and tighter windows for recreation. For those who enjoy the sport and want to fit it in, this course tees up a faster, less formal and even family-friendly opportunity to play, whether the weather is hot or not. Nine-hole rounds, putting challenges, closest-to-the-pin cocktail receptions and nighttime glow putting contests are among the additional ways to enjoy this unique and extremely scenic layout.
But, as mentioned earlier, active endeavors aren't the only means for making the most of the outdoors here. Because customers have diverse preferences that may vary across their length of stay, we knew we had to deliver options for taking in the surroundings in a lower-key fashion, too, e.g. kicking back on a patio, tucking into a poolside cabana or finding an alfresco place to post up during mealtimes, which lend extremely well to soaking up sunshine and starlight.
At Mountain Shadows, Hearth '61 and the bar flow seamlessly into one another and to the out of doors, thanks to a retractable wall that links to the poolside dining patio. This means guests can conveniently connect with each other and their natural surroundings while breaking bread. Also, our Juice Bar makes for an easy walk-up and take-out opportunity for smoothies, salads, sandwiches and more throughout the day-to be savored poolside, on guestroom balconies or even in the hotel living room beside one of the many tall and wide windows that frame up the landscape.
Beyond those options, Rusty's at The Short Course serves daily breakfast, lunch and snacks to go from mid-morning to early evening. It's an open-air concept, with a roofline over the bar and several umbrellas peppering patio for shade. Fortunately, thanks to an average of 299 days of sunshine per year-and the city's ranking among the Top 10 sunniest cities in the world-fair-weather days are plentiful in Phoenix, drawing foodies, happy-hour seekers and golfers seeking post-round rounds.
Live music and a course on photography essentials are other ways to coax people out of doors, as are special occasions that can evolve into a resort tradition. (Consider: afternoon tea at The Brown Palace in Denver, the twice daily duck parade at The Peabody in Memphis, fresh-baked cookies made from a current or former U.S. president's favorite recipe offered in the lobby of The Ritz-Carlton, Washington, D.C.). To that end and in celebration of the natural splendor of the sinking sun, Mountain Shadows hosts a Champagne sabering with a complimentary a sunset toast every Friday night-inviting guests to raise a glass to a day well spent and the start of a weekend in this matchless place.
From what we can tell, our visitors do consider the great outdoors to be one of the top amenities found at Mountain Shadows. The lion's share of our guest reviews give a tip of the hat to the resort's setting, describing the views in a mix of positive ways. We are more than happy to hear it-and feel their feedback is the proof in the developer pudding that the outdoors is "in"…and for the long haul. Here's hoping they keep booking rooms, checking in and getting outside.
HotelExecutive.com retains the copyright to the articles published in the Hotel Business Review. Articles cannot be republished without prior written consent by HotelExecutive.com.