Designing Around the Outdoors in Phoenix
By T. Dupree Scovell Managing Partner & Chief Investment Officer, Woodbine Development Corporation | November 18, 2018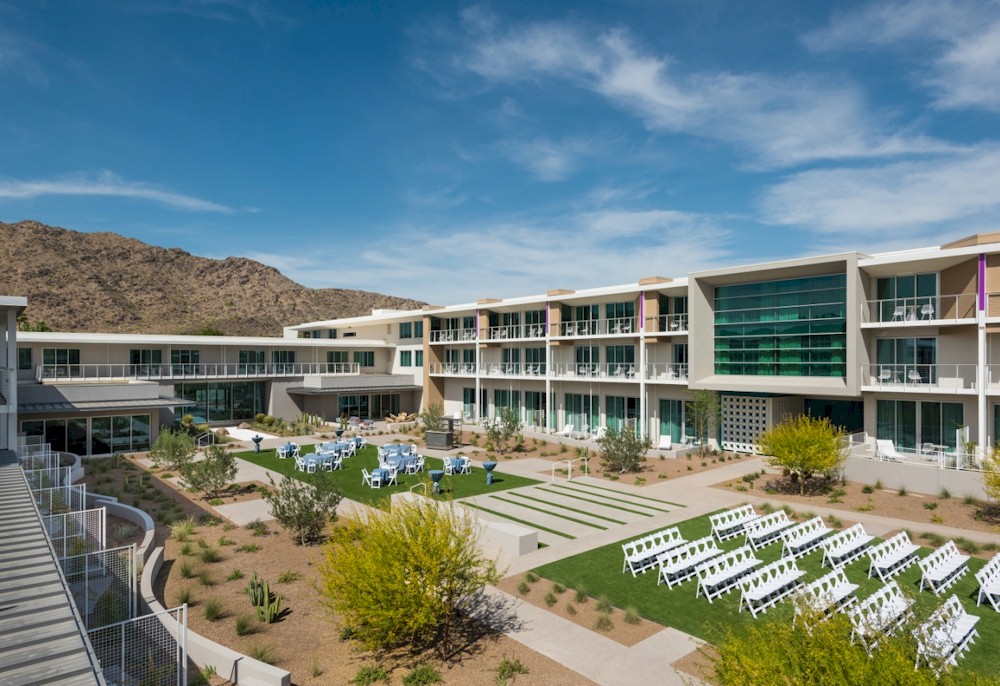 Most cities have a perception that originates from some underlying truth. For example, Los Angeles is often associated with its traffic. Portland is keeping it weird. And the state of Arizona tends to stir up thoughts of blazing temperatures.
Phoenix is, after all, called the Valley of the Sun. From May to September the desert's dry heat and triple-digit temps are just about unbearable, but the balance of the year is actually quite pleasant and the reason the area has so long been a haven for travel and tourism.
While the annual forecast calls for sweat nearly half the time, the extreme conditions tend to win the day when it comes to hotel and resort design. Hotels both old and new try to minimize the impact of the sun, but this only limits views and leads to a concentration of indoor spaces where temperature control reigns. So why on earth would a developer design a $100 million resort with ground-floor rooms that open up to landscape? A lobby and bar with retractable doors? A gym with a garage door that lifts to let the outside in?
Some of it has to do with the fact that the predictable heat wave is nothing new to Phoenicians and the people visiting the city generally plan around the hottest parts of the day (to whatever extent possible). Some of it has to do with the fact that I have spent the last decade in California, where just about everything has some outdoor element, including office buildings, shopping malls, restaurants, etc. And last but not least, a good chunk of it has to do with the fact that Woodbine has a history of creating places people want to be-and more than ever, people want to be outside.
But there's even more to it than that: people not only want to be outside, they need to be. Not surprisingly, medical research tells us that our health, wellbeing, and aptitude are improved by getting a breath of fresh air. Studies have also shown that access to natural light improves productivity and performance, and that access to plants and trees (yes, even a cactus counts) can help reduce tension and stress while restoring concentration. Of course, a picturesque view of Camelback Mountain certainly does not hurt the place making effort, either.
Please Login to read the full story, or you can Get Free 30-Days Hotel Business Review
The Hotel Business Review articles are free to read on a weekly basis, but you must purchase a subscription to access
our library archives. We have more than 5000 best practice articles on hotel management and operations, so our
knowledge bank is an excellent investment! Subscribe today and access the articles in our archives.