Biophilia and Guest Psychographics
By Mary Alice Palmer Principal & Director of Hospitality Interiors, HKS | November 10, 2019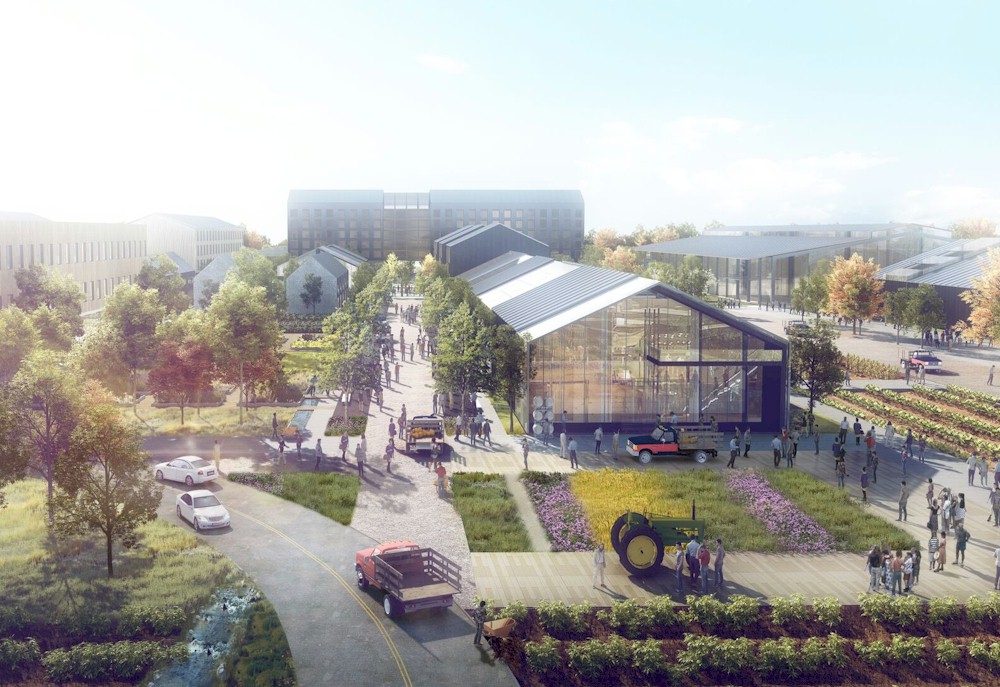 The Farm at Crossroad Commons
This article was co-authored by Sergio Saenz, Principal & Director of Hospitality, HKS
In today's modern world, the average person will spend a third of their life at the workplace; therefore, opportunities to disconnect from our daily whirlwind and connect with our surroundings is something that not only one looks forward to but is essential to well being. These breaks from our routine provide us with respite so we may come back refreshed and re-energized. Design plays a key role in creating spaces that are suitable to engage with the environment to help us live experiences that are extraordinary from our daily routine.
Biophilia, or the idea that humans have an affinity towards the natural world, is an emerging field that aims to address our psychological need to be around life and life-like processes. The hospitality industry is no exception to this need and often times connecting with nature is a key driver for our clients and guests alike. Incorporating natural and living elements into spaces, is a way we can influence the built environment to help individuals subconsciously reconnect with the importance of nature and influence the way we feel and our behavior towards our surroundings.
We are seeing a rise in the use of indoor plants and natural light provided, as well as direct connection to the outdoors with the popularity of roof decks and mid-level open terraces with outdoor spaces. Whether it is by preserving over 60 percent of a site's biology, including coastal and dune vegetation, like HKS is doing in a current project, Live Aqua Playa Mujeres, or by creating self-sustaining green walls, making a connection to the natural world is increasingly important.
Lighting both natural and artificial also plays a large part in our sleep quality and wellness. Biophilic lighting design that strategically supports circadian rhythms is something that our aviation and hospitality clients are increasingly considering helping travelers avoid jet lag and more quickly adapt and acclimate to changes in time zones and environments. The circadian system regulates all kinds of bodily functions including our waking and sleeping cycle and our feelings of hunger or fullness.
As a multidisciplinary design firm, our different practice sectors influence one another in terms of expertise and research. Our research teams and health specialists have studied the impact of light and connection to the natural world on people in multiple settings. We've learned that views and access to nature in healthcare significantly reduces pain, patient stress, depression, and increase patient satisfaction. 
Airports are incorporating complete biospheres as part of the travel experience to reduce stress. We can apply these key learnings to hospitality. For example, natural light and ventilation in spaces set the tone for the type of experience and mood created for the guest.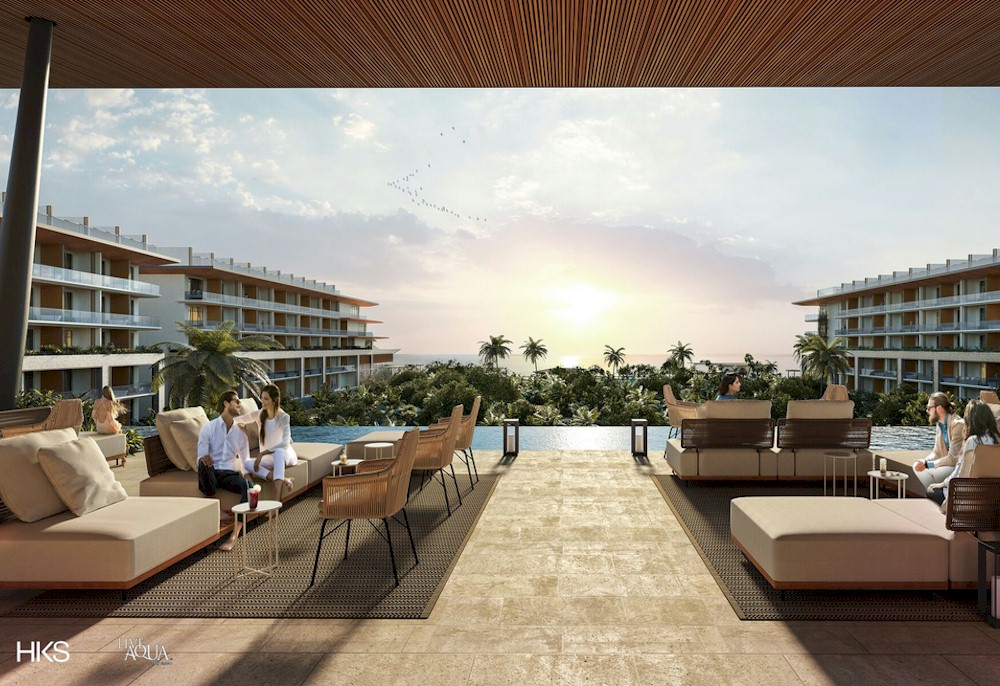 Live Aqua Playa Mujeres, Mexico

To expand further on a current project example, the design of Live Aqua Playa Mujeres utilizes natural materials and bamboo walkways that mimic the surrounding dunes. Accentuating the richness of nature through details such as the use of materials and tones that emphasize the Mayan jungle and the Caribbean Sea. The building has been designed at an angle that provides ocean views from all the guestrooms and all the beds have been strategically oriented to face the ocean.
Arrival includes a micro-environment where guests have high foot traffic and can experience a view to the ocean. On the third level, a natural environment is created with a reflecting pool filled with Brazilian nenuphar (aquatic species) that provides guests with the sounds of water and an immersive natural experience. Natural materials are part of the building's architecture including the base of the building's use of natural Mayan stone "Piedra," and bamboo.
Biophilic design isn't limited to influencing how one feels, it also has the power to change behavior. Understanding the psychographics of a guest – from personality traits, values, attitudes and lifestyle -  can help us design for this shift in values and help to propel the process through point-of-decision design (PODD). Conceptualized by the HKS Research team, PODD is the concept that healthy decision-making can be "prompted" by our physical environments through the implementation of effective design intervention strategies at critical points-of-decision throughout various spaces.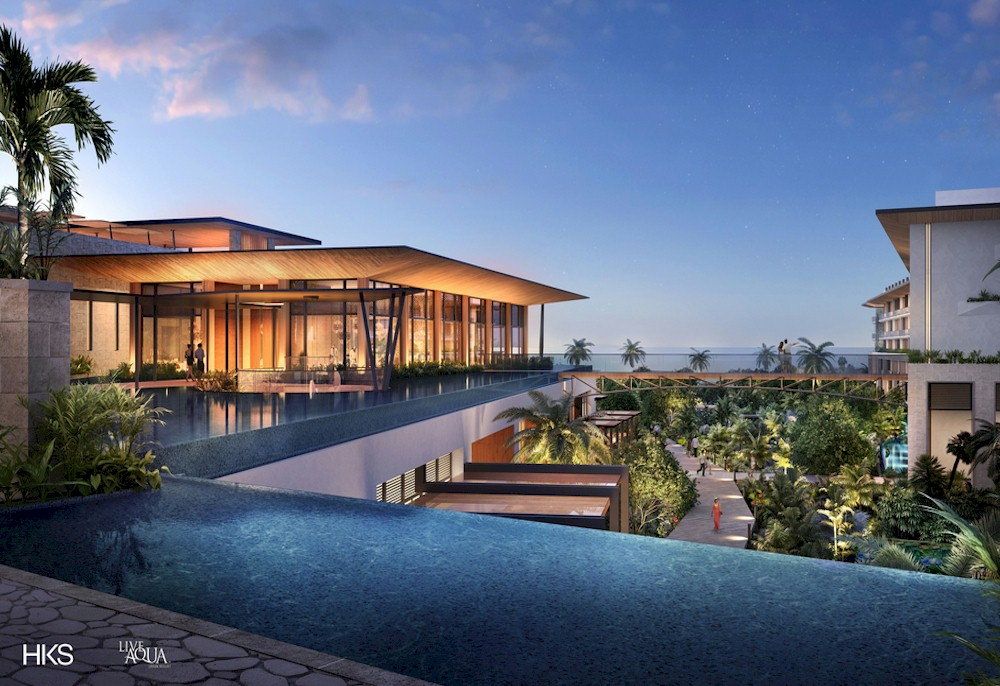 Live Aqua Playa Mujeres accentuates the richness of nature through details of the Mayan jungle and the Caribbean Sea

Early in the design process, we focus on studying and classifying our target guests according to their attitudes, aspirations, and other psychological criteria.  Where in resorts, we ensure there are different moments to experience throughout your stay, these are heavily informed by an understanding of our guests. By understanding their psychographics, we can inform the design to focus specifically in this shift in values.
As the climate crisis takes center stage among global issues, public concerns around sustainable and healthier choices are top-of-mind. Understanding that if we don't start making better and healthier choices – both personally and for our planet – consequences will be dire. The hospitality and leisure industries are not excluded from these conversations and it will take a conscious shift of values to make a difference. Respecting the natural environment and surrounding is not only critical to mankind's survival, but in the case of hospitality it often times is what guests are looking to embrace.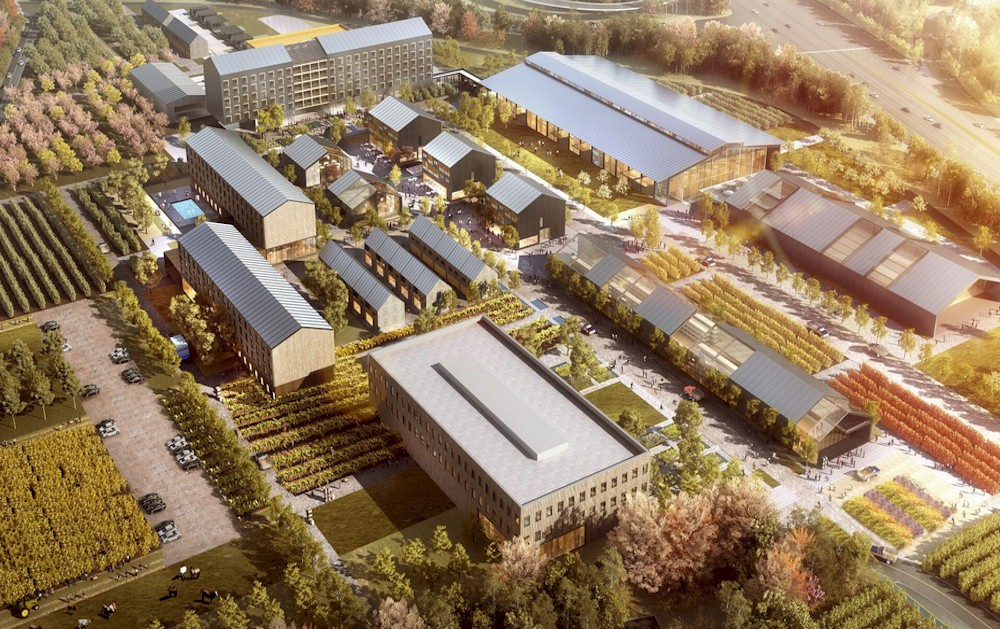 The Farm at Crossroads Common, Merrillville, Indiana
The Farm at Crossroads Common in Merrillville, Indiana, is an HKS project that proposed an ambitious masterplan development that reconnects the community to one of its most valued resources: the land. In recent decades development patterns have converted the county's vital agricultural resource into buildings, pavement and soil depleting monoculture crops. The design intends to unlock the site's potential and return it to its roots. Evoking Northwest Indiana's rich agricultural heritage and the vision for the masterplan is grounded in deep appreciation and understanding of the community's land, culture, history, and ecology.
The agricultural history, quality of soils, and the educational value of community farming based in polycultures are the framework for the plan and program. The site creates a raw interface between the architecture that equally supports the people and the agriculture of the region that has historically provided for them. Abundant amenities provide health, wellness, and education through diversified agricultural production and livestock.
To further embrace the cultural behaviors and values of the people, farm-to-table restaurants tap produce grown on the farm, and the microbrewery and distillery use hops and wheat grown just a stone's throw away. The visitor's center and greenhouse, equestrian arena, farmer's market and more offer a variety of hands-on activities and engagement. The meeting and event conference center situated at the project's heart knits the project into one cohesive development featuring uniquely Indiana, one-of-a-kind offerings that celebrate the community and bring the region together as visitors experience a holistic style of living.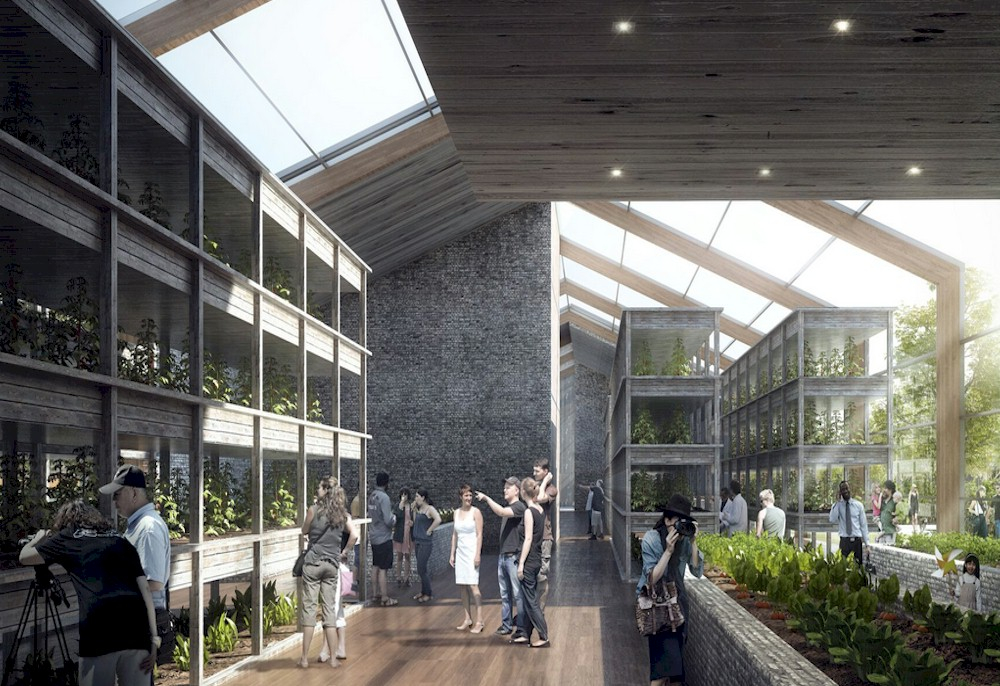 Abundant amenities at The Farm provide health, wellness, and education through diversified agricultural production and livestock
The arts and cultural programming provide community engagement and educational opportunities as well, with an art gallery and a traveling art exhibit, environmental urban art, and a living artist studio as an integral feature of the development. The Farm provides economic opportunities for a new generation of farmers and access to local and healthy foods that decrease the region's reliance on imported and processed foods – a major contributor to health problems like obesity and diabetes.
The more we can introduce people, through experience, to a wellness lifestyle by design, the more likely we are to have a positive outcome. Awareness is key and that awareness can start in subtle ways through the implementation of biophilia and opportunities to make the right choices for the right reasons. We can choose local, fresh food options, a hike outside or a tour led by a local guide to make a connection to the uniqueness of a place, or even just sitting on a roof deck or near a garden window with views of the landscape. Our guest rooms can offer healthy organic and natural amenities and the right balance of technology with personal service to maintain the human touch of hospitality.
During the design process, hotel executives and the design team must determine the expectations of their targeted guest and ask:
        

What are guests expecting to see?

        How do we go beyond such expectations without losing track of their aspirations?
        What values are important to them?
        How can we guide them to make choices to their values?
        Will our guests be able to afford these choices?
        Are these choices available to all?
Design geared towards wellness can bring people closer to nature and each other – forming important connections that can help to influence future behavior and bring awareness of imbalances. It is an opportunity for all hotels to provide a medium for which guests can escape from their daily routines. This is not exclusive to vacationing in resorts and luxury properties. It is now a guiding principle of design for all travelers, from leisure to business.  Whether its kicking back after a long day of meetings in the city or enjoying a relaxing moment in between them.
As designers we bear a huge weight of responsibility, not only to create environments which are sustainable, responsible and beautiful in a life enhancing way, but to help guide people to making the right choices. Our team at HKS is making the choice to take this seriously in all of our projects and to help carry the torch toward positive change. The quality of our lives depends on it.
Photo Credits: Garrett Rowland / HKS
HotelExecutive retains the copyright to the articles published in the Hotel Business Review. Articles cannot be republished without prior written consent by HotelExecutive.