The Covid Pivot: Can the Hotel Industry Ever Recover?
By Jeffrey Hirsch Founder and President, The Right Brain Studio, Inc. | June 28, 2020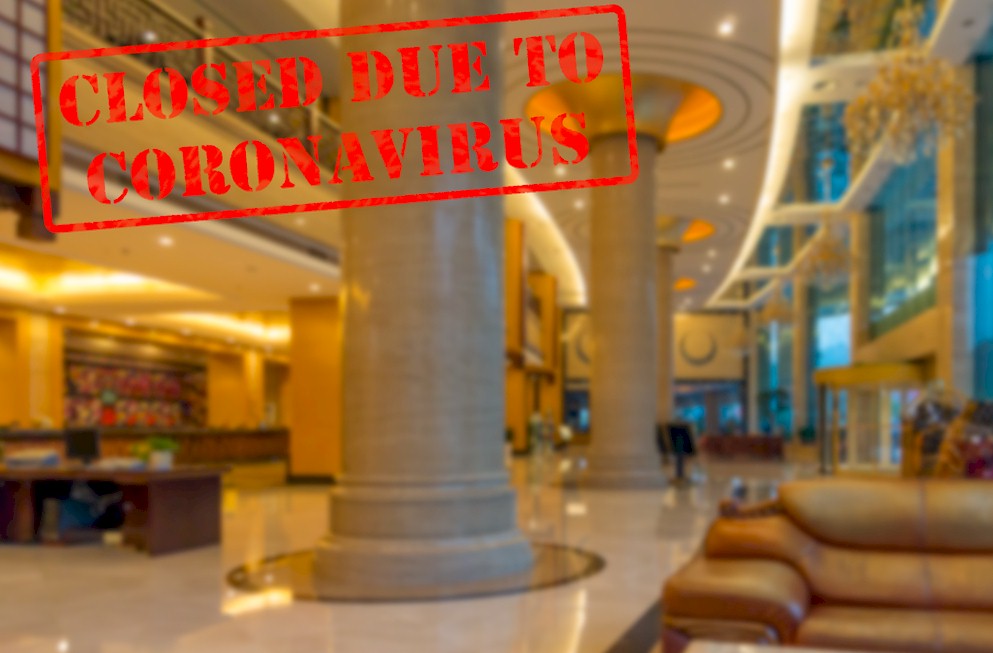 I've been reading LinkedIn posts and articles about how the hotel industry and other businesses, ranging from consumer-packaged goods to retail to commercial real estate and more, are dealing with the pandemic. There's a pattern.
"Working together, the (your category here) industry will come back stronger than ever." That's something business insiders, consultants and dedicated trade journalists seem to agree upon across the board.
I don't think so. As much as I'd like to be optimistic about the fate of the world, our democracy, our cultural and social mores and our economy, I am filled with dread.
Thinking back, I'm not sure there was ever a time in my life when I couldn't say, "What a great time to be alive." My youth was filled with space age dreams of a magical future. Even during the terrible polarization of the Vietnam era, the counterculture, the civil rights movement and the promise of greater individual expression filled me with hope.
As I moved into my adult years, worked hard, got married, had kids and got divorced, there was no shortage of political, economic, societal and personal problems. Still, that most certain feeling of a better future stayed deeply imbedded in my soul. True, climate change could prove to be chaotic and deadly, but even as scientists now tell us it's too late, with a new generation of leaders who recognize the threat, along with advances in clean energy and other technology, we just might be okay.
Now, that's all changed for me. I'm not 25 anymore and there's a disease that can easily kill me and my cohort that's not going to miraculously disappear anytime soon. Our leaders don't believe in science and our once greatest nation in the world doesn't have a plan other than shirking responsibilities, casting blame and sowing even more seeds of divisiveness.
Yes, we've flattened the curve, but we're all itching to get out, to hug our friends and family, see a movie, go to a restaurant, or walk into a store without a mask. The dearth of sports, concerts and other live events – not to mention a simple departmental meeting at work – gnaw away at our sense of community.
This is unnatural for us. We're social animals that crave companionship and human touch.
So we've started to let our guard down. Young people are already crowding into bars in Florida and even older, at risk people of all political stripes from New York to California are starting to gather with some variation of social distancing. What could possibly go wrong?
It's all in the name of reinvigorating the economy and some semblance of feeling normal again, but it seems that two things are certain.
We are only at the beginning of the second Great Depression. The real pain is on the way. Retailers and restaurants will continue to fail. Companies will downsize. Lots of these jobs are never coming back.

Despite success in flattening the curve, the disease will pick up momentum, sickening and killing people at an accelerated rate for at least 12-18 months at the earliest, when a vaccine is widely available.
Everyone wants to get out, and it's not possible to tell a nation of 300 million+ people to put their lives on hold for a year or more. So we'll take our chances, but pay a heavy price.
Are you in a good mood yet?
While many industries, old and new, will flourish in the coming year and in the future, and some will recover, I fear that changes in attitudes and behaviors will devastate many businesses permanently. I made a good part of my living for decades traveling around the country and the world conducting in-person, qualitative research. Big data and cuts in corporate travel budgets for the purpose of research had already taken their toll, but I can't see that business ever coming back and I've pivoted to a new business model.
Which leads me to the hotel business. I can promise you that I will be spending dramatically fewer nights in hotels for business travel this year. In fact, of my 30+ years in business, 2020 is very likely to generate the lowest number of nights ever spent on the road.
I used to love it. Flying everywhere, getting to places new and old that I love, staying in some great hotels, going out for drinks and dinners with clients. But that's changed in the past five to ten years. With all the airline mergers and cost-cutting in that business, I seldom get upgraded anymore. When you're 6'1 with shoulders that won't fit into the ever-shrinking coach seat, that's important.
Next, my clients are less likely to travel, forced to stay in the office for budgetary reasons, either streaming the interviews I conduct live, watching the videos after the fact, or simply just waiting for the report. It's much less fun to travel alone.
And since I've "been there and done that," my preference lately is to get back to my room and get into bed a soon as humanly possible when my work on the road is done.
If I never traveled on business again, I wouldn't complain. Go on a business trip in the next three to six months? Not likely! Risk my health or my life to have a meeting or conduct research that I can do online? I don't think so.
But let's move on from our sample of one here. The corporate world has discovered that working from home and conducting meetings on Zoom work just fine. Of course, digital gatherings can't be as effective as meeting in person, just as my online interviews are never the same as those conducted face-to-face. But the trade-off of keeping people healthy and saving significant sums on travel – will almost certainly offset any perceived advantages of in-person meetings.
So, when I read the rosy quotes from experts in the hotel industry, I can't help but feel it's simply wishful thinking. Some industries, such as restaurants and brick and mortar retail, will never be the same. And I can't imagine a world where business travel and hotel stays come back either.
What can the industry do? I feel like I'm giving seafaring advice to captain of the Titanic after it hit the iceberg. Still, giving up is not an option, so here are a few recommendations.
We must accept that there is no listicle, how-to or paint-by-numbers guide – the kind of Pollyannaish, mindless stuff I've been reading - that has any chance of succeeding. The industry must consolidate around a new vision, most probably one more reliant on personal/pleasure travel.

The industry urgently needs to fix existing problems unrelated to the current crisis. It's maddening enough to book a room online for $250 only to find out that there's a resort fee of $75 and a daily parking fee of $25 or more. Some hotels still charge for wi-fi! Non-refundable bookings and cancellation fees must go the way of the land line. Honesty, transparency, a relentless focus on the guest and simple common sense will be more important than ever.

The hotel experience and design must change. Will people crowd into hotel bars and restaurants as they did in the past? Not until there's a vaccine. Even then, will pent-up desire for socializing have us revert to old behaviors? Now that we know what it means to be vulnerable, I'm not so sure.

Perhaps the hotel of the future is one that focuses first and foremost on guest rooms, not common areas. Many hotels already understand the need for (free!) high-speed wi-fi and lots of outlets built into the nightstands on either side of the bed. It's not enough. How can rooms be more comfortable? Rooms aren't just for sleeping and breaks in between meetings. Our home away from home, our office away from the office, should have all the creature comforts. Snacks/bottled water/drinks at prices that aren't ridiculous. Apple TV so I can watch HBO from my phone. Better room service food and options for delivery, with a built-in area to eat comfortably.

And one more word of advice, Benjamin. Just one word. Are you listening?

Cannabis.

It's for people of all ages (just visit a dispensary if you have any doubts) and never going away. A tasting bar with CBD and THC foods and drinks. A smoking/vaping area. A dispensary in the hotel. It's a cultural trend that's too big to ignore.
Of course, any of those recommendations rely on guests feeling safe in hotels. In their rooms and any other areas of the property. It seems that government or third-party assurances will be needed, a seal of approval that significantly enhances feelings of safety and well-being.
Perhaps, with a new vision in place, the industry may indeed come back stronger than ever. But forget about growth. It will be all about how to scale down to a profitable, sustainable business model in a world that's been forever changed.
HotelExecutive retains the copyright to the articles published in the Hotel Business Review. Articles cannot be republished without prior written consent by HotelExecutive.