The New Hotel Lobby of the Post-Pandemic Future
By Lesley Hughes-Wyman Principal & Partner, MatchLine Design Group | November 22, 2020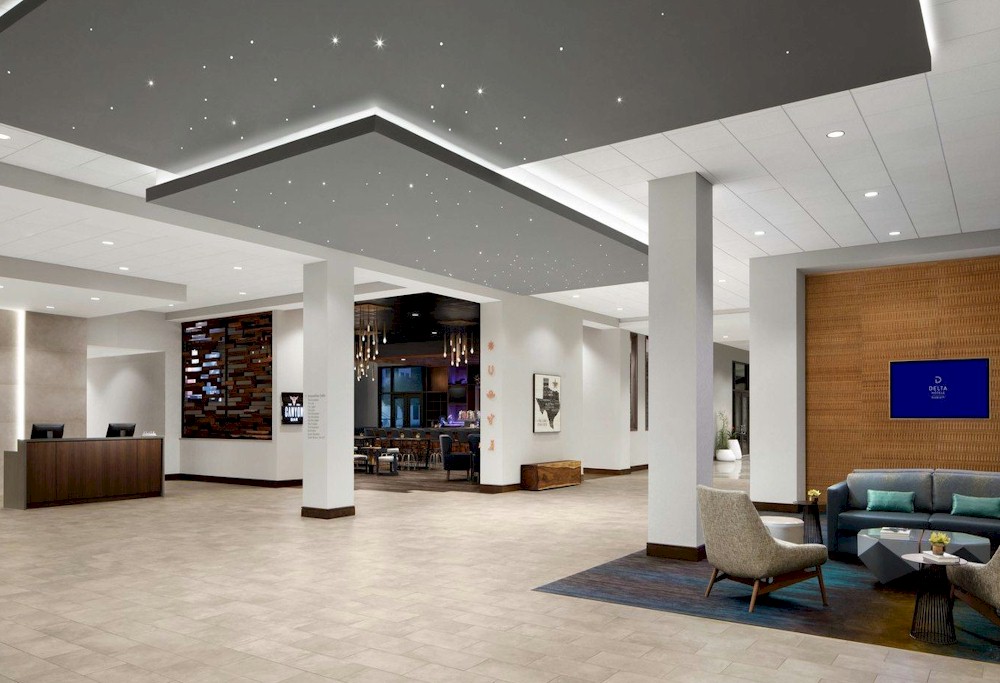 The ongoing global pandemic-and ipso facto, public policy, and widespread public health constraints-is rapidly changing the way we live, work, shop, and travel. Unsurprisingly, the travel and hospitality industries have reported that hotel occupancy has taken quite the hit. According to the American Hotel & Lodging Association (AHLA), as of July 30th of this year, hotels in the United States have lost more than $46 billion in room revenue.
In response to the pandemic, hotel brands-both top-tier and boutique-are working with architects and interior designers to reimagine both existing and new-build projects to help shift human behavior and the way hotel guests experience hospitality, post-pandemic. Prioritizing social distancing and contact-free systems that ensure guest safety and comfortability, the fundamental goal is to strengthen the hotel brand-guest relationship without sacrificing the hospitable experiences that builds this said trust in the first place.
The pandemic flipped one of the industry's most prevalent trends of recent years-the experiential hotel lobby-on its head. By definition, hotel lobbies are gathering spaces, and have always been defined by their ability to offer a sense of welcome and community-filled with staff members, guests, and local patrons found throughout. Embodying the sentiment of 'You can't make a first impression twice,' for guests, the hotel lobby is the 'first look' and a sneak peek at what is to come.
Once an experiential, buzzing setting to check-in, enjoy a cup of tea or a cocktail, read a book, or finish up on some work, the hotel lobby is now understandably considered a public space to be avoided. As hotel designers, we are now asking ourselves, what initiatives can we implement in collaboration with hotel brands, to help guests feel at ease without losing a sense of community? The name of the game is flexibility, and the referee is research.
As a hospitality design firm, we understand the need to be adaptive and flexible, and have been reimagining the post-pandemic guest experience now for over six months. From the incorporation of antimicrobial materials and wayfinding signage, to spacing out seating arrangements and installing touchless bathroom fixtures, the pandemic has forced the industry to maximize its creativity and problem-solving abilities. So, what becomes of these high-touch, social hub-defined areas in a time when the social-distanced, 'six-foot-world' is the norm?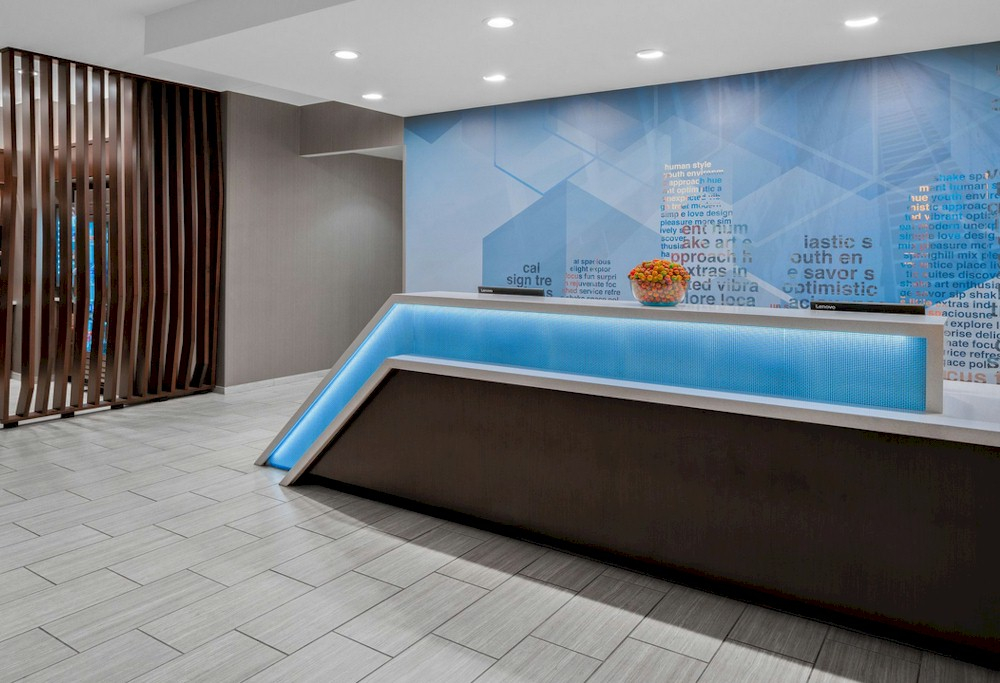 SpringHill Suites Roanoke, Virginia: The hotel's lobby shares a modern custom entry desk with inset bright, blue-toned lighting, installed to accentuate cleanliness and transparency. 
Four Design Considerations for Hotel Lobbies in the COVID-19 Era
1. The Optics of Sanitization
While a guest's first impression of a hotel is still largely driven by aesthetics, the added reassurance of a hotel's cleanability, sanitization, and adherence to COVID-19 best-practices is what will increasingly bring guests back into the hotel's front door, and encourage them to enjoy the check-in experience. When it comes to cleanliness and sanitization, seeing is believing, so communicating that strict practices are being put into place is the real value proposition.
Hotels are hiring designers for their expertise in creating efficient, temporary solutions that don't turn hotels into hospital-like, sterile spaces; what many people don't realize is the level to which hotel designers were already implementing antimicrobial materials that provide clinical-level sterilization. In regards to new cleaning standards, brands need to increase their level of communication with guests to reiterate and reassure all safety measures are being implemented, above and beyond.
While hotel cleaning was previously happening after-hours and behind-the-scenes, ongoing cleaning-in plain sight-should now become part of the hotel lobby scene. These visual cues are crucial in the evolving psychology of safety, helping hotels normalize new hotel procedures. Ideally, normalizing the cleaning process will increase guest adherence to mandatory safety measures, where guests will realize their role in shaping new hotel standards. Hotel brands are hoping that mask-wearing and social distancing will be seen as acts of mutual respect and public health, rather than inconveniences that threaten the hotel experience. By setting standards in the hotel lobby, guests will understand what to expect during their stay.
For Hyatt's global brand initiatives, whose COVID-19 safety approach is 'Safety First, Wellbeing Always,' an upgrade on their official 'Global Care & Cleanliness Commitment' was implemented to reimagine the hotel stay and cleanliness protocols, building on the brand's existing cleanliness standards. Hyatt's GBAC STAR cleanliness and training accreditation process, facilitated through the Global Biorisk Advisory Council (GBAC) found at all Hyatt hotels, requires cleaning staff to undertake official sanitization training. Hyatt has also implemented a cross-functional panel of medical advisors, including experts from the Cleveland Clinic, to help assess safety protocols that consider the entire hotel experience.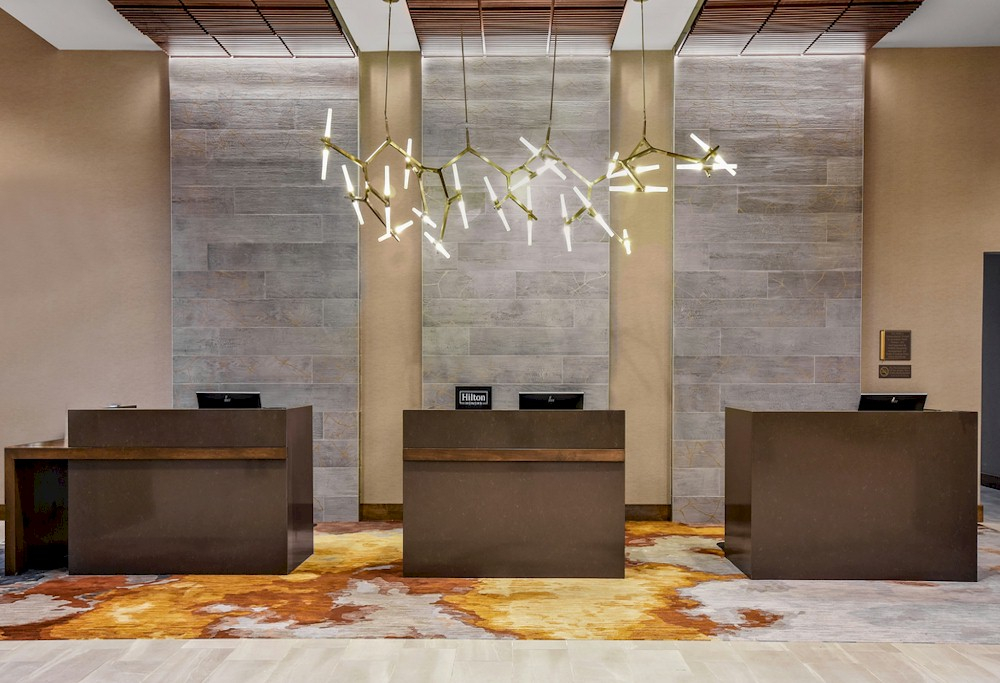 Jonesboro Embassy Suites, Arkansas: This lobby's warm color palette with honey-hued woods, bronzed metals, and nature-inspired carpeting provides an aesthetically uplifting, hospitable welcome to help negate any negativity caused by the COVID-19 check-in experience.
2. The Check-In Experience: Exclusivity as Inclusivity
Like all aspects of the hotel guest experience, the check-in process will be different than it was during the pre-pandemic days, and for some, perhaps for the better. For now, gone are the days where guests will wander through the lobby, checking out the buffet room and business areas, ahead of walking up to chat with the concierge about hotel activities, dinner reservations, and other items of interest.
The check-in experience of the post-pandemic hotel stay will be defined by a personalized, efficient, and highly-customized experience, where readily-available hotel staff and top-notch communication will be available at the click of a button.
In today's world, contact-less check-ins are becoming the new norm. For example, disposable guest room keycards are being introduced at a higher volume. For those staying with Hilton, an official app allows guests to choose their exact room and discover when the previous guest departed that room, while also acting as a digital key that provides guest room entry-there is no need to speak with any staff member in-person.
Although this process is appealing to some, there are many hotel brands concerned with this low-contact routine, at risk of depleting the sense of community and hospitality that defines the hotel experience. In response, we have seen brands implement what we are calling the 'Everyday VIP Experience.' Rather than the guest walking into the hotel lobby on their own, a front desk concierge will meet them at the front door-mask adorned and socially-distanced-to guide them to the front desk, walk them through new safety protocols, and confirm their reservation.
Devised through a design lens, new sanitization stations are being added to where guests are welcomed, offering complimentary face masks, hand sanitizers, and safety pamphlets that outline exactly which safety protocols are enacted at the hotel. Large plexiglass sneeze guards are also being added to the front desk to help increase staff and guest safety. While not completely design-forward, this trusted material outweighs aesthetic downfalls that concerned guests pre-pandemic.
3. The Power of Signage and Wayfinding
For guests and staff members to navigate the new hotel standard, there is a fundamental need to shift their behavior, and how they naturally navigate the space. In response to COVID-19, there has been an increase in wayfinding elements within the hotel lobby. Since flexibility is key, a reliance on signage and furniture groupings can be helpful. An effective wayfinding system boosts hotel-guest trust and guest satisfaction.
When selecting signage and wayfinding systems, it's important for hoteliers and designers to examine the guest journey-from the moment they enter the hotel lobby door to getting situated in their room, or grabbing a drink from the hotel bar. Signage and graphics are going above and beyond their original purpose, now serving as ways to guide guests through the space to promote social distancing. Helpful signage can include that of  welcome signs, wayfinding floor decals towards the check-in desk, sanitizing stations, and other CDC-approved safety measures, like mask wearing.
In the age of social distancing, seating arrangements have been extended to account for the guests still looking to enjoy the hotel lobby lounge and bar area. The goal for designers is to create different seating zones that encourage responsible socialization. Furthermore, as we've seen within the food and beverage sector, exclusive 'pod' type seating arrangements, versus communal seating areas, will be more prevalent.
For an economically minded solution, the large, stationary community tables often found in a hotel lobby or lounge spaces can be achieved by using multiple, smaller table sizes-placing them together in a figuration determined by the family and group size. To complement this furniture arrangement, acoustic partitions/dividers, low bookcases, and the use of artificial or real planters can be utilized to guide guest circulation.
4. Low-Touch and High Cleanability: The Lobby Bathroom
Mixed materials have long been utilized throughout the design of hotel public areas, including in the communal bathrooms and amenity spaces, so dealing with differing cleaning products for varying material constraints is not a new challenge. The real challenge at hand is to ensure those differing products are used more effectively and precisely, which is an outcome of the enhanced cleaning procedures that all brands have been implementing and educating staff.
There's been a switch to specifying more epoxy grout that resists staining and water penetration, and can endure the more harsh chemicals that are now being used to clean such lobby bathrooms. Although this epoxy grout is more challenging to install, it has more longevity with the aforementioned enhanced cleaning methods.
Touchless faucets, soap and paper towel dispensers had already been implemented within most public restrooms pre-pandemic, and hotel groups that had previously resisted their installation are realizing there's no more denying their efficacy or popularity. As with any implementation of a new technology, these upgrades absolutely come with a different price tag than the high-touch faucet fixtures.
That said, installing touchless, sensor-driven fixtures is a fairly cost-effective way to upgrade public restrooms without having to renovate the entire space, which often comes with a heftier bill (and lengthier construction time). Touchless fixtures also provide an immediate optic that the activity-such as hand-washing, hand drying, or flushing-is low risk, helping hotel brands reiterate that guest safety is their priority.
The hospitality industry is about the experience economy; post-pandemic, the human inclination to gather and create community through shared experiences will not change. The power of the hotel lobby lies in its ability to embody the community, energy, and service offerings of the hotel-at-large-something that an Airbnb experience will never do. It's crucial that hotel designers work with hotel brands to ensure these public spaces do not become void of life, and remember that customer service is really about customer experience.
From new cleaning protocols and wayfinding systems to new furniture layouts and touchless fixtures, it's all about investing in the guest experience, and reiterating the guest's role in re-imagining the robust hospitality industry of 2020 and beyond.
HotelExecutive retains the copyright to the articles published in the Hotel Business Review. Articles cannot be republished without prior written consent by HotelExecutive.