Six Main Areas of Hotel Design That Will See the Biggest Changes
By Cristina Faedi Promotional Activities Manager, Confindustria Ceramica | November 15, 2020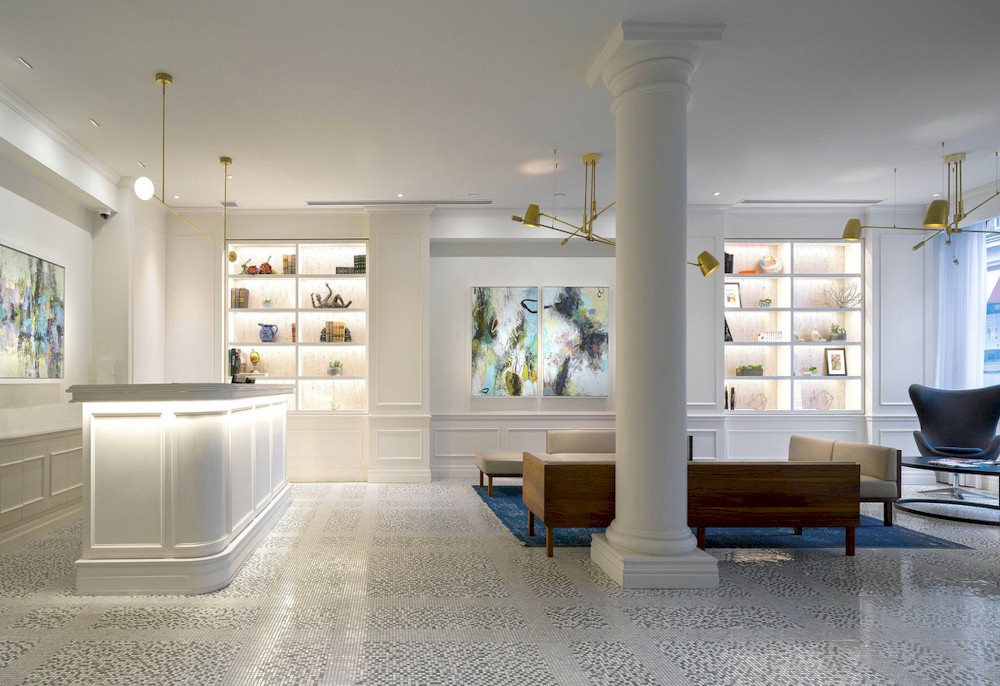 As we all know, COVID-19 has generated widespread concern for both public and personal health. Among many other things, this global crisis has led to an unprecedented work-from-home experiment, government-mandated lockdowns and restricted travel, and the placement of hand sanitizer and social distancing markers in every hotel, restaurant, retail, and office building lobby.
But on a deeper level, this pandemic has accelerated a broader conversation about the importance of designing spaces that support visitor health and wellness - especially within the hotel industry. Of course, the post-COVID hospitality sector will not see people returning to hotels in droves. It's going to take some time. In order to stimulate the travel economy once more, hospitality providers and the designers they employ must step up to the plate with effective, long-term solutions that make people feel comfortable and excited to book their stay.
According to a 2017 report by the Global Wellness Institute, the wellness tourism industry grew by 6.5% annually from 2015-2017. These numbers suggest that the conversation surrounding health and wellness was gaining traction long before the pandemic completely upended life as we know it. The only difference is that, now, "wellness" is no longer just a hot topic largely championed by designers and hospitality providers - it's become part of our universal vocabulary.
After an extended period of emotional and physical stress caused by the global health crisis, a tanking world economy, and for many, a severe lack of social interaction, the concept of wellness is top of mind for everyone. As a result, future hotel guests will expect a holistic experience that not only safeguards their physical health by reducing the risk of infection, but that also supports their mental and emotional wellbeing at every step of the way.
Visitor health and wellness will remain a top priority for many hotels as they begin to adapt, reconfigure, and even completely renovate their interior spaces. This will lead to some obvious design choices like the addition of space dividers, hygienic materials, outdoor areas, and larger guest rooms (wherever they don't already exist), but it will also lead to the incorporation of more subtle details that are known to subconsciously affect visitor wellbeing, such as biophilic design, sustainability, and more. Here are six main areas of hotel design that will see the biggest changes: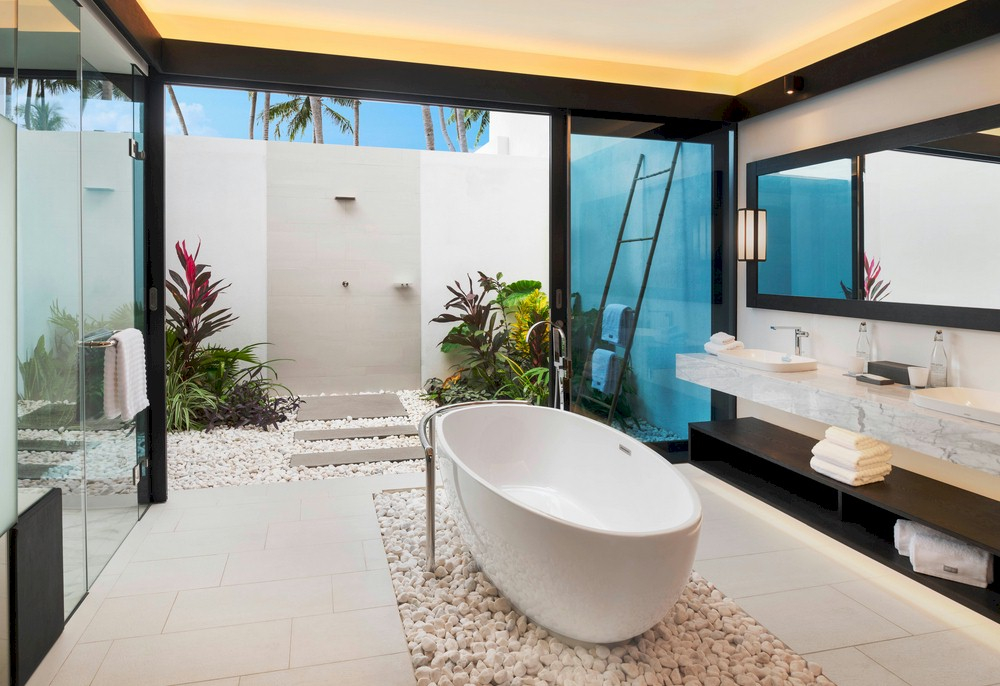 While designing The Westin Maldives Miriandhoo Resort, which is located in a UNESCO biosphere reserve, Peia Associati selected eco-friendly porcelain floor tiles and outdoor pavers from Italian manufacturer Casalgrande Padana.
1. Material Selection
For years, healthcare design has been strongly influenced by hospitality design in the quest to create more welcoming patient spaces that help reduce stress and promote healing. In an interesting reversal of roles, hospitality design may be taking many cues from the healthcare industry moving forward, particularly when it comes to material selection. Countless studies over the past several months have shown that COVID-19 can be transmitted through contaminated surfaces.
That's why selecting hygienic, easy-to-clean materials - especially in high-use areas like guest rooms, bathrooms, and lobbies - will become a crucial part of the design process. Some industry experts are even suggesting that hotels consider replacing carpets with more hygienic solutions that don't trap dirt and airborne irritants. Thanks to modern digital technology, surfaces like Italian ceramic tile offer the same level of hygiene and durability as healthcare products, but without the clinical healthcare aesthetic.
As a material, ceramic is easy to clean and naturally resistant to mold, mildew, and bacterial growth. And, unlike many plastic-based materials such as LVT, ceramic possesses long-term resistance to abrasive chemical cleaners - an important trait for post-pandemic surfaces that must be frequently and thoroughly disinfected. Taking it one step further, ceramic tiles can be infused with antimicrobial technology that actively kills up to 99.9% of bacteria on the surface.
Designers should also explore using products that contain zero VOCs or formaldehyde. Some commonly used materials in hospitality settings, like PVC and plastic-based vinyl flooring, tend to offgas and actually wind up being detrimental to visitor health. Natural materials offer an added level of security in this respect, and can even work to improve indoor air quality.
2. Biophilic Design
Humans have always been innately drawn to nature. It's scientifically proven that being surrounded by nature has the power to reduce stress, improve cognitive function, and enhance one's mood and overall wellbeing. With COVID-19 and the resulting lockdowns, the human population as a whole is craving a connection to nature, perhaps more than ever before.
We'll start to see more hotels addressing this need by incorporating biophilic design elements into their interior spaces, which will take on the form of: natural lighting; live greenery; earthy colors (especially green, blue, and warm rust tones); organic shapes; floral patterns and motifs; and natural materials (or materials that resemble those found in nature) like marble, stone, and wood.
It's important that hotels appeal to their visitors on an emotional level, and creating a space that embraces many different elements of nature can certainly help achieve this. All of these features work together to create an unforgettable experience that, if done right, leaves guests feeling happier and more refreshed.
3. Outdoor Spaces
Ever since the pandemic hit, the great outdoors have played a starring role in day-to-day life. People everywhere are remodeling their backyards, gathering in parks, and dining alfresco. In fact, a recent study conducted by Realtor.com revealed that one of the top "must-have" items for prospective homebuyers at the moment is an outdoor living space.
Consumer preferences like this will start to influence changes we see in hospitality design, as well. Hotels that do not currently offer a robust outdoor space for their guests will need to start thinking seriously about investing in one. Guests will not only feel safer and more secure gathering outside in the fresh air, but bringing it back to the topic of biophilia, they will also appreciate the closer connection to nature.
Of course, material selection is important in outdoor living spaces, as well. Just because the rate of transmission is much lower in open-air environments, does not mean that the use of hygienic, anti-microbial materials in these spaces should be overlooked. It's crucial that hotel providers and designers look very carefully at the products they are using in these spaces. They should be able to withstand frequent cleaning and aggressive sanitization regimens, and of course, extreme weather conditions. This is where hygienic surfaces like ceramic and porcelain pavers come in very handy. They are UV- and frost-resistant, and can even be dry-laid on top of grass, gravel, and sand - a quick and easy solution for hotels on a budget.
4. Public Spaces
One trend that's really taking hold across all sectors of design is the rise of mixed-use buildings. For several years now, hotel design has been shifting to offer more accommodations for public use with the addition of coworking spaces, shopping experiences, and more. This means that hotel guests are sharing space with hundreds and sometimes thousands of people on any given day, so hotels will need to modify their public areas to prioritize visitor safety.
In some cases, this will require larger spaces with reduced density. In others, some hotels may need to forgo their beloved open plan in exchange for a more compartmentalized space, but the real trick will be finding a way to make it look inviting. Attractive and movable space dividers will therefore become the norm in hotel lobbies and other public areas.
Designers will relish the opportunity to flex their creative muscles with inventive zone dividing solutions, like live green walls or acoustic paneling. We may also see the introduction of more seating arrangements that enable socially-distant conversation, like modular benches that can be rearranged according to user preference.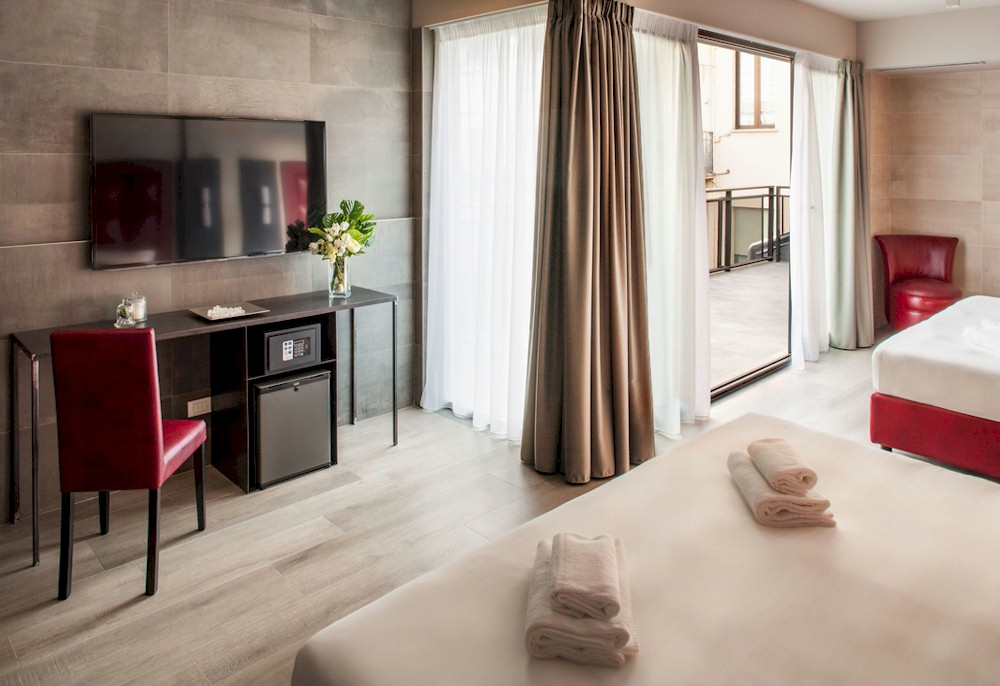 Wood-look porcelain floor tiles by Serenissima clad the guest rooms at Spice Hotel Milano Centrale in Italy.
5. Guest Rooms
As reported in 2019 by global hospitality consulting firm HVS, the North American market has witnessed a considerable rise in the popularity of "micro-hotels" within the past several years. The average guest room is consistently shrinking in square footage, while greater focus is being placed on designing more elaborate public spaces - a concept largely inspired by the Japanese innovation of pod hotels, which offsets tiny, minimalistic spaces with great design and larger communal areas like cafes, lounges, bars, and restaurants.
The anxiety surrounding COVID-19, though, will likely cause the hotel industry to reverse course and start to place greater emphasis on guest rooms instead of shared spaces, as people are hesitant to mingle with other guests. Architecture and design firm Leo A. Daly says it best in a recent white paper: "The guestroom is a sanctuary from the outside world and must offer a complete retreat from anxiety…" and it "must be designed to leave no doubt of its safety."
In addition to larger spaces and more private amenities - perhaps the inclusion of personal fitness equipment in select hotel rooms - the shift in focus will also mean a complete review of commonly-used materials. This will present a unique opportunity for imaginative design solutions. Soft surfaces, like carpeting and even fabric headboards, may be replaced by hard, non-porous surfaces like tile to ensure more thorough cleaning between occupants and greater peace-of-mind for guests.
Thin porcelain slabs are growing in popularity among designers, because they are easy to fabricate and ideal for building unique custom furnishings like desks, headboards, benches, and more. Intricate mosaics and colorful glazes offer a nice, decorative touch and endless opportunities for branding or artistic expression. One single guest room could be completely outfitted with many different types of ceramic tile installations, earning points for both hygiene and style in the eyes of customers.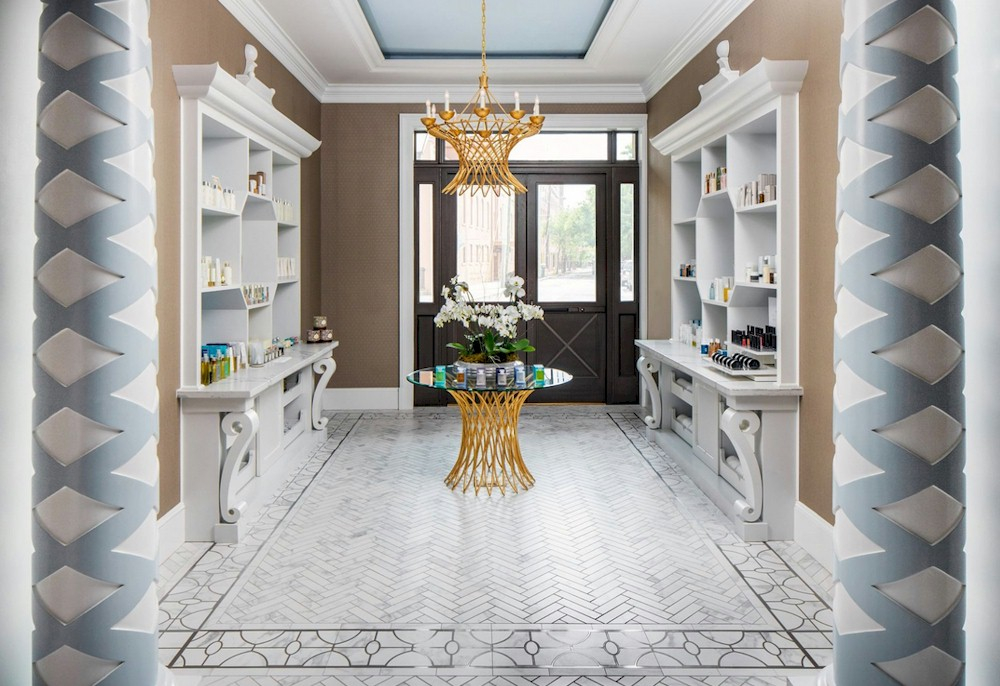 Design Continuum's Hotel Bennett, located in Charleston, SC, makes extensive use of Italian ceramic tile throughout the facility, including marble-look floor tiles by Marca Corona in the spa area.
6. Sustainability
One cannot talk about wellness without also touching on the importance of sustainable design. These two terms - "wellness" and "sustainability" - are not mutually exclusive. In fact, they are so intertwined that many of today's green building codes and rating systems, such as the International Green Construction Code and LEED, include standards for occupant health, productivity, and overall well being. After all, if something is unhealthy for humans, it's likely not so great for the environment.
Take chemical detergents, for example - many commercial disinfectants contain toxins and VOCs that are harmful to the planet and our health. This is where responsible product selection can be immensely helpful in minimizing environmental impact. Certain materials - like copper and ceramic - possess a higher natural resistance to bacteria, so in many cases they just require a simple mixture of soap and water to be cleaned.
Hospitality providers and designers must also continue working together to reduce overall environmental impact with sustainable operations that minimize energy consumption, water usage, chemical waste, and more. But the sustainable attributes of consumer-facing products are a key part of the story, too. Guests will find comfort in knowing that the products and materials they are using are eco-friendly and sustainably sourced, and hotel interiors will certainly adapt to reflect this.
We must not abandon our commitment to sustainability in search of temporary solutions and knee-jerk reactions. Maintaining a clean, safe environment for guests is crucial, but the environment still needs our protection, too.
There is a growing conversation among residential designers about redesigning mudrooms and entryways to include sinks for immediate handwashing. I don't think it's a stretch to predict that the layout of some hotel lobbies may change to reflect this. At the very least, with new construction projects, placing bathrooms closer to the entrance would be a reasonable solution. Some other changes to hotel design may include the implementation of, wherever possible: UV-C lighting and air filtration systems; high-performance ventilation; voice-activated technology; and touchless faucets and doors.
Many of the changes outlined here are not fundamental transformations at all - rather, they are trends that have already been in motion for decades, accelerated by a newfound sense of urgency caused by the global pandemic. There are still many unknowns about how the hospitality industry will adapt to fit the evolving needs of its clientele.
But one thing is for certain - guests will begin to notice and even scrutinize small details they may have previously overlooked. Attention to detail has never been more important than it is now. Providers must consider every single step of the visitor's wellness experience, and good design plays a key role in this process.
HotelExecutive retains the copyright to the articles published in the Hotel Business Review. Articles cannot be republished without prior written consent by HotelExecutive.