What Makes for Outstanding Guest Service Amid The 'New Normal'?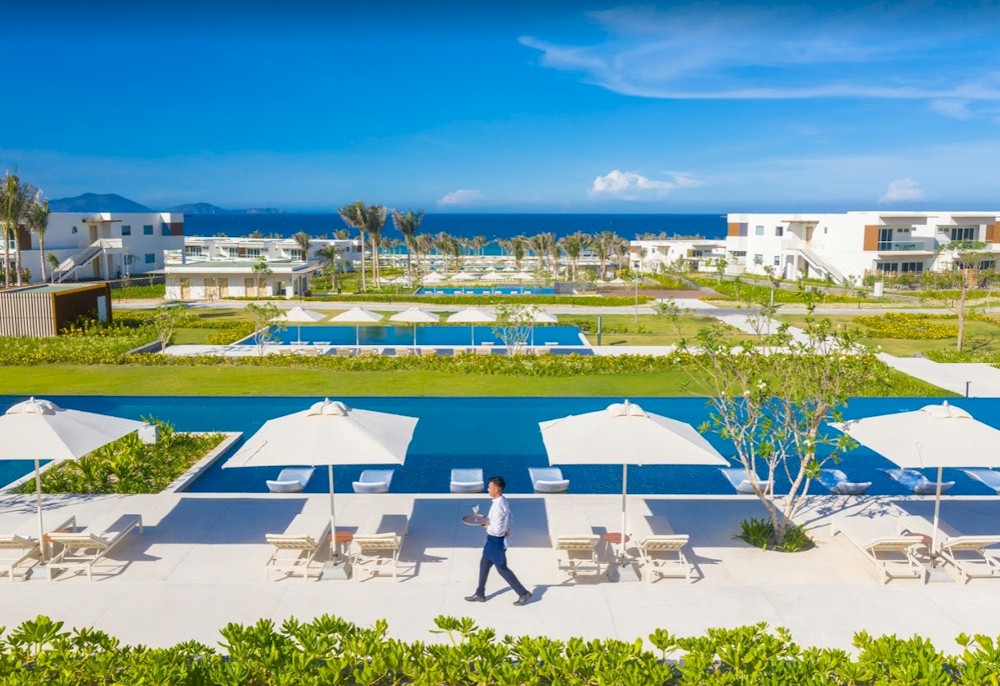 A smile, a handshake and even a hug are touchstones of good, old-fashioned hospitality. Excellent guest service has always been underpinned by that genuine, human touch.
However, as the global pandemic has inexorably hurled the hotel industry into a 'new normal', what happens to a smile when we need to wear masks? How can we shake hands and hug when social distancing is a must?
Can these simple yet powerful gestures such as a smile, handshake or hug even exist in our industry or can we try to enact that goodwill in other ways?
Only months after our independently owned and operated resort Alma, situated on Vietnam's up-and-coming Cam Ranh peninsula, first opened its doors for business in late December 2019, COVID-19 changed the world. We were swift to adapt, introducing a raft of stringent health and safety measures to keep our guests, staff and ultimately the community safe.
Spacious set-ups of facilities such as restaurant tables and sunbeds to ensure physical distancing. Limits to the numbers of guests permitted in restaurants and other venues. Body temperature checks. Temporarily closing our 13-villa spa, 170sqm gym and yoga room. Suspending buffet breakfast at our main restaurant Alma Garden and expanding our in-room dining menu. Requesting guests fill in a health declaration using a QR code and furnishing them with an electronic COVID-19 information kit upon check-in.
I could go on and on about myriad changes yet the point I'd like to make is that, with each and every measure we've implemented, we've also tried to be mindful of its influence on the guest experience, and gauge what an overall picture of this continually-evolving guest experience may look like. In light of the global pandemic and the proliferation of technology, where is guest service heading and what kinds of changes should we expect to see in future in this realm? And, importantly, what else can we do to still 'connect' with our guests as best we can?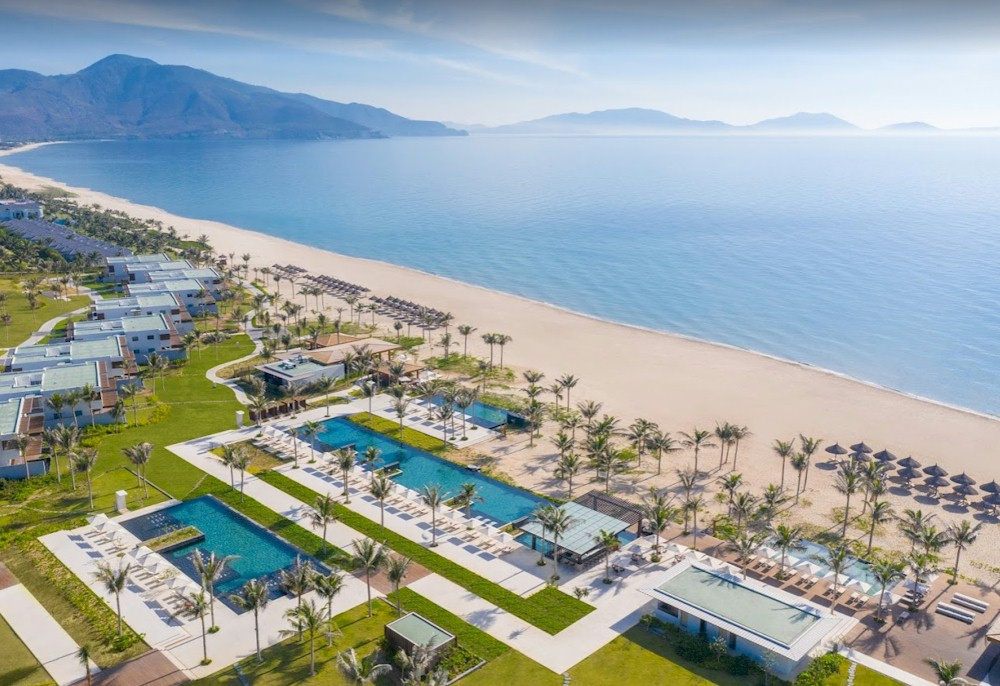 Alma Resort commands some 74 acres of inspiring ground on Vietnam's up-and-coming Cam Ranh peninsula.
Our resort has just launched a mobile app that opens the door to "contactless" communication with guests and staff in real-time. Now available for download on Android, Apple, Windows and Amazon devices, the "Alma Resort" app offers menus, promotions and vouchers, live stream broadcasts, and information about events, COVID-19 health and safety tips and more.
In addition to providing an array of menus for Alma's restaurants, bars, in-room dining and Le Spa and promotions and vouchers on food and beverage, spa services, beauty products, karaoke and items at Alma's mini supermarket 'Alma Mart', the Alma app also includes our Alma cinema's movie schedule and ample opportunity for app users to provide feedback about our resort and its services.
As part of the second phase of our app's development, to be rolled out over the next couple months, users will also be able to access information about the weather in real-time as a result of the installation of a live weather cam on Alma's stretch of Long Beach. The second phase of the Alma app will also usher in a payment gateway, permitting guests to settle bills in a cashless manner via the app. Our goal is for our app to be a comprehensive one-stop shop for information, an efficient means to obtain feedback from our guests, as well as a weapon in our arsenal to fight the spread of COVID-19 and to keep guests, staff and the community safe.
The app is a game-changer for the hospitality industry because, under the new normal of heightened hygiene and social distancing, this app is an effective and "contactless" way to instantly connect with guests and staff. I place "contactless" in quotation marks because I believe this word isn't an accurate way to describe our app; our resort is still in contact with our guests, letting them know about updates and promotions in real-time, just in a different way.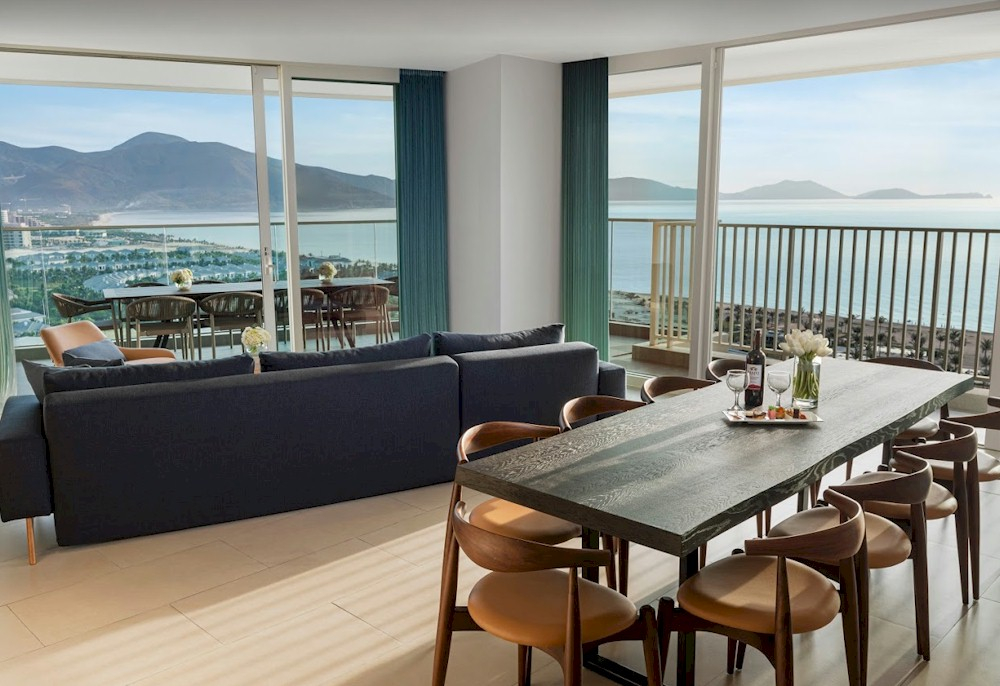 Alma Resort is home to oversized suites that all afford spectacular vistas of Long Beach.
While it's impressive that Alma has muscled its way into the realm of mobile app technology alongside predominantly major global hotel brands, it will soon be incumbent for five-star resorts not only across Vietnam but world-wide to offer the same technology. Such an app also means we've transitioned to more sustainable solutions by offering menus, resort maps and other materials digitally instead of on paper. And although guests find out about our services, promotions and events in real-time via our app, our team is still on hand to say hello and ensure our guests feel welcome and have a great holiday when they opt to visit one of our 14 dining outlets or our spa to enjoy a promotion or voucher for a special dining experience or spa treatment.
In the vein of technology, another service trend is that of robots. I'm sure you've heard that the Henn-na hotel in Japan is staffed by front-desk robots. Hilton and IBM joined forces to welcome robot concierge "Connie". Aloft introduced a butler robot to deliver room service, and Crowne Plaza's robot called Dash bring guests snacks, toiletries and other hotel amenities at all sorts of hours. Some hotels already have machines that purify the air in rooms and kill off germs. Other hotels allow you to check in on your mobile, sending you a welcome note that includes your room number, so that you can make yourself at home without coming into contact with any hotel staff.
However, to bring that human element to this process, it would be ideal for a staff member to, after being alerted to you entering your room, call up your mobile to see if everything is ok with your room and ask if you need anything else. That interaction, while it is not face to face, still has a personal touch to it. It will be interesting to watch what happens with the check-in and check-out processes, cleaning and other services over the next few months and what the big hotel chains do about them as a result of the global pandemic. I suspect more machines will make their presence felt, tasked with bringing guests meals and fresh towels, spraying down frequent touch points, and more.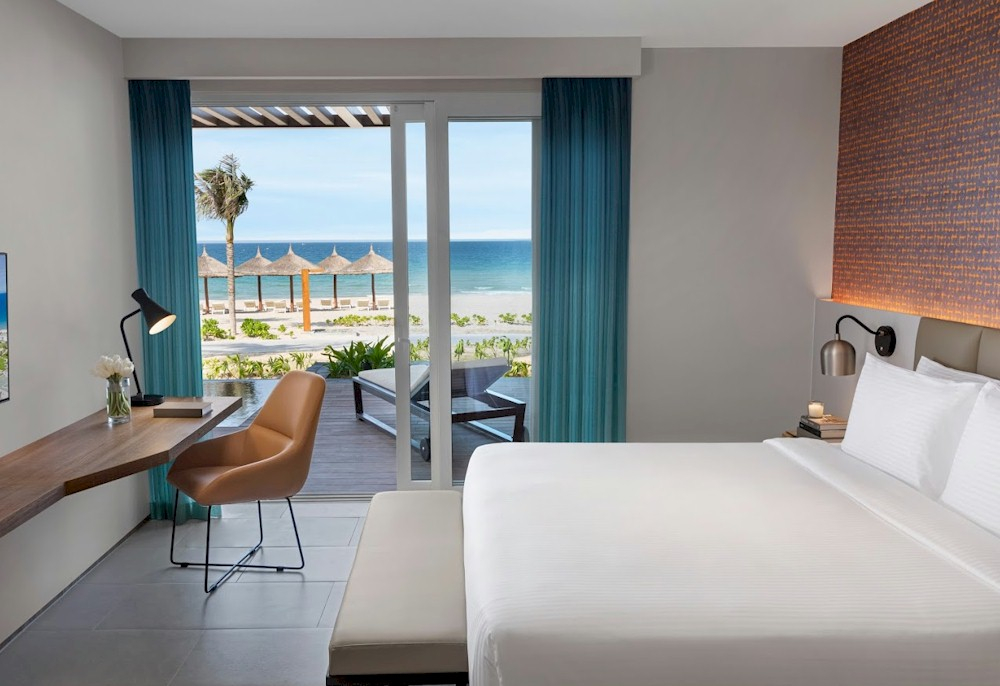 Alma's ocean view pavilions offer private swimming pools and stunning views of Long Beach, where sampans and coracles ply the waters and islands loom offshore.
Has Alma introduced robots, do you ask? Admittedly I have looked into them but they are heinously expensive. Personally, I believe robots fronting the welcome desk and delivering food and other hotel amenities is a little too much. It's all akin to landing on the moon or Mars, or waking up in a dystopian setting, where there is no oxygen and only the robots can survive. Also, COVID-19 has brought enough instability to hospitality jobs; that human element is important to our industry and robots completely wipe that human element out of guest service (a display screen with smile, handshake and hug emojis may seem innovative but it's nowhere near as good as the real thing!).
Meanwhile, interior design may not be the first concept that springs to mind when we think of guest service yet it has a big impact on what services we are able to provide guests and, in turn, the overall guest experience. The design of a hotel room, suite or villa has never been more important in the new normal. And the worldwide trend of people wanting to leave cities for regional areas during COVID-19 and its lockdowns speaks to this trend. People no longer want to be confined to a cramped, boxy hotel room, particularly after lockdowns and quarantine. They want a balcony, they want a garden, they want excellent wi-fi, they want somewhere a coffee machine and the ability to heat and enjoy meals (for example, if they need to provide food for their baby). They want a fully functional home away from home.
At Alma, although our resort opened just before the onset of COVID-19, social distancing comes naturally here due to our design. Commanding some 30 hectares of inspiring beachfront land, we are home to oversized accommodations that all have panoramic views of the sea, 12 large swimming pools that cascade to the beach, and a host of spacious venues ranging from 14 restaurants and bars to a science museum, 6000sqm waterpark, art gallery, cinema, convention centre, amphitheatre, youth centre, kid's club, water sports centre, gymnasium and yoga room, an 18-hole putting green, sports fields, our 'Alma Mart' mini supermarket and much more.
To wit, there's plenty of space and fresh air. Our one-, two- and three-bedroom ocean view suites total 71, 114 and 165sqm respectively, and the two- and three-bedroom ocean view and ocean front pavilions range from 144 to 224sqm. All suites and villas feature master bedrooms with soaking bathtubs and separate rainwater showers, huge living rooms with massive sofas, kitchens and dining areas. The three-bedroom pavilions and two-bedroom ground floor pavilions boast private swimming pools, and the two-bedroom upper floor pavilions feature private jacuzzis. Inland from the villas, the suites are housed in two V-shaped towers, affording panoramic ocean views.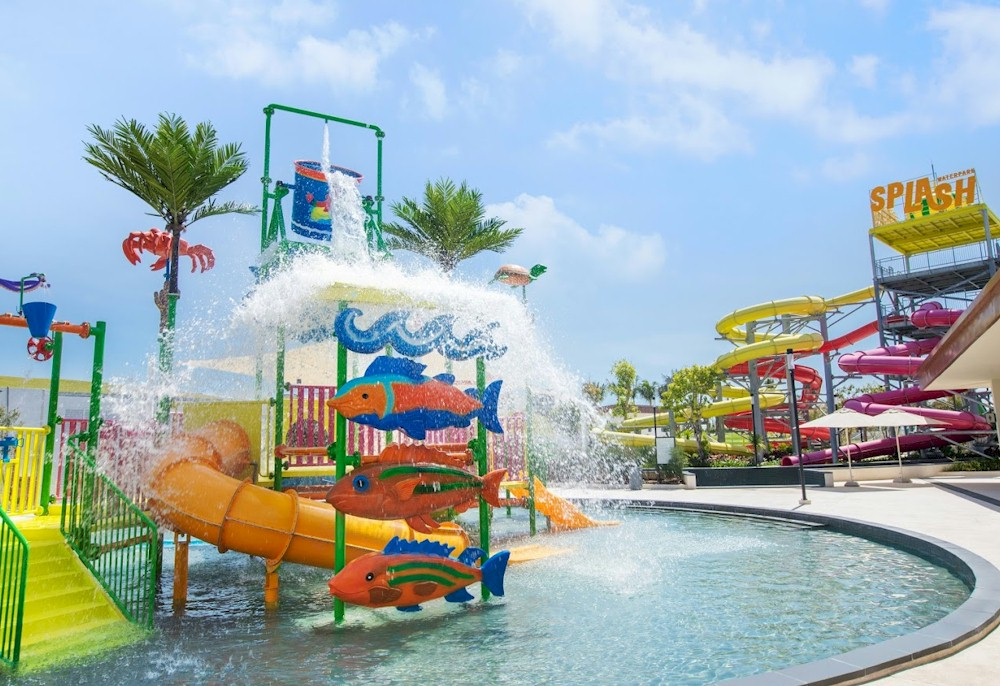 Alma's 6000sqm Splash Water Park features a kid's pool, water slides, a lazy river and a wave pool.
At Alma we're also very attuned to what our guests' wishes are in regards to whether they would like hotel staff to enter or not enter their suite or pavilion during their stay. Some of our guests do not want any staff to come into their rooms during the entirety of their stay, not even to make their beds, replace towels, or empty the garbage and instead, for example, opt for extra towels to already be there from the onset of their stay and call us to inform us they wish for our housekeeping staff to collect garbage they will soon place before their front door so that it's disposed of straight away.
Your staff will always be the backbone of quality guest service. Each and every member of our team lives by our five core values at Alma – care, respect, responsibility, integrity and passion. We apply them to everything we do, including every guest interaction. We developed our core values as a team well before the onset of the global pandemic yet they seem ever more salient when it comes to guest service and stopping the spread of COVID-19. We genuinely care for the health and wellbeing of our guests. We respect them and their wishes. We feel immense responsibility for their wellbeing and for their time with us. We do everything with integrity and do not cheat or cut any corners under any circumstances.
We also have an incredible amount of passion and energy for what we do. Sometimes you may read this sort of thing and dismiss it as empty rhetoric. However, what I say about our entire team embracing our five core values is genuine. It is the absolute truth. In fact, we have taken our responsibility to stop the spread of COVID-19 so seriously and have acted with such integrity that the Vietnamese authorities have contacted us to say we are an exemplary resort in this regard. So much so, the authorities are planning for our executive assistant manager Tran Quoc Dat to speak at an upcoming conference about best practice and share our measures with other hotels so that they can follow suit.
I cannot stress enough how crucial it is to have a motivated management team nor just how influential they are upon the rest of the staff who are on the frontline of guest service. At Alma, I am fortunate to steer an excellent executive committee devoid of office politics; it is made up of talented and dedicated leaders and their goodwill trickles down to the rest of the staff. It's so important for your staff to be aligned with what you do and deliver excellent guest service; in our case, in accordance with our five values. I'm the first to admit that keeping your team happy and fulfilled, particularly amid COVID-19 and all of the instability and see-sawing occupancy levels in its wake, is no easy feat. Trying to keep jobs safe is a massive challenge. We need to be far-sighted about this and realise that if we don't look after our staff now and they leave the tourism industry for good, we will be in trouble when things get better and inevitably they will.
We are continuously considering how to bring that human element into guest service as much as possible. For example, we are looking at implementing Perspex sheets at our reception to protect guests and staff alike. Does this mean that the receptionist will no longer have to wear a mask and be able to smile at our guests behind the safety of a Perspex screen? Or will he or she still be required to wear a mask? (Albeit a see-through one?) How do we conduct a socially distanced wedding?
There are still numerous situations that remain to be seen. The authorities will ultimately play a huge role in who we are and aren't allowed to welcome. Will guests only require a negative COVID-19 test or will they also need to be vaccinated? Travel will recover after COVID-19 (AC), but travel and guest service will never be the same as they were before COVID-19 (BC).
While it's not always possible to see a smile behind a mask (unless the mask is see-through) nor shake hands with a guest or give a returning guest a hug due to the need for social distancing, I'm a big believer in bringing that human element to the guest experience as best we can, wherever we can. We live by our five core values, we are still always there for the guest and strive to do whatever we can to personalise their experience, whether that is determining and listening to their wishes as well as a phone call here and there to see if everything's ok.
Guest service is a continually-evolving realm and subject to change for the time to come. However, be rest assured there's always room for that genuine, human touch and Alma will not be overrun by robots anytime soon!
HotelExecutive retains the copyright to the articles published in the Hotel Business Review. Articles cannot be republished without prior written consent by HotelExecutive.