Guest Service in the 2020s and Beyond: The New Moments of Truth
By Katie Davin Associate Professor, Johnson & Wales University | April 25, 2021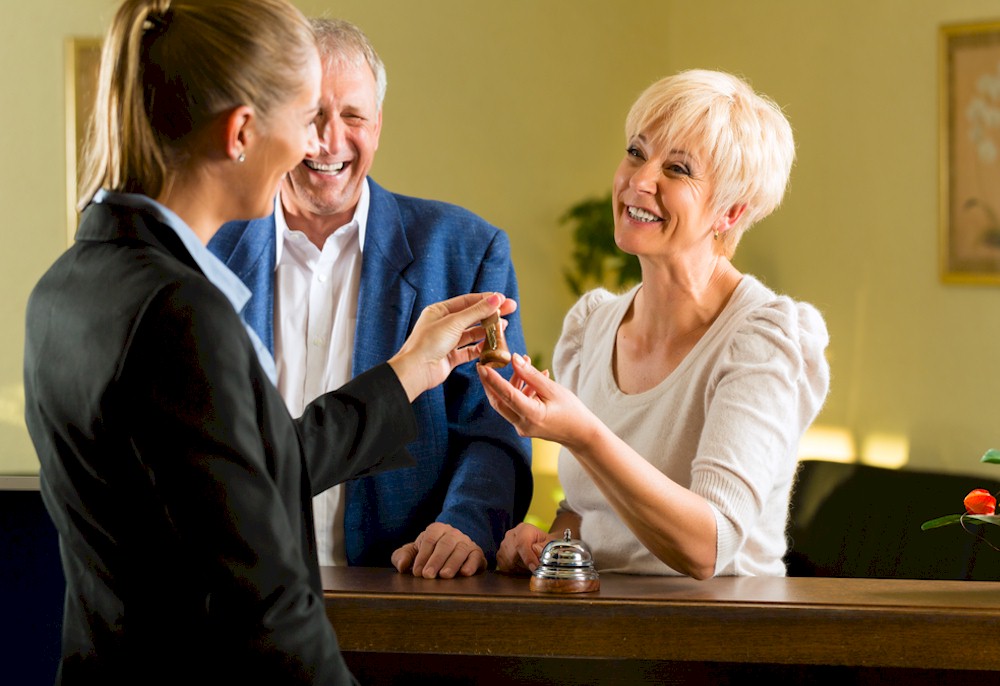 Every encounter between a guest and a hotel employee is an opportunity for that guest to form an impression about the property. Author and airline executive Jan Carlzon said that a company is "created" every day by every employee, 15 seconds at a time, through "moments of truth."
Each time a guest encounters an employee with a question or transaction is a moment of truth. Those moments are the opportunities for staff to prove to guests that they made the best choice of hotel for their stay.
Classic principles of service and hospitality such as authenticity, personalization and predictability are essential to guest satisfaction. However, the world has changed, and guests are likely to expect more from hotels than ever before. Travelers are worried about their safety and health, but they still want personalized, attentive service. Hotel staff will need to apply those classic hospitality principles in addition to managing new and different expectations from guests.
At the College of Hospitality Management at Johnson & Wales University, we teach guest services throughout the curriculum. The concepts are not hard to grasp in the classroom, but they can be difficult to apply when speaking with an angry guest who is at their absolute worst. One reason we require our students to complete internships is to give them opportunities to practice the principles of service, where they can receive feedback and build their skills on their journey to becoming managers.
Before we send students out into the field, our goal is to supply them with the knowledge and tools for handling a variety of guest situations. Hotel managers should do the same for their employees, and most will need to update and revise their training and guidance to enable staff to serve guests who may have new fears and new demands.
In their study of customer expectations of hotel hospitality, Ariffin & Maghzi identified five dimensions of hotel hospitality :
1. Personalization: the guests' feeling that the hotel treats them as important persons. The authors found that, in addition to treating all guests with respect, one of the most effective ways to demonstrate personalization was developing eye contact with the guests during conversation.
2. Warm Welcoming: Guests feel welcome with a friendly greeting by hotel staff. Guests feel even more welcome, the authors learned, if they receive a welcome gift or help with their luggage.
3. Special Relationship: How deeply a hotel understands the unique needs and preferences of each guest is important to customer satisfaction and loyalty. The emphasis here is on relationship marketing but extends to the guest's stay.
4. Straight from the Heart: Hotel guests have emotional needs in addition to the observable and tangible needs that hotels fulfill. The emotional intelligence of guest-facing employees is a requirement for predicting and meeting the emotional needs of guests.
5. Comfort: This dimension of hotel hospitality is about the hotel room – its condition and amenities. Guests want to feel as comfortable in a hotel room as they feel at home. In my marketing classes, I identify a clean and comfortable hotel room as a point-of-parity: an element that is essential in the eyes of the consumer, in order for a hotel or hotel brand to be considered a legitimate competitor.
Hotel managers can consider these dimensions as they ramp up their planning for the recovery from the pandemic. Chances are that the increase in demand might feel like a big change all at once, and it could be easy to forget about how a positive or negative moment of truth can affect repeat business, reviews and referrals.
There are six ways that hotel managers can succeed during these changing times and beyond:
1. No-Touch
For some guests, the best service is having the option to refuse service. Did we ever imagine that daily housekeeping services would become an option rather than the standard? In the recent past, a guest might be delighted that, while they were out, a housekeeper entered their room, made up the bed, cleaned up a little, and left fresh towels. The housekeeper may have even tidied up the guest's own belongings and folded the washcloths into a fun shape. If a guest returned to a room in that condition now, they might be downright horrified, counting all of the personal items that had been touched by another human.
Contactless check-in is another no-touch option that was a nice-to-have amenity before, for the busy business traveler and the introvert. It was a convenience and a time-saver. An increasing number of guests will expect or even demand the ability to by-pass the front desk, not just for convenience, but also for the safety of not having to be in a crowded lobby or a line.
2. Customization
Because guests may prefer the no-touch option, services must be individualized more than ever before. Guests will need to be asked for their preference on services and amenities that used to be standard. Perhaps most guests desiring luggage handling will prefer to meet their bags in their room, rather than riding in an elevator with a bell attendant. During the pandemic, things that guests ask to be delivered – an extra pillow, shampoo – are left outside the guestroom door with a friendly knock. Many are going to want that option, rather than having an employee enter their room.
3. Anticipation
Most travelers have been waiting so long to travel that they have built up their expectations. Compare the leisure guests of 2021 and 2022 to a typical incentive traveler. The guest who won that incentive trip worked extra hard all year with eyes on the prize of this wonderful trip. The expectation is luxury and perfection. The post-pandemic hotel guest may have that same level of expectation, after having been cooped up at home all year. Staff need to be prepared to meet or exceed those expectations.
Conversely, guests who have traveled throughout the pandemic have become accustomed to staying in hotels with low occupancy. They may have received frequent upgrades, which will no longer be available when hotels fill up again. For a guest like that, their first stay in a busy hotel will be an adjustment. Hotel staff should be prepared to respond patiently and kindly to requests that they may not be able to accommodate.
4. Flexibility
Many hotels have already restructured on-property staffing so that some staff and managers can do multiple jobs. As the market recovers, these hotels may be able to handle the new customer demand more easily. That restructuring allows the operation the flexibility to place people where they are needed. This experience may have also given employees a new perspective on the challenges that their colleagues face in their jobs.
Sales managers who took shifts running the front desk, for example, have a new appreciation of the types of questions, problems, and moments of truth that occur when guests are arriving and departing. As those sales managers return to their regular jobs, they can apply that knowledge in their negotiations and plans with their clients.
Continued flexibility with reservation changes and cancellations may also be required, at least in the short term. While travelers are still testing the waters of getting back on the road, they will want the security of being able to cancel their reservation.
5. Comfort and Security
These needs have always been essential for hotel guests. Hotel guests are at their most vulnerable because they are asleep for at least part of their stay. Many years ago, I was asleep in my room and had forgotten to engage the deadbolt. A man came into my room in the middle of the night, turning the lights on and putting his luggage down noisily. I was terrified. He left immediately, and a front desk agent called me to apologize and make sure I was okay. It had been a simple employee error, and I accepted the apology and went back to sleep. I don't think that I or most hotel guests would be so forgiving today. In addition to the worries about being hurt or having our belongings stolen, now we also worry about being exposed to illness by maskless strangers.
Feeling safe and secure also means confidence that the room is clean. It cannot just look clean. A credible poster, certificate or pledge that a hotel has enhanced its cleaning protocols can reassure guests that their room and the public spaces are actually clean, not just looking clean. Hotels should communicate their cleanliness promise, whether it is the brand's own program or a respected program such as AHLA Safe Stay.
6. Energy and Empathy
Hotel staff may be fatigued or on-edge or both. They absolutely cannot let those moods show. People who have not traveled in a year or more might be afraid to be on the road. Their first hotel stay should not include an encounter with an impatient or unkind employee. It is essential that staff remember that traveling is stressful, and a warm welcome and positive environment contribute to positive moments of truth.
Empathy for staff and colleagues is important too. Managers will need to listen to their employees and acknowledge that we are experiencing stressful times. If the company offers mental health resources, now is the time to make sure that employees are aware of those resources and how to access them.
The New Moments of Truth
If we are still wearing face masks in 2022, hospitality workers will need to continue to find creative ways to express personalization and warmth. Eye contact, kind words, friendly conversation, and general helpfulness are all ways to demonstrate hospitality without guests being able to see a smile behind the mask.
The new high-quality guest encounters may be low-touch, but guests still want to be treated with friendly kindness. Hotel leaders who can strike the right balance will create positive moments of truth and happy memories for their guests.
HotelExecutive retains the copyright to the articles published in the Hotel Business Review. Articles cannot be republished without prior written consent by HotelExecutive.