The Fontaine Appoints Richard Graham as General Manager
Seasoned Kansas City Hospitality Executive to Lead Boutique Hotel
USA, Kansas City, Missouri. November 29, 2017
Ahead of the December 2017 unveiling of its design renovation, The Fontaine announces Richard Graham as general manager to oversee the 132-key boutique hotel located in the heart of Kansas City's landmark Country Club Plaza District.
An established leader with deep roots in the Kansas City hospitality scene, Graham brings more than a decade of boutique hotel experience to his role as general manager of The Fontaine. Graham is responsible for overseeing The Fontaine's day-to-day operations as the hotel flows into its next chapter, in addition to ensuring the delivery of the refreshing, renewing hospitality experience travelers anticipate before arrival and remember long after departure.
"The very essence of Kansas City runs through my veins, and I am honored to share my passion for our majestic City of Fountains with guests," said General Manager Richard Graham of The Fontaine. "Kansas City is an exciting place to be right now, and The Fontaine connects guests to the best of it all, from hip neighborhoods, arts & culture and stylish boutiques to our city's spirited cocktail scene and diverse restaurants."
Most recently, Graham served as director of hotel operations at Kansas City's Ameristar Hotel & Casino where he was responsible for the entire scope of hotel operations. He spent his decade prior at Hilton President Kansas City where he held executive leadership roles.
In December 2017, The Fontaine will unveil upgrades to its lobby, breakfast lounge and rooftop pool deck in addition to a brand-new restaurant & bar called Parker, led by Executive Chef Kevin Nicholls, serving a progressive take on new American classics with local soul.
###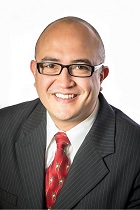 Richard Graham
Tags: the fontaine, kansas city hotel, boutique hotel news, executive appointment, new hires
About The Fontaine