Stormwater Fees & the Impact on Hotels
By Russ Horner Co-founder, Water Management, Inc. | November 04, 2012
Whether your facility is a hotel, motel, bed and breakfast, lodge, resort or other type of guest facility, making your business more sustainable is a good business choice. Many customers are attracted to eco-friendly guest facilities, so it is important for owners to consider ways to keep ahead of the competition when it comes to eco-friendly practices. There is an extra bonus for those hotels that adopt "green" practices: it typically increases revenue and decreases costs. Did you know that water, wastewater, and storm water fees are increasing faster than any other commodity?
Most local jurisdictions now charge stormwater fees. These fees used to be included as parts of the tax bill, but, increasingly these fees are being charged as part of your water and/or wastewater charge. The trend in the fee structure is to base the stormwater fee on the amount of impervious area that a facility has. This means that hotels and motels will be subject to significant fees because the roofs of the buildings and the parking lots are all impervious.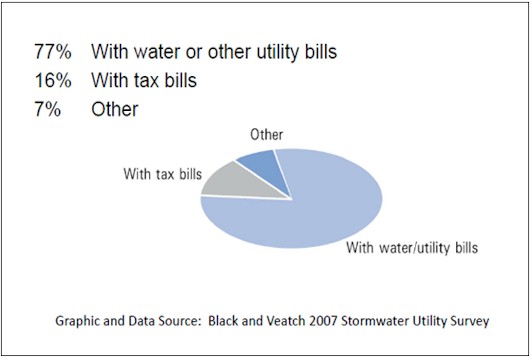 Implementing fees based on impervious surface area is an effort to protect our waterways.
What do these stormwater fees fund?
The construction, operation and maintenance of a municipal separate storm sewer system (MS4) can involve significant expense, especially when regulatory requirements, flooding concerns, water quality issues and population growth are factored in. Many communities are now adopting stormwater service fees by means of a stormwater utility.