Will Analytics be a Game-changer for Hospitality Companies?
By Kelly McGuire Vice President, Advanced Analytics, Wyndham Destination Network | March 2013
Despite encouraging signs that the recession is well behind us, revenue, costs and profits are still under close scrutiny. Achieving a competitive edge, while at the same time "doing more with less" is a daily challenge for hospitality executives. Revenue management "changed the game" for hospitality when it came on the scene 20 years ago. By applying analytics the specific problem of room pricing, hotels were able to increase room revenue without increasing room cost. It's time to change the game again. To stay ahead, executives need to build this kind of fact-based decision making into the corporate DNA.
The Challenge
Hospitality executives struggle to maintain the balance between providing that memorable experience that keeps guests coming back (and telling their friends) and meeting their revenue and profit responsibilities to stakeholders, owners and franchisors. For many companies, it feels like standing on a teeter-totter (or see-saw, if you like), as shown below. If you put too much weight on the customer experience, your revenue and profit will suffer; for example, when you give away a dinner or free bottle of wine without considering whether the room price makes up for the cost. The reverse is also true, like when you cut staff to save labor costs, but create long lines at check-in. You are constantly making adjustments back and forth to achieve that stability, and always in danger of tipping the scale. Analytics can help.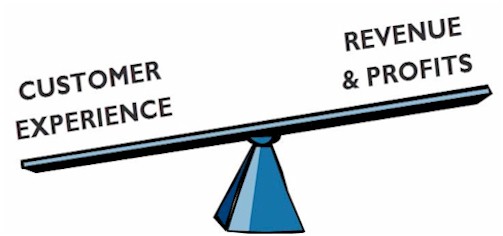 Achieving the Balance
Revenue managers have had great success in driving revenue using predictive analytics like forecasting and optimization, but by its nature, revenue management only focuses on the revenue and profits side. Without an eye to the customer experience, there is a danger of alienating loyal guests by not having rooms for them or of misinterpreting the property's value proposition, and not bundling the right experiences into a discount package. Incorporating guest preferences into room offers, or customer lifetime value into the revenue management optimization can shore up that relationship between experience and profits, restoring balance.
Optimization is not just for room rates. The marketing department can use optimization to come up with the best contact strategy for promotions, considering response rates, guest contact preferences, prevailing rates, demand forecasts, all available promotions and the cost to deploy those promotions. Using this technique, you are maximizing the return from marketing efforts while respecting your guests' preferences about how often they want to be contacted and with what types of offers. Further, you can ensure that you send out the right number of offers to fill the hotel without having to turn customers who wanted to redeem the offer away. As organizations continue to adopt analytics department by department, opportunities will continue to arise to find that balance.