How to Use Social Media to Engage Customers at Every Stage of the New Consumer Decision Journey
By Simon Hudson Endowed Chair in Tourism & Hospitality, University of South Carolina | June 30, 2013
The Internet and the use of social media have fundamentally changed the consumer decision process. In the past, marketers worked on the assumption that consumers started with a large number of potential brands in mind and methodically narrowed their choices until they had decided which one to buy. After purchase, consumer relationships with the brand typically focused on the use of the product or service itself. This traditional purchase funnel is depicted in Figure 1.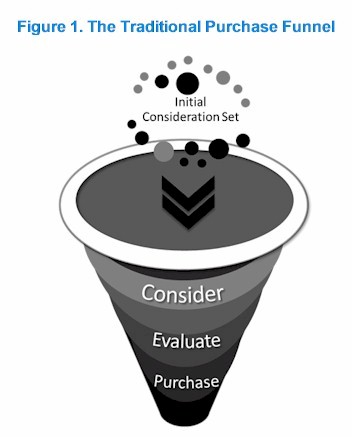 McKinsey etal(1) have introduced a more nuanced view of how consumers engage with brands (see Figure 2). They developed their model from a study of the purchase decisions of nearly 20,000 consumers across five industries and three continents. Their research revealed that rather than systematically narrowing their choices until they had decided what to buy, consumers add and subtract brands from a group under consideration during an extended evaluation stage.
After purchase, they often enter into an open-ended relationship with the brand, sharing their experience with it online through social media. The four stages of the consumer decision journey are: 1) consider; 2) evaluate; 3) buy; and 4) enjoy, advocate and bond. This article applies the new model to the tourism and hospitality sector, and shows how some marketers are using social media to engage with consumers at every step of this consumer decision journey.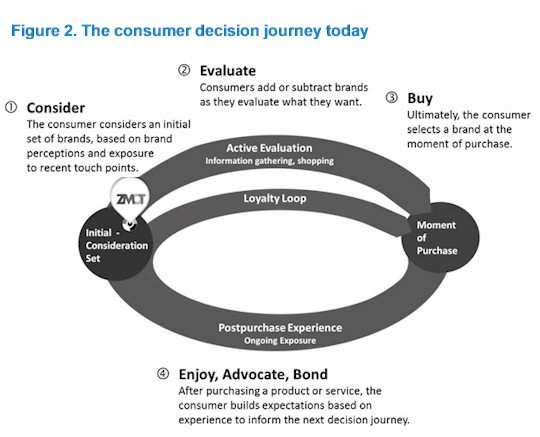 (based on Court et al. 2009)
Stage 1: Consider