Innovative Systems 'Pull' Energy from What Once Was Considered 'Waste'
By Glenn Hasek Publisher & Editor, Green Lodging News | May 11, 2014
Two breakthroughs in waste-to-energy technology-one currently being implemented within the lodging industry and another with the potential to be used in lodging-have the potential to dramatically change how "waste" is considered. The first breakthrough, engineered by International Wastewater Systems, Burnaby, B.C., involves the recovery of heat from the wastewater that leaves buildings-not just the greywater from laundry, showers, dishwashers, laundry, etc., but also the blackwater (water from toilets). It has not yet been implemented in a hotel. The second breakthrough, Harvest Power's recently opened Central Florida Energy Garden in Bay Lake, Fla., involves the transformation of food waste, fats, oil and grease (FOG), and biosolids from an adjacent water treatment plant into energy (electricity) and useable fertilizer. Many hotels are already sending their food waste to the Central Florida Energy Garden that has been operational since earlier this year.
According to the U.S. Department of Energy, 400 billion KW of hot water goes down the drain annually in the United States-roughly $40 billion worth of energy at an average cost of $.10/KW. A great deal of that energy loss occurs in the greywater and blackwater generated by hotels. International Wastewater Systems' SHARC system captures and reuses heat that typically is lost to the sewage system.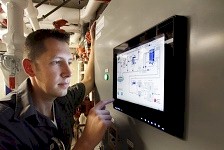 International Wastewater Systems has installed its SHARC system in several buildings, including a 172-unit condominium complex in Vancouver, B.C. Company founder and president, Lynn Mueller, said the system is ideal for a hotel building.
"A wastewater heat recovery system can be installed in a hotel much like any residential building," Mueller said. The equipment involved is modular and includes filtration and heat exchanger units, heat pump(s), pumps and piping that connects each module. Also required is a wastewater storage tank to ensure that energy is available when it is needed. The system has a control panel which is the brain that runs the system, and it has remote monitoring capabilities so that the status of the system can be observed from anywhere in the world.
Solids Removed from Water