Underneath the Annual J.D. Power Hotel Guest Satisfaction Survey
Travelers Give Hoteliers Marching Orders for Enhancing Their Guest Experience
By Janet Gerhard Founder, Hospitality Gal, LLC | November 16, 2014
You probably heard the good news for hotels this summer. Guest satisfaction is rising, according to the 2014 J.D. Power North America Hotel Guest Satisfaction Index Study. In fact, this year's survey discovered that hotel guest satisfaction has reached its highest level since the company revised its methodology in 2006.
Contributing most to overall satisfaction are the first and last impression -- check-in/check-out. That isn't new news. What you might not have seen was among other key findings of the survey:
Gen Y (Millennial) guests are more critical of their hotel stay but, despite popular sentiment, not necessarily less loyal. This spells big opportunity.
Challenges with Internet connectivity remain twice as prevalent as any other guest problem. The negative impact of these problems is relatively consistent regardless of whether Internet access is complimentary or guests have to pay an additional fee for it. The billions collected in fees last year are crucial given the increasing pressure of distribution costs, but they must be carefully balanced with real value when it comes to guest experience.
Hotel brands that are perceived as being exciting and trendsetters receive the highest number of positive recommendations, while those perceived as environmentally careless receive the highest number of negative comments. Certainly this cascades into what we're seeing as a lifestyle brand renaissance in the market today, three hotel companies announced their new lifestyle brands in the last couple of weeks.
The proportion of hotel guests who select their hotel brand primarily based on price has fallen by a significant 7% percentage points from 2013. And these price-driven consumers are among the least satisfied of the guest groups. This is a healthy reminder to hoteliers to stay focused on your target segments. If you aren't targeting the price-driven consumer solely, don't sweat their lower loyalty marks. Recognize the fit is wrong instead.
The proportion of those who thoroughly research their hotel choices through online travel review sites and other sources has increased to 10% from 7% percent last year. They are the largest number of highly committed guests to a hotel brand, which means the importance of your online presence cannot be emphasized enough.
In addition to the above highlights, you've probably already heard the Four Seasons tops the luxury segment, dethroning Ritz Carlton after their four-year run at the top. Seven points on a 1,000-point scale separated them. To the casual observer, this ranking change may seem insignificant. After all, luxury is a category dominated by service and the consumer isn't as focused on price.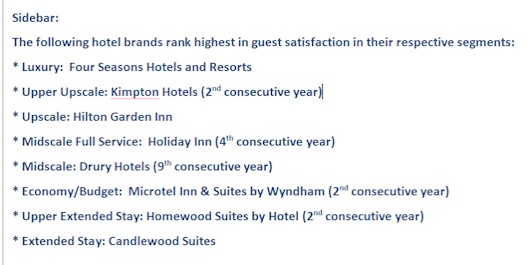 Comparatively, the midscale segment is all about consistency. That Drury Hotels continues to dominate the midscale segment (for the ninth consecutive year) scoring 20 points more than its nearest competitor may or may not ever drive your purchase behavior especially given their distribution. Holiday Inn taking top honors in the in the mid-scale full-service category for the fourth year in a row is certainly a good outcome of the massive rebranding efforts we've witnessed at Holiday Inn.