The Drive to Exceed One's Own Expectations
Constant Creativity & Enthusiasm
By Steven Ferry Chairman, International Institute of Modern Butlers | April 24, 2016
This story is about the dynamic approach of one particular GM who lives the mantra of all service professionals, with a twist: exceeding even one's own expectations by adopting a mindset that drives a never-ending and highly creative stream of improvements, not just in service quality, but also the guest experience-in a whirlwind of energy that lifts all metrics before it!
At the end of one assignment, Dietmar Koegel ("Didi") was asked if he wanted to manage Per Aquum's resort, Niyama, in the Maldives. He was not sure, so he visited the island as a guest for two weeks and discovered a fine resort with issues that were not so much "bads" as a failure to develop potential "goods." For Didi, the cup is neither half empty nor half full, rather "almost full" all the time; so like an artist assessing a blank canvas, he piled creation upon creation in his mind of how the guest experience and satisfaction could be second to none, as opposed to merely excellent.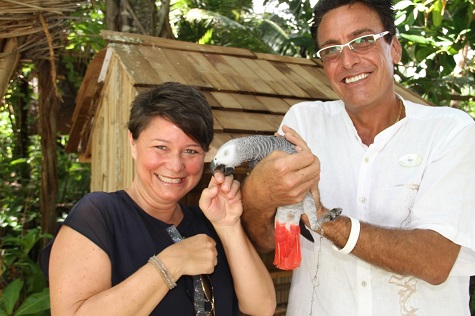 GM Dietmar Koegel with the African Grey pecking at a guest's finger near the tree-top Nest Restaurant
Now, 14 months after taking the helm, Niyama's Trip Advisor ranking has risen from 50th to 12th and their Guest Satisfaction Score as measured by Market Matrix has risen from 88% to 94%. Of Minor Hotel Group's 136 hotels (at last count), Niyama has risen to #1. Niyama moved from the high 40's and 4.5-star on TripAdvisor, to #12 and 5. How did Didi achieve such results so rapidly in a region where Niyama is one amongst dozens of desirable, high-end island-resorts?
He took immediate action to raise the level of passion in the staff based on his own example, and was not shy of replacing members of senior management who found themselves unable to rise to the occasion.
New hires were sought who had passion, One example was Yoosuf, a butler who was new to hospitality and, following training that inspired him with how many ways there were to wow guests, soon impressed the guests so much that one couple wanted to show their appreciation. When the butler told them he was happy to service them and was not interested in their tip, they had him take them in a speedboat to his local island, where they toured the hospital and school, donated $150,000 on the spot and pledged a further $150,000 for the following year.