Hotels Make Room for Water Savings
By Bob Cerrone Director of National Accounts - Hospitality, Ferguson | April 03, 2016
Water was once considered an endless resource in the U.S. As a commodity, it appeared to be both plentiful and inexpensive. But due to the lasting effects of climate change, parts of the country are experiencing higher temperatures and less rainfall, preventing fresh water reservoirs and basins from keeping up with the demand of personal and agricultural use.
The state of California is in its fifth year of a devastating drought and an executive order was issued mandating a 25 percent reduction in water use. While California's water shortage may be the most severe, it won't be the only state to experience strained supply in the near future. According to a Duke University study, population growth could cause global demand for water to outpace supply by 2050 if current levels of consumption continue. It's everyone's responsibility, including hotel owners, to help combat the dwindling water supply before every state reaches critically low resources.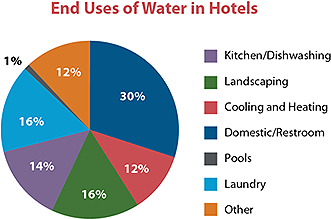 According to the Environmental Protection Agency (EPA), hotels and lodging businesses account for 15 percent of the total water use in commercial and institutional facilities. The low price of water compared to the cost of energy had previously slowed the adoption of conservation efforts – especially in the U.S. where households pay only about two dollars for every 1,000 gallons of water. That is changing, however, and according to the EPA business owners can begin to expect water costs to increase in order to offset the costs to replace municipalities' aging water supply systems.
Now that hotel groups are moving forward with planned renovations that were previously stalled due to the economy, properties are starting to upgrade their guestrooms to comply with brand property improvement plans (PIPs) and to keep up with the demands of savvy travellers looking for updated, eco-friendly accommodations. In fact, an increasing number of hotel guests are asking for more environmental responsibility and appreciate water-saving features. Commercial facilities, like hotels, are also starting to realize the link between water use and energy, and that often times reducing the amount of water used also reduces energy costs.
Why Make Updates Now?