To Spa or Not to Spa?
By Judith Jackson Founder, Judith Jackson, Inc. | August 14, 2016
To Spa or not to Spa? If that is your question for your hotel or resort, you are reading the right article. Luckily, there are more good answers from experts in the hospitality and spa fields than Hamlet ever imagined.
If your property has the space and financing to install a spa, this is certainly a time to do it. Your guests are now conditioned to expect not only a fitness facility, but stress reduction massages and rejuvenating facials -- as well as the nurturing escape of a well-planned and run spa.
For 30 years I have provided aromatherapy bath, body and face products and treatment for hotel and resort spas. I have also created my own spas and salons on land and for cruise ships. In the course of this ever exciting, rewarding endeavor, I have met and worked with remarkable leaders in the world of hotel, resort and spa. In this article I am sharing thoughts and advice from two of the best -- interspersed with my own comment.
A Premier Hotelier's Point of View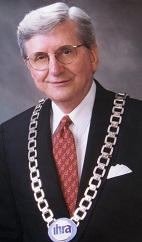 Michael Peceri has had an amazing career as a diplomat and hospitality executive, successful in any endeavor he has turned his talents to. A graduate of leading schools of management -- George Washington University and Harvard Graduate School of Business -- he has used his educated sense of what works in disparate fields even when learning on the job.
Michael's first professional position was with the Diplomatic Service of the United States with posts in American embassies in Vienna, Moscow, Buenos Aires, Santo Domingo, Cairo, Nicosia and Washington, D.C. Michael received the Meritorious Honor Award from the Department of State, Washington, D.C. at the close of his career as a diplomat. What lay ahead, hospitality, was to put Michael's experience in diplomacy to good use with guests and as a manager.
After 16 years abroad, Michael returned to the U.S. and was lured into managing a small upscale motel property by a French developer. His ability, experience and education were put to full use as he made recommendations to the owners He also became intrigued by hospitality and began an upward climb in positions with larger properties and more prestigious titles such as South Seas Resort Company where he was Vice Chairman, Board of Directors. One of the company's properties was the Safety Harbor Resort and Spa in Safety Harbor Florida -- where I met Michael.
He had personally tested my products, and when he decided they worked, he added them and my aromatherapy treatments to his 50,000-square-foot spa. This was typical of Michael's hands-on approach to management. I was there to teach Safety Harbor's massage therapists and give aromatherapy guest seminars.
Michael Peceri has contributed his time and talents to so many hotel and restaurant associations they are too numerous to number in this article. Among them is the International Hotel & Restaurant Association as Director and Past President, and the American Hotel & Lodging Association, Past Director and Past President. In addition, Michael is known for his sense of civic duty. As Past Director, Past President of the Southwest Florida Symphony he has supported local Ft. Myers theatre and concerts. The Sanibel-Captiva Chamber of Commerce has benefited from Michael's many years of experience and integrity as Past Director and Past President.
No one knows hotel and spa operations and products better than Michael Peceri. I am honored to have his contribution to this article:
Questions - must be carefully evaluated by a general manager or owner of a resort, convention or commercial property when considering the installation or renovation of a spa for their properties include: How will it give me the edge over my competition? Will it improve my marketing or the property ROI? Most experienced general managers can answer those questions and then proceed to install what they think is a "spa." If unfamiliar with spa operations, the manager or owner may fail to consider the square footage required, lack knowledge of the professional skills required, and the issues involved to efficiently staff and schedule for maximum profit in spa operations. In my view efficient staffing and scheduling of the professional staff is required to preclude a serious negative impact on the ROI.