How to Eyeball the Competition
Hotels Understanding the Traveler's Point of View
By Bhanu Chopra CEO, RateGain | July 02, 2017
The hospitality industry worldwide has witnessed disruptive growth over the last few years. With an explosive influx of all kinds of hotels, both big and small, competition is at an all-time high. However, this is great news for travelers as they are spoiled for choice, with a variety of options to choose from. Combine this leverage for travelers with the internet emerging as a strong search and transaction channel, and with the role of Online Travel Agencies (OTAs) getting stronger each day, hoteliers are now under immense pressure to ensure high visibility across all leading online platforms with an aim to drive a maximum number of bookings.
A recent research indicates that almost 60% travelers make their bookings through OTAs as compared to 27% of bookings are made through the hotel's own websites. There is no doubt that OTAs play an important role in the hospitality ecosystem and how your hotel is priced, ranked and rated on all these platforms, definitely needs to be tracked and monitored closely as part of your hotel's pricing strategy.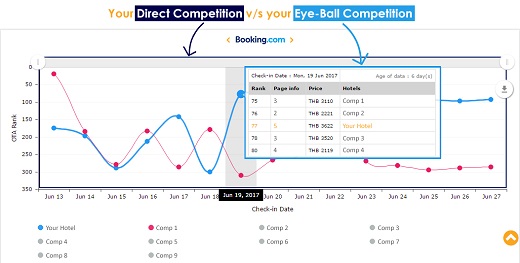 Having said that, a key challenge that most hotels face in this cut-throat competitive era is the ability to define their key competitive set correctly, which they need to monitor closely and factor it in their pricing and distribution strategy to ensure increased bookings and revenue.
"If a traveler is considering booking my hotel, which other hotels apart from mine is he most likely considering?" If you get an answer to this one, you have probably hit the nail right.
Competition monitoring should be a primary element of your hotel's pricing & distribution strategy as the need to react to market changes at a lightning speed is the key to your hotel's success. That being said, the first and foremost step in this direction is to be able to define your hotel's most relevant comp-set. Most hotels today define their comp-set based on traditional factors such as geographic proximity & star rating. This clearly shows that hotels have failed to improvise on this method for long now and are clearly ignoring other important factors such as eyeball competition. So what exactly is eyeball competition? Let us find out in the next section as we discuss the challenges in the current method and introduce you to the concept of eyeball competition: