Virtual Walkathons: Coming to a Hotel Near You
San Francisco Hyatt Hotels Health and Fitness Challenge
By Oliver Ryan CEO, Count.It Labs | July 09, 2017
Managers at Hyatt Regency San Francisco had a battle on their hands - in the best possible way. Determined to do something fun and healthy for their 400 person staff, they launched a challenge on a digital platform that powers fitness tracker-driven wellness programs. The first challenge was so successful, two other Bay Area Hyatts wanted in, and the Battle of the Bay was on. In the end, co-workers at all three properties rose to the occasion, but just one hotel took the gold. It also became clear which person at a major market hotel moves the most.
In the employee cafeterias of the three San Francisco Hyatt Hotels, employees are glued to the big screens - but they are not following a crosstown playoff series between the San Francisco Giants and Oakland Athletics. Instead, they're tracking a brightly colored, ever-changing leaderboard showing which hotel, and which employees, are on top on any given day. Human Resource managers at each property issue weekly email propaganda, including, in one notable case, a digitally altered hip hop dance video featuring the three hotel General Managers urging their people into the fray.
What's going on? The leaderboards in question are continuously fed by employees' fitness tracking apps and wearable devices, and people are battling to see which hotel is the fittest of them all.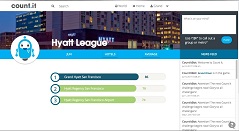 The Leaderboard #HyattLeague
Welcome to workplace wellness in the age of smartphones and wearables - and taken to new heights by hotel executives in the cradle of the tech revolution. At play are bragging rights for the most active hotel, and prizes for top individuals. For the losing hotels comes the obligation to donate hundreds to a local charity supporting the homeless. In short, the stakes are high and good, but there's another pressing question on everyone's mind: Across all the departments at a popular major market hotel, from the front desk to the back office, who moves most? Is it the boss, the bellhop, or the housekeeping worker on the late shift?
"Managers sit at their desk a lot," points out Victor Povzner, IT Director of Hyatt Regency San Francisco, and tech mastermind behind the hotel's initial fitness challenge. "But they also go to the gym, or may go running several times a week."