Leading With People First
By Geri Williams-Fitts Chief People Officer, Highgate | March 2023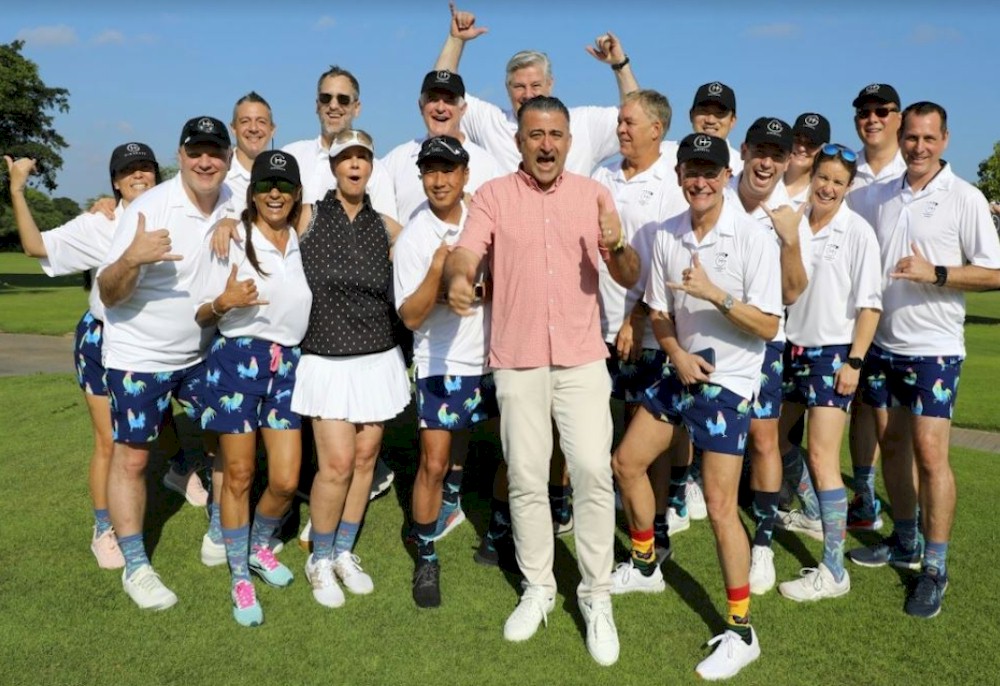 As people and businesses across the globe emerge from the most unpredictable three years in recent memory, the hospitality industry faces its own unique, ongoing set of challenges.
One of the biggest challenges, of course: hiring-and retaining-talent that will grow with your company and contribute to its success.
As it stands, the picture isn't exactly pretty: At 89.4 percent, the leisure and hospitality industries have the highest turnover rate in the private sector, and post-pandemic job openings are still near record highs.
But perhaps some good will come out of this untenable situation, as brands and hoteliers realize their hiring and retention practices are outdated and in need of a makeover. In today's landscape, success just isn't possible without associates who are engaged in and passionate about your company's mission.
With some of the lowest turnover rates in the industry (15%-30% percent in certain divisions) and a record high average employment tenure of eight-plus years, Highgate has been walking the walk for 35+ years under the leadership of an executive team that consists of some of the most experienced hotel management leaders in the world. The industry-leading hotel management, investment, technology and development firm operates a diverse portfolio across North America, the Caribbean, Latin America, and Europe.
Highgate has a proven record of developing its diverse portfolio of bespoke lifestyle hotel brands, legacy brands, and independent hotels and resorts with contemporary programming and digital acumen. Our "People First" philosophy touches every aspect of our organization and uses intel from third-party experts to keep us honest and accountable.
With sustained investments and a powerful pipeline, Highgate continues to attract top talent and build best-in-class teams through innovation and hospitality-forward thinking. Though our work is ongoing and we're always looking to improve by listening to our associates and implementing change based on their feedback, three core tenets have served us well and helped us create and maintain a strong, healthy, truly engaged workforce.
1. Start at The Beginning
The hiring practice is a vital building block in the pursuit of an inspired, empowered, efficient team. It's easy to rush through hiring when you're short-staffed, but intentionality will pay off in the long run. If you haven't defined your core company values, it's time to do some reflecting. Once you've agreed on the values most important to your organization, it becomes relatively easy to identify the qualities you're looking for in employees.
At Highgate, we seek candidates who can cut through red tape and are confident, independent, sure of their decisions and driven by moving things forward. Our high hiring bar is a critical factor in our success and these are the characteristics we feel best support our team ethos: "It's not our company, it's your company." One of the tools in our hiring toolbox is The Predictive Index, a third-party platform that uses behavioral assessments to help us get our job posts and screening process right the first time. Predictive Index accesses your cultural fit in the workplace by discovering your personal motivations. Candidates not only participate in the assessment, but equally are provided a copy of the tool to read themselves and learn how to match and maximize their own personal strengths.
Once we've identified candidates who fit our values, we use unconventional interview questions based upon Emotional Intelligence (or EI). These identify leaders' abilities to recognize, understand and manage one's own emotions as well as recognize and understand the influence their emotions and actions have on others, which is important in ensuring their values are aligned with ours. Some sample questions are: 1) What types of things in the past have created the most frustration for you? And the least? 2) Tell us about an experience when you had a new team to work with. How did you assimilate yourself to the group? 3) Recall an experience when you felt you were inspirational to someone else at work. At Highgate, we desire to discover critical skills in our today's world of work to unlock true workforce potential.
2. Pay Like You Mean it
Once you're ready to make a job offer, make sure it's competitive (or better). Highgate's compensation package is informed, in part, by millions of real-time data points provided by HR management tool ADP DataCloud. Armed with this comprehensive, up-to-date information, we can ensure our salaries are fair and equitable. This data also helps us continue raising salaries appropriately as our people move up or switch to new roles within the organization. Our benefits package has a high employer contribution and is more generous than the industry standard, with a focus on whole-person wellbeing (including physical, financial and mental health, as well as competitive paid time off benefits).
One of the most impactful parts of our compensation philosophy is an aggressive incentive structure that helps associates earn well above the industry standard by contributing to the company in meaningful ways. Highgate believes at its core that the success of the company is not possible without the shared value in our associates and bonuses are tied to critical measures that drive the success of our entire business. This helps our people understand the importance of their role to the entire company, keeps them motivated to meet specific goals and bolsters our belief that associates are motivated to do their best work when they feel valued. Across the Highgate portfolio, more than 70% percent of bonuses are paid to their highest eligibility, and our bonus and incentive payments are in the highest quartile for the hospitality industry.
Of course, you can't simply buy loyalty: If an employee is unhappy in their job, no amount of money will stop them from taking a new one. Which leads us to our next tenet…
3. Grow What You Planted
Continue investing in your people as if they're the most important part of your brand (because, well, they are). We spend a significant amount of time identifying and learning about each team member's goals, strengths and interests so we can fully support their personal and career growth. We identify associate career aspirations early, which allows us to help guide them in the right direction(s) every step of the way. Thanks to Highgate's robust international exchange program, mentorship, cross training across the organization and more than 500+ properties across the United States, Europe, the Caribbean and Latin America, team members have nearly unlimited opportunities to grow and be challenged. Highgate also uniquely has its own in-house food and beverage division as well as a design and construction studio, offering even more opportunities for our people to explore the vast range of disciplines within the hospitality industry.
We've built an ecosystem of programs that support our people at every stage of their journey with us and across all levels and roles. Each team member has access to our online learning platform, Highgate Academy - which, through a partnership with eCornell, includes 5,400 courses on topics including hospitality leadership, hospitality strategy, hotel real estate investments and asset management, hotel revenue management, and leading a culture of service excellence. Employees are also encouraged to monitor their own performance and growth trajectory through inclusive 360 reviews that provide professional feedback from all directions, check-ins, and mentor/mentee connections in a modernized, simple module.
A key part of Highgate's culture of value and respect for every individual from the top down is also instilling values of inclusion throughout the company. These are upheld through our Diversity, Inclusion + Belonging Advisory Board and programming that is focused on identifying opportunities to support associates and further foster mentorship, career growth, and other learning and development programs.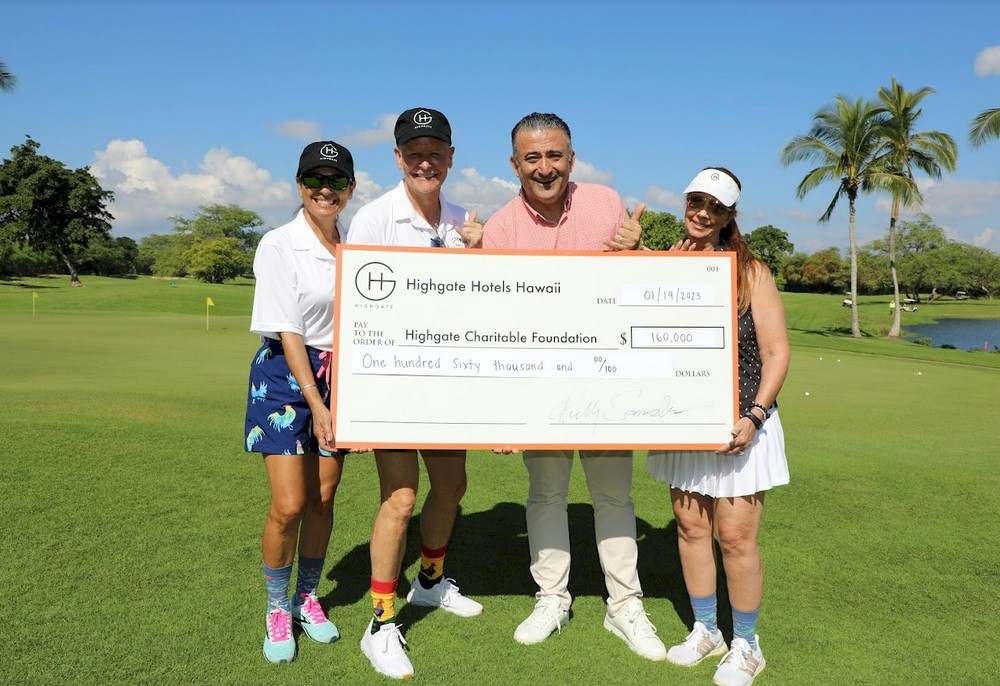 Highgate CEO Arash Azarbarzin and CPO Geri Williams-Fitts with other Highgate HR leadership exhibiting the funds raised for the Highgate Charitable Foundation.
We view employment at Highgate as a long-term relationship, which means we can't stagnate and neither can our people (and, for the most part, they don't want to). We're always proud and eager to promote from within-something we did more than 100 times in 2022. Our people know they have our full support, whether that means switching to a different brand within our portfolio, relocating domestically or internationally, pivoting to a new department or adding new skills to their resume. At Highgate, we don't just retain talent, we grow it.
The hospitality industry have long excelled at putting guests' needs first, but that will no longer be possible if we don't have sufficient or motivated staff delivering on our promises. In today's AI-driven, fully connected, radically transparent workplace, putting people first is the best (and, in my opinion, only) way to move our business forward. It's easy to say you have a strong company culture, but delivering and maintaining that culture in an authentic way takes hard work, new ways of thinking and, yes, budget allocations. But we simply can't afford to keep the status quo of rampant turnover, understaffed hotels and low levels of employee engagement. Everyone loses under the old model: your business, your people and even your guests. As simple as it may sound, putting our people first is how we will collectively advance our industry and future proof the success of hospitality as a whole.
Over the past decade, while expanding our portfolio to 500+ hotels today, Highgate has embraced the unique experiences and perspectives of its colleagues and guests and celebrated the diversity of the communities in which it operates. Our purpose is to care for people so they can be their best, and that means providing a truly inclusive experience and making a difference in the lives of everyone we touch.
Through our efforts today, we recognize that we have an opportunity and obligation to support actions that contribute to a more diverse, equitable and inclusive society where our colleagues and guests feel welcome, always. We know there is more to be done and we remain focused on actions that support our vision of a world of understanding and care.
At Highgate, what's important to us shapes our behaviors and the value of putting people first extends beyond our business. We choose the road less traveled. Novel ideas that push the limits of what can be done inspire us. No stone goes unturned in our quest to create the ultimate experience that is flexible and adaptive to the needs of today's workforce. Exceeding needs is our baseline, not our destination.
Main Image: Highgate CEO Arash Azarbarzin and the entire Highgate Hawaii region leadership team and General Managers from Highgate's Hawaii portfolio.
HotelExecutive retains the copyright to the articles published in the Hotel Business Review. Articles cannot be republished without prior written consent by HotelExecutive.